No turning back: Pacquiao seeks congress seat anew
Knocked out the last time, Manny Pacquiao will once again try his luck inside the political ring.
The seven-division world champion, determined to be a public servant, filed his certificate of candidacy Tuesday night hoping to earn the seat of the lone congressional district of Saranggani, wife Jinkee's province, in the 2010 national elections.
Pacquiao, accompanied by Jinkee, will be running under the People's Champ Movement (PCM) party, which was accredited by the Commission on Elections at the local level.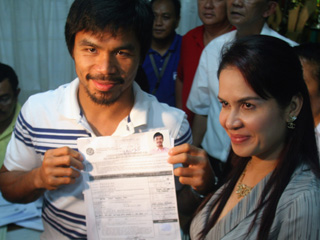 Boxing champ Manny Pacquiao, with wife Jinkee, shows the certificate of candidacy for congress he filed at the provincial capitol in Sarangani province Tuesday. AP
Before filing his COC, Pacquiao went to mass and held a concert in General Santos City on Monday night.
Pacquiao was beaten in his first political foray, losing to the Antonino-Custodio political clan of General Santos City in 2007.
He is a known ally of President Gloria Arroyo but he will be up against a member of the Chiongbian political dynasty of Saranggani which also has strong ties with the administration party.
Pacquiao is also being courted by presidential aspirant Manny Villar to be a guest candidate under the Nacionalista Party where he will be fielded as NP's congressional bet in Saranggani province.
"Wala pa yung sa amin ni Manny Villar. Inaayos p
a," said Pacquiao when asked if he already accepted Villar's invitation.
In an earlier interview, Pacquiao said the main reason he is running in Sarangani is that he failed to see any significant change during the Chiongbians' 14-year reign in the House of Representatives, accusing the long-time political clan of doing nothing to uplift the lives of the poor.
The statement did not sit well with outgoing Rep. Erwin Chiongbian, who vowed that his family would not give up the congressional post easily.
The Chiongbians are known as a political dynasty in Sarangani. The late James L. Chiongbian is considered as the father of the province, having helped pass House Bill 00046 that created Sarangani as a separate province from South Cotabato.
The three-term lawmaker said a member of his family would run in the 2010 elections to replace him in the House of Representatives.
– Jon Perez, GMANews.TV
TAGGED IN
mannypacquiao certificateofcandidacy sarangganiprovince

#gomanny Tweets