MRT stations become concert arenas in 'Rock the Riles'
MRT stations along EDSA virtually turned into concert arenas Sunday afternoon as over 120 artists performed for this year's "Rock the Riles."
The organizer, Rock Ed Philippines, dedicated this year's events to issues of poverty, global aid, preventable diseases, maternal health, gender equality, environment, education, and child mortality.
This year's event also pushed for justice for the 57 victims of the Maguindanao massacre, considered as the worst political violence in the country.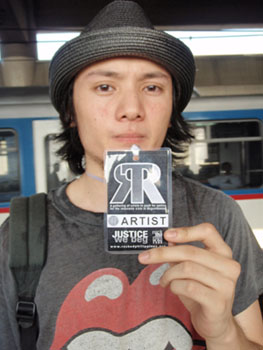 Enzo Marcos of Severo: One proud performer. Photo by Carmela Lapena
According to Rock Ed Philippines, the money from the last-minute donation from pharmaceutical giant United Laboratories (Unilab), supposedly for the event's sound system, will instead go to the tuition fund of the children of the journalists slain in the massacre.
Performing in open spaces beside turnstiles, artists from all points of the music spectrum were one in begging for justice, whether in the forceful voice of the likes of Intolerant and Badburn, or in the gentle sound of Imago and Paramita.
"
Ang sarap talaga. Sana mas maraming ganito
(This made me feel good. I hope there are others like this)," said Wendell Garcia, drummer of Archipelago and the Ely Buendia-fronted Pupil.
Unsuspecting commuters were taken by surprise by the event, yet decided to linger a while.
While some commuters were simply puzzled by the unusual happening at the stations, others were there intentionally, many of them clad in black perhaps in solidarity, protest, anger or grief.
Some stations were less crowded than the others, but all the stages were definite attention-grabbers. Those who were there, young or old, enjoyed the event. Music ranged from folk to heavy metal.
"
Nanood pa kasi ako ng banda
(I watched the band perform)," said a female commuter at the Boni Avenue station as she told an MRT employee that exit turnstiles rejected her ticket for staying too long inside the station.
Events every station
At the Quezon Avenue station this Sunday was CinemAlexis, a film screening in honor of slain film critic Alexis Tioseco. Shown were Lamberto Avellana's
Kundiman ng Lahi
at 1 p.m., Manuel Silos'
Biyaya ng Lupa
at 3 p.m., and Ray Gibraltar's
When Timawa Meets Delgado
at 5 p.m.
At the North Avenue station was a photography and visual arts exhibit courtesy of the boys and girls of Kerplunk! and Mary Moon Productions, as well as a freedom wall.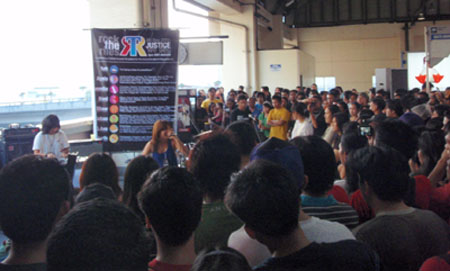 MRT commuters become captive audience in Rock Ed's "Rock the Riles." Photo by Carmela Lapena
In Taft, hiphop group LockedDown showed spectators some groove, while at the Ayala Avenue station, jazz and mood music were provided by the likes of Imago, Swissy, The Charmes, Away for the Day, Not Another Boy Band, Musical O, Sleepwalk Circus, Encounters with a Yeti, Juan Pablo Dream, Radioactive Sago Project, Ang Bandang Shirley, and Paolo Santos.
Rock and heavy metal, meanwhile, shook the walls of Buendia station with the performances of Archipelago, Intolerant, The Ambassadors, December Avenue, Gasulina, Nyctinasty, Don't Forget Clementine, Trapeze, Mayonnaise, Kneel on Nails, Faintlight, Flying Ipis, Out of Body Special, My Odessa Blue Jean Junkies, Odat, Arko, Penguin 627, The Bernadettes, and the Pull It Surprise.
At Boni Avenue, Wagyu, Dondi Virrey of Techy Romantics, Turbo Goth, Taken by Cars, Mozzie, Abby Asistio, For the Road, and the Camerawalls wowed the late-Sunday afternoon commuting crowd.
More rock n' roll exploded at Shaw Boulevard courtesy of Paramita, Sandwich, Us-2 Evil-O, Ernville, Duster, Playphonics, Sugarfree, Gaijin, Monsterbot, SLEX, Chillitees, Cambio, Malay, Imago, Zach and the Action Pact, Peryodiko, and Lowtechs.
In Cubao, arguably the busiest MRT station at any given day, was a "chop suey" lineup of Noel Cabangon, Jeepney Joyride, Giniling Festival, FMD, Long Time No See, Playground, Nityalila, Johnoy, Miko Pepito, Tribu Rap Artists, Sopiz Turbo Goth, Acel, Camerawalls, The Beltrans, Milagros Dancehall Collective, Chonkeys, Live Tilapia, Surrogate Prey, Blueboybitesback, Datu's Tribe, Alamid, Boy Elroy, Bad Burn, and Dakila Philippines.
- KBK, GMANews.TV