Bookay-Ukay goes punk with lit gems, offbeat titles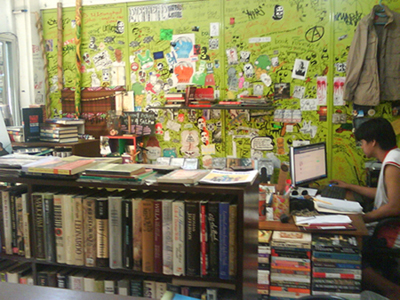 Punked bookworms. Bookay-Ukay is a bookstore that's not for the faint of mind. Chong Ardivilla.
Books are serious business at Bookay-Ukay, a bookstore unlike any other that has gained a cult following among the University of the Philippines Diliman crowd.
Located at 55 Maginhawa Street in Quezon City's UP Teachers Village, the bookstore has an edgy, anti-Establishment vibe. It's got an infectious punk-inspired audacity. It's for bookworms who are not scared of raging against the machine for real. In fact, the store's makeshift sign declares, "Rage against conformity. Rise above mediocrity. Read." Its online tagline is just as irreverent: "Because some booknuts love beer,
yosi
, and loud music."
The bookstore is not rabid about being intellectually superior. Signs advertising plumbing services (Wanted: Tubero) and graffiti decorate the place. Bookay-Ukay is also so anti-big bookstore with its suffocating heat. However, the glorious piles of secondhand books on its shelves more than make up for this. If you're hell-bent on building a collection that will make other bibliophiles salivate, you won't mind the discomfort.
Bookay-Ukay has a good selection of books from authors such as H.G.Wells, Tom Robbins, John Irving, Nick Hornby, Stephen King, Roald Dahl, Gabriel Garcia Marquez, C. S. Lewis, Ray Bradbury, and others. They have poetry books, biographies, and even cookbooks.
There's no discrimination in the bookstore. There's something for everyone. Case in point: Books about Jesus Christ share shelf space with books on Karl Marx and titles that your conservative relatives would burn. The store has a wealth of books you would not normally see in a big-name store. Plus, they're cost at least 20 percent to as much as 80 percent less than the books sold in the said stores.
Another great thing about Bookay-Ukay is that it isn't averse to offbeat books such as
Tips for Straight Women From a Gay Man
by Dan Anderson and Maggie Berman. The store also sells local zines, do-it-yourself small-circulation publications.
Places like Bookay-Ukay are not only great because of the bargains they offer. They present an alternative to the mainstream. It may not be for everyone—but the fact that it's there to feed our minds with stimulating intellectual fare is a comforting thought.
Bookay-Ukay is open from Monday to Sunday 12 noon to 10 p.m. You can log on to their site at Bookay-Ukay Online. You may also email them via bookayfriends@yahoo.com or send your text messages to 0905-4283125.
-
FVI, GMANews.TV