DOH holiday casualty count rises, surpasses 2008 tally
A third of firecracker victims were kids below 10
---

---
Of the 807 reported firecracker-related injury victims, 251 (31 percent) were children aged less than 10 years old. The youngest was two months old and burned by an errant firecracker.
Eighty percent (675) of all the victims were males, while 58 percent (469) were active users.
The DOH said the following firecrackers were the most commonly-used:
Piccolo
(251 of the 807 or 31 percent),
kwitis
(119 or 14.7 percent), five-star (49 or 6 percent),
pla-pla
(41 or 5.8 percent), and whistle bomb (36 or 4.5 percent).
Metro Manila posted the most number of injuries at 510 cases (63 percent of the 807 cases).
Trailing behind were the Ilocos region (65), Western Visayas region (41), Central Luzon (38), and Zamboanga region (35). —
Sophia Regina Dedace, GMANews.TV
(UPDATE 3 - 8:40 pm)
The 2009 holiday season was not safer than in 2008 after all. The merrymaking in the last two weeks turned out to be deadlier than what was first announced by the government.
Three died from firecracker-related injuries, while 848 others got hurt due to firecracker blasts, stray bullets, and
watusi
ingestion since December 21, based on reports gathered by the Health department from 41 of 50 sentinel hospitals nationwide as of Saturday morning.
A total of 807 people were injured by firecrackers, 118 of them sustaining eye injuries; 69 had limbs amputated, mostly fingers; and the rest suffering from blast burns. Only one case of
watusi
ingestion was recorded as of January 2 from two in 2008.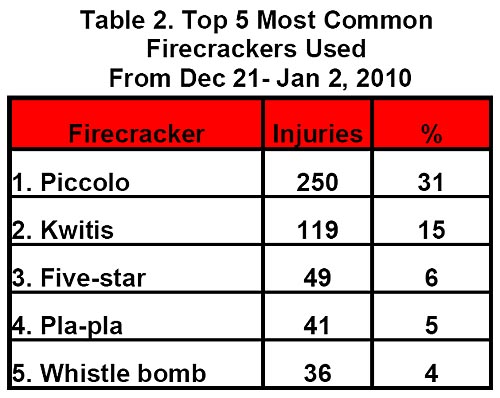 Source: Department of Health
This year's firecracker-related injuries were 18 percent higher than last year's 683. The number of victims hit by stray bullets also more than doubled to 40 cases this year from 17 last year.
The leading cause of firecracker injuries was the piccolo. DOH officials had been appealing to the police for the last two years to enforce a ban on the deceptively innocent looking firecracker that children found attractive. The PNP decided to issue public reminders that it was banned on New Year's eve.
The three fatalities of the holiday transition from 2009 to 2010 were a seven-year-old boy from Central Luzon who reportedly died after suffering from a brain injury caused by a
kwitis
explosion; a 29-year-old man from the Cordillera Autonomous Region who also died of a brain injury after he was injured by a jumbo
kwiton
bomb; and a 46-year-old man also from Region III who died after sustaining severe blast wounds from another type of firecracker.
On Friday, DOH Secretary Francisco Duque announced that the casualties from the holiday merrymaking from December 21, 2009 to January 1, 2010 was the "fourth lowest number of fireworks-related injuries recorded in the country in the annual
Iwas Paputok
surveillance in the past decade." [See:
Duque: Firework injuries down but stray bullets up, no deaths
]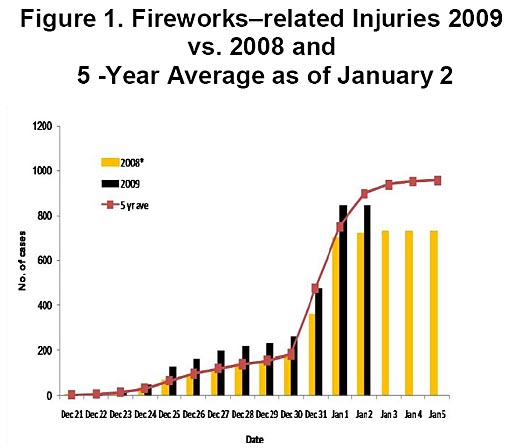 Source: Department of Health
At the time, the DOH was only able to report 597 cases of firecracker-related injuries, supposedly 15 percent lower than 702 cases recorded in the 2008 revelries.
Duque said the decrease might "have been due to the fewer or more cautious use of fireworks."
However, data on the DOH's own web site, in a graph embedded with this article, would appear to contradict Duque's claim. The graph shows that the reported injuries in 2009 were more than the 2008 cases from Christmas day onwards.
Both 2008 and 2009 casualties fall below the five-year average, so the long-term trend seems to be safer holidays. The more injurious 2009 just serves to raise the average.
—
ARCS/HGS/NPA, GMANews.TV