Second Filipina saved from Haiti ruins, 5 still missing
(UPDATE 2 - 8:26 p.m.)
A second Filipina was rescued from the ruins of a supermarket in the quake-torn Hatian capital of Port-au-Prince, Philippine authorities reported Friday, leaving five more Filipinos either missing or trapped in establishments that were brought down by a magnitude-7 tremor that hit Haiti on Tuesday (Wednesday in the Philippines).
Rescued from the rubble of the Carribean Supermarket in Port-au-Prince's Delmas 95 District was Grace Fabian, the Philippine Department of Foreign Affairs (DFA) said in a
statement
Friday night.
Upon hearing the good news, Fabian's family could not help but get emotional. They embraced each other as they shed tears of joy for Grace.
The Fabian family has been suffering sleepless nights and losing their appetite since the powerful tremor struck Haiti, GMA News' Joseph Morong reported on Friday.
Arturo, the Fabian patriarch no longer wants his daughters, Grace and Roselyn, to stay in Haiti.
"
Ayaw ko na kayo diyan. Dito na lang kayo sama-sama tayo. Kaya ko naman. Uwi na kayo
(I don't want you to be there anymore. Just stay here with us. I can take care of your needs. Go home)," said a weeping Arturo.
He also called on the Philippine government to immediately repatriate Filipinos staying in the Caribbean country.
Earlier, rescuers saved Aurora Aguinaldo from the wreckage of the same establishment.
Third Filipina
The third Filipina, Geraldine Lalican, remains trapped in the supermarket. The DFA said that Lt. Col. Lope C. Dagoy, commander of the 10th Philippine Contingent in Haiti, told the Philippine Permanent Mission to the United Nations that "rescuers continue efforts to extract" Lalican.
"Commander Dagoy said that a task force continues to search for, and make an accounting of, Filipino Community members. Filipinos who were able to contact the Philippine Contingent reported that they are all safe albeit suffering minor injuries. Filipinos in the neighborhood of Delmas 41 and 42 are also safe," the DFA said .
Over at the collapsed UN headquarters along Theoowle Bourdon Street, three UN peacekeepers remain trapped, namely Army Sergeant Eustacio Bermudez, Air Force Sergeant Janice Arcena, and Navy Petty Officer 3 Pearlie Tanagi.
Philippine authorities identified the sixth missing Filipino as Jerome Yap, one of about 35 to 40 international staffers of UN based in Haiti. Yap is an administrative officer of the principal deputy special representative of the UN secretary general in Haiti. Authorities could not say where Yap was last seen before the quake.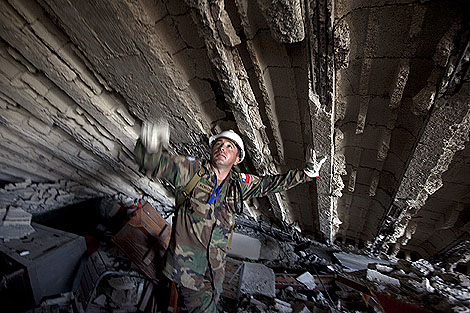 A Chilean UN peacekeeper works in the rubble of the Montana Hotel searching for victims of the earthquake in Haiti Thursday. A Filipino peacekeeper was earlier rescued from the said hotel. AP
Meanwhile, the Philippine government remains optimistic that the three peacekeepers are still alive, especially after signs of life were detected in the rubble.
"The arrival of new rescuers from the US, France and China with equipment has given us some hopes of the early rescue of our elements," said Col. Gregory Cayetano, commanding officer of the military's Peacekeeping Operations Center based in Camp O'Donnel, Capas, Tarlac.
The remaining Filipinos residing in other parts of the Caribbean country have already contacted the Philippine contingent in Haiti to tell them that they did not sustain serious injuries due to the quake.
Dagoy communicates with military officials in the Philippines through a satellite equipment provided to him by the UN. The military in the Philippines is also communicating with Philippine officials in Haiti through the Internet, whose connection was often "unstable," according to Cayetano. The powerful quake had brought down communication lines in Port-au-Prince.
Additional deployment
The Philippines will be deploying a fresh set of 155 peacekeepers to Haiti in February to augment rescue forces in the Caribbean nation, according to Cayetano.
Residents of the impoverished Caribbean nation could experience shortage in food and water supply, Cayeteno said.
"The utilities are down, so we expect
na ang kanilang
food supply is affected,
yung
refrigeration
ng kanilang
food
na dapat naka
-refrigerate, affected (We expect that their food supply will be affected. Refrigeration of food will also be affected)," Cayetano said in an interview with GMA News on Friday.
"We expect they will really have some belt-tightening while at the same time doing their functions,
kaya malaking sakripisyo ito
(this is a huge sacrifice)," he added.
There are 462 Filipinos in Haiti composed of 290 are civilians and 172 military and police peacekeepers, according to the DFA.
Haiti is having an extremely difficult time picking up from the disaster, reports said. Bodies remain scattered along capital Port-au-Prince's streets, while civilians have started building makeshift shelters and sourcing food themselves.
Other survivors fled as far as 1,000 kilometers from the capital, including crossing the border to the Dominican Republic, to seek medical help.
A total of 17 UN personnel were found dead, while 50 remain missing. Several countries have already sent their contingents to assist the remaining UN peacekeeper, while relief goods and rescue workers were sent from China, Taiwan, Israel, the United Kingdom, and the United States.
- with reports from AIE BALAGTAS SEE/ARCS/GMANews.TV