PBA Philippine Cup
:

Aces give semis berth another go
Alaska tries one more time to nail the last outright semifinals berth in the KFC-PBA Philippine Cup when it eyes a win over Burger King on Wednesday at the Astrodome.
And yes, Aces coach Tim Cone is definitely taking their 7:30 p.m. battle with the Whoppers with a lot of urgency.
"It's like a Game 6 in a seven-game series and we're leading 3-2," said Cone. "We certainly don't want to go into a Game 7. We need to finish our run to the semis now."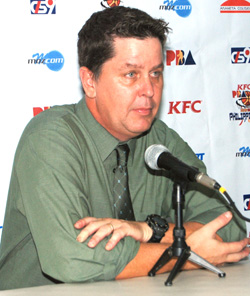 The Aces (12-4) were foiled the last time in their semis bid by the Purefoods Giants, who came through with a 94-77 rout.
Prior to the loss, Alaska also had to go through the wringer before surviving the Sta. Lucia Realtors, 85-77.
"It takes real effort to just get one day of practice and then go back and play another game especially against a quality team like Purefoods," said Cone. "You really have to reach deep."
Burger King (5-12) is currently on a three-game skid, the last of which came just three days ago to Barangay Ginebra, 122-104.
The first time they met, the Aces didn't encounter much trouble in an 87-73 win as Willie Miller scored 19 points on a 9-of-14 shooting from the field, while Reynel Hugnatan and Joe DeVance combined for 29 points and 17 rebounds.
The Aces still have another crack at clinching an outright semis berth in the event they lose to the Whopper as they take on Rain or Shine in their next outing Friday at the Ynares Center in Antipolo.
But a victory by Alaska will also seal the chances of Ginebra to make it to the Final Four via the backdoor.
The 12-6 Gin Kings, who have already seized an outright spot in the quarterfinals, are praying that the Aces drop their final two games to force a playoff for the last semifinals slot.

Although down at the bottom half of the 10-team standings, the Whopper are already assured of a spot in the wild card. They clinched it without even producing a sweat after the Realtors blasted Barako Bull last Sunday, 108-86.
The Energy Boosters, though, still have a fighting chance of advancing to the playoffs by beating Coca-Cola in their 5 p.m. match also on Wednesday and then hope that Rain or Shine loses to Alaska on Friday.
Barako Bull and Rain or Shine will then have identical 4-14 records and both teams will have to go through a knockout game to determine which ball club steps onto the wild card.
A loss by Barako Bull to the Tigers, though, will mean early elimination that will allow Rain or Shine to advance into the wild card.
- GMANews.TV