Massacred journalists' kin cope through therapy session
They thought by now, nearly two months after their loved ones perished in the country's worst pre-election violence in Ampatuan town, Maguindanao, they were already past grief.
And so, when the widows and mother of nine slain journalists and the daughter of a missing newsman met recently with a prominent psychiatrist at a major government-run hospital in Quezon City for group therapy, they were all smiles—until tears began to flow.
For Glenna Legarta, the therapy was her very first chance to openly confront the death of her husband, Bienvendio "Jun" Legarta of Pronterra Balita. The last time she saw Jun, he was no more than a bloated and decomposing cadaver at a dirty funeral parlor in Koronadal City.
The usually jolly Glenna suddenly lost her composure when the psychiatrist asked her to share her feelings about his death. She broke into tears before the group, admitting what she had been keeping to herself all along.
"
Para sa akin, hindi ko pa rin matanggap ang pagkamatay ni Jun, kasi hindi siya nagpaalam na pupunta siya sa Buluan... Sabi niya sa akin, 'Pagkatapos nito, hahanap ako ng ibang trabaho.' Iyon pala, di na siya babalik…Hindi na sila naawa sa asawa ko
," she said.
(I still can't accept Jun's death because he didn't tell me he was going to Buluan. He had told me he was going to look for another job after this but he never returned. They didn't take pity on my husband.)
Glenna then spoke freely about her fears, especially for her children who still long for their father.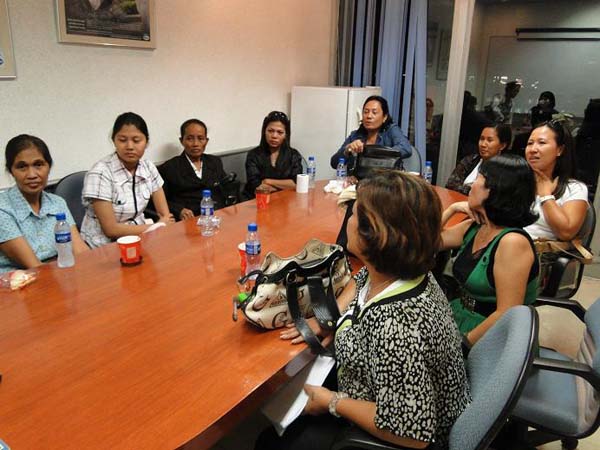 GROUP THERAPY: Relatives of journalists killed in the Nov. 23 Maguindanao massacre open up to one another. From left, clockwise: Editha Tiamzon, Erlyn Umpad, Catherine Nuñez, Glenna Legarta, Myrna Reblando, Arlyn Lupogan, Ma. Reynafe Momay-Castillo, Ramonita Salaysay and Noemi Parcon. Not in the photo is Juliet Evardo. Vera Files
Insensitivity of lawyers, media
The therapy provided Ma. Reynafe Momay Castillo an opportunity to voice out her sadness over what she said was the insensitivity of lawyers and media in describing the massacre. Castillo's father, Midland Review photojournalist Reynaldo "Bebot" Momay, remains missing.
"
Palagi akong nasasaktan kapag nire-report na '57' ang pinatay sa Maguindanao. Paano naman yung tatay ko at iba pang nawawala? Hindi ba sila dapat bilangin
(It pains me when they report that 57 were killed in Maguindanao. How about my father who's missing? Shouldn't he be included in the count)?" she said.
The psychiatrist, who asked not to be named, explained to the women that therapy is a way of creating a community among the victims so they will know that they are not alone in their suffering and they can take positive action to help themselves and others in the same boat.
Simple words of encouragement, like"Kaya mo yan (You can do it)," from a fellow sojourner in the community spark a chain reaction that uplifts the spirit of the group, the psychiatrist added.
Myrna Reblando, widow of Manila Bulletin journalist Alejandro "Bong" Reblando, said it was comforting to know that "
hindi kami nag-iisa
(we are not alone)" and each of them need not rely on their own strength alone.
Arlyn Lupogan, wife of Metro Gazette's Lindo Lupogan; Catherine Nuñez, mother of UNTV's Victor Nuñez; Noemi Parcon, wife of Prontiera News's Joel Parcon; Ramonita Salaysay, wife of Clearview Gazette's Napoleon Salaysay; Editha Tiamzon, wife of UNTV's Daniel Tiamzon; and Erlyn Umpad, partner of UNTV's McDelbert Arriola also participated in the group therapy.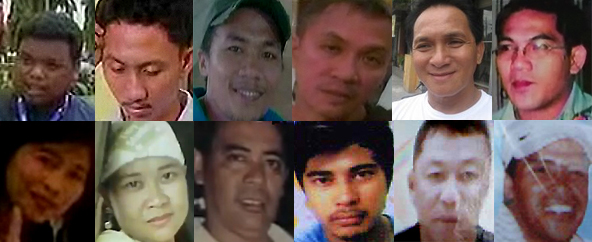 KILLED IN THE LINE OF DUTY.
Among the media casualties in the November 23 massacre in Ampatuan, Maguindanao. (From L-R) Victor Nuñez (UNTV); Mark Gilbert Arriola (UNTV); Jolito Evardo (from UNTV
who is still missing
); Daniel Tiamzon (UNTV);Alejandro Reblando (Manila Bulletin); Rey Merisco (Periodico Ini); Gina dela Cruz (Saksi News); Lea Dalmacio (Socsargen News); Napoleon Salaysay (Mindanao Gazette); Benjie Adolfo (Gold Star Daily); Ronie Perante (Gold Star Daily); and Rubello Bataluna (Gold Star Daily). See complete list of slain journalists
here
Normal reaction
The participants, who have been attending the ongoing trial of the Ampatuans at Camp Crame, learned that their fits of depression and out-of-the-ordinary behaviors were normal reactions to the tragedy that had befallen their loved ones. They themselves were surprised by their varying reactions to the massacre.
In contrast to Glenna's experience, Juliet Evardo appears to be coping better with the death of her son Julito, a cameraman of UNTV.
"
Masasabi ko na tanggap kong patay na ang aking anak, ipinasa-Diyos ko na. Ang hindi ko lang matanggap ay kung paano siya pinatay
(I've accepted my son is dead and am leaving everything to God. What I can't accept, though, is the manner of his death)," said Juliet.
Reacting to the women's distraught confession that they were sometimes overwhelmed by anger or by what they describe as "insanity," the psychiatrist said there was nothing "evil" about them. "You only need time to let the experience sink in," the psychiatrist said.
The women all agreed that their lives have changed after the massacre. But after narrating their personal and collective tragedies, many of them also drew positive meanings out of their sufferings.
"Naniniwala akong (I believe) I am bringing the torch…Ang pagkawala ng tatay ko (My father's disappearance) is a sacrifice, and I am claiming that I will be bringing the torch to light this country," Reynafe said of their struggle for justice.
The counsel for the families of the victims of the Ampatuan massacre, the Roque and Butuyan Law Offices, said the benefits gained by the participants from the therapy extend beyond their health.
"Restorative justice"
The law firm said the therapy encouraged the women to speak their mind on how their case against the perpetrators of the massacre should move, an essential component of what it said is known in international criminal law as "restorative justice."
"Prosecuting the case on behalf of the heirs of those killed in the massacre is not merely a legal task, but a delicate one involving heavily traumatized persons," the Roque and Butuyan Law Offices said. "Part of delivering justice is the active involvement of the victims and the community supporting them, using a 'victim-centered' focus that puts to fore their personal and social healing."
The lawyers also said the therapy made the participants aware of common fears and concerns that aggravate their psycho-social condition. For example, most participants learned that the lack of security for themselves and their families has been causing them tremendous anxiety, they said.
According to the psychiatrist, the therapy sessions should continue building on the gains of the first meeting with the participants.
Psycho-social assistance throughout the trial will aid the participants in coping with the ever-increasing pressure on them, the psychiatrist said.
The participants agreed as much. At the end of the session, they said the meeting helped them a lot and many of them, all smiles again, declared, "Kailangan pala namin ng ganito (We need this)."
(Benjamin Luis is an associate of the Roque and Butuyan Law Offices, counsel for the families of the victims of the Ampatuan massacre. He is registered as International Civil Party Lawyer under the Victims Unit, Extraordinary Chambers of the Courts of Cambodia—a United Nations-sanctioned hybrid tribunal prosecuting senior leaders of the Democratic Kampuchea for the 1975-1979 Cambodia killing fields. VERA Files is the work of senior journalists taking a deeper look at current issues. Vera is Latin for "true.")