Rizal Memorial football field up for renovation
The 76-year-old football field at the Rizal Memorial Sports Complex (RMSC) is up for renovation.
According to Philippine Sports Commission chairman Harry Angping, the government sports agency and De La Salle University will refurbish the pitch in hopes of "reliving the old glory of football."
La Salle, he said, will put in P8-million for the project.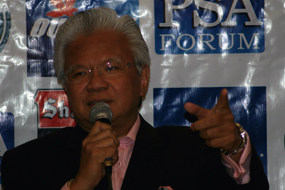 Harry Angping
"They (La Salle) will give everything for the field," said Angping, a La Salle alumnus himself.
In return, Angping said De La Salle will have the rights to use the newly-renovated football field on certain days for its athletic teams.
To give way to the renovation, the PSC chair announced that two lanes of the track oval will be dismantled, decreasing the lanes from the standard eight to six.
"The track will still be usable but for practice only. The track and field will move to ULTRA (PhilSports) so that will be their new home," Angping said.
Once refurbished, the RMSC football field, he said, will also be used to lure foreign teams to play in the country.
"It will become a world-class football field complete with (flood) lights so that we can hold invitational tournaments and invite foreign squads," said Angping.
Sports academy
Aside from the football field project, Angping said the PSC is also looking at forming a sports academy in partnership with La Salle.
"They (La Salle) are coming up with a program to train athletes who will become future coaches, trainors and administrators," said Angping.
The PSC chief said he plans to turn the North and South Wing inside the Rizal stadium into a classroom that will be used for the projected sports academy.
- GMANews.TV