Private armed groups surge as May elections approach
(Updated - 3:09 am Feb. 19)
Private armies connected to local politicians have increased by almost three-quarters in just a month, despite what the government claims are efforts to dismantle militias threatening to disrupt the May 10 polls.
Dante Jimenez, a member of the independent commission tasked to disband private armies, said there are now 117 partisan private armed groups, from just 68 when the commission was formed last month. (See:
Phils has at least 68 private armies, but no names for now
)
Sometimes, private armies augment government security forces and help defend communities threatened by communist or Moro insurgents. But critics have noted that they also keep local politicians in power by intimidating their rivals and supporters.
Local warlords have also used the threat of violence to ensure the election of national politicians, who return the favor by patronizing the warlords and condoning illegal acts of their private armies.
Before last year ended, Secretary of National Defense Norberto Gonzales said there are at least 132 armed groups connected to political clans in the country, mostly in Mindanao. (See:
132 private armed groups exist nationwide – DND chief
)
While he did not identify the politicians maintaining them, Gonzales said these private armed groups of more or less 10,000 men could be used by several candidates to intimidate their opponents in the coming elections.
Jimenez, who heads the Volunteers Against Crime and Corruption, sounded the alarm, adding that the government needs more teeth in going after politicians' armed henchmen.
"We did not expect the number to grow this big. But we attribute this increase not just to the proximity of the elections but also to the weakness of the system in terms of prosecution," Jimenez told GMANews.TV via phone on Thursday.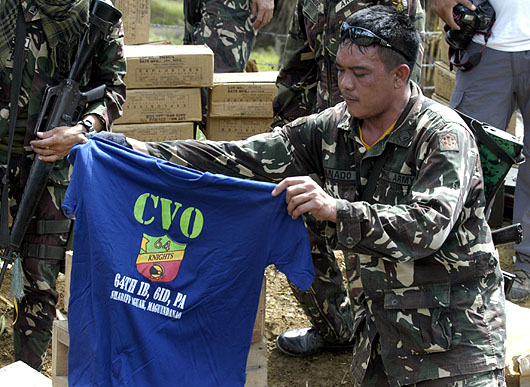 A soldier displays a uniform usually worn by armed militiamen in Maguindanao. The shirt was found buried along with thousands of rounds of M16 and M14 ammunition in a pit outside a farm owned by the Ampatuans. AP file photo
PNP tally
The Philippine National Police (PNP) has a similar tally. In a separate interview, PNP public information head Chief Supt. Leonardo Espina said private militias have gone up to 115 based on intelligence records.
Both Jimenez and Espina declined to name the private armies, their leaders and the politicians who coddle them, saying this could jeopardize government operations.
Jimenez earlier said the commission would identify the groups by March. (Please see
Private armies, coddlers to be named, charged by March
.)
Jimenez said the number of private armies might be rising as candidates threaten their rivals' supporters or sow fear among voters.
"They want to show force and they know they can get away with it. Dismantling them is not enough. They need to be prosecuted to disband them permanently. The monitoring should also continue even after the elections," he added.
Espina said 10 of the validated armed groups nationwide have been neutralized, with 20 "hardcore leaders" and 70 followers already arrested and detained.
The disbanded armies were from Masbate in the Bicol region; Tarlac and Bulacan in Central Luzon; provinces in Region 4-A , which comprise Cavite, Laguna, Batangas, Rizal and Quezon; the Cordillera Autonomous Region; Samar; Davao; and Maguindanao.
Espina said the police were doubling efforts with the Zeñarosa Commission to suppress armed groups, and bring them and their protectors to justice.
Court of Appeals Associate Justice Monina Arevalo Zeñarosa heads the commission, which was formed last month after public outrage over the massacre of at least 57 people in the southern province of Maguindanao on November 23. About 161 henchmen of the Ampatuan clan allegedly carried out the bloodbath. (See:
CA justice who acquitted Daniel Smith heads gov't body vs private armies
)
The massacre claimed the lives of at least 57 people, at least 32 of whom were journalists. About 161 henchmen of the Ampatuan clan allegedly carried out the bloodbath. (See:
The Ampatuan Massacre: A map and timeline
)
Datu Unsay Mayor Andal Ampatuan Jr., the primary suspect in the gruesome massacre of 57 people in Ampatuan town, smiles after he turns himself over to authorities for investigation. Danny Pata file photo
So far, the commission has visited Masbate, Davao, the Autonomous Region in Muslim Mindanao (ARMM) and Abra to speak with local officials and law enforcers.
Jimenez noted that in Masbate alone, the number of private armed groups had surged from two to 16 in just a month.
Police earlier noted that while suspected private armies had been arrested in the province, the groups thrive because their leaders and other members remained at large.
Last week, Defense Secretary Norberto Gonzales said Masbate should be placed under the Commision on Elections' watch following the spate of politically motivated killings.
Election hotspots
Jimenez said the ARMM has the most number of private armies, followed by the Cordillera region in Northern Luzon, particularly Abra.
The Bicol region was the third most notorious, particularly Masbate province. It was followed by Region 8 or Eastern Visayas. Police have declared some of these provinces as election hotspots.
The hotpots include Abra; Nueva Ecija in Central Luzon; Lanao del Sur, Sulu and Maguindanao in the ARMM; and Lanao del Norte in Region 10.
Espina said PNP operations against private armies are more aggressive in Mindanao. "We are doing combat operations in Mindanao. These include the crackdown on their firearms and ammunition, which they have amassed," he said.
Police are also collecting evidence linking local government officials to the armed groups.
Jimenez confirmed that about 25 local candidates for the May elections are "patrons" of private armies, but declined to name them.
Perennial problem
In its analysis, public policy institute Center for People Empowerment in Governance (CenPEG) traced the history of warlordism and private armies as a problem that has plagued previous administrations since the Marcos era, but has yet to be eliminated.
The study,
posted on the CenPEG website on January 28
, showed that election-related killings involving private armies rose from 24 in 1959, to 128 in 1967, to 225 in 1971. The Marcos military later declared it had disbanded some 145 private armies in the 1970s and recovered over 100,000 high-powered firearms.
The number of private armies peaked anew in 1988 under the Aquino administration, numbering about 1,000 groups with 512,678 guns. Today, CenPEG estimates that there are more private armies than what the government reports in light of 1.2 million loose firearms based on police records.
In recent decades, these armed groups have figured in land conflicts and election-related violence, such as in agrarian conflicts between tenants and landlords, as well as between rival political clans. CenPEG said warlord impunity has been rampant in agricultural areas of severe income disparities.
The center further scored the creation of the commission on private armies as a "cheap publicity gimmick" aimed at absolving the current administration of accountability for their proliferation, as well as for the massacre in Maguindanao.
CenPEG argued that President Gloria Macapagal-Arroyo's Executive Order (EO) 546, issued in 2006, provided for the arming of civilian volunteer organizations which in turn made up majority of the armed groups' members.
Congress may thus have to revisit laws enacted in the past to neutralize armed groups, CenPEG said as it urged the presidential aspirants to be probed about their possible connections with private armies.
"They should be willing to stake their presidency to the disbandment of private armies. They should go beyond their narrow political interests by acting for the bigger cause of serving justice to the victims of private armies and putting back public trust in the government," CenPEG stated. —
NPA/JV, GMANews.TV