Name dropping: Burger King is Air21 again
"Ube Republic" is back in the Philippine Basketball Association.
Unable to create a big stir as the Burger King Whoppers, the Lina Group franchise has decided to revert to its old - and relatively luckier - name Air21 starting with the Fiesta Conference on March 21.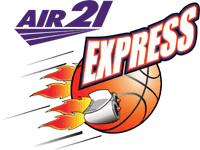 The Bert Lina-owned company made the decision after Burger King achieved its goal of "becoming a household name in the quick service restaurant industry."
Under Air21, the franchise achieved its best accomplishment in 2008 – a first-ever finals stint. The Express lost to the Barangay Ginebra Gin Kings in a thrilling seven-game series that drew a record crowd.
"Get ready for the return of the Ube Republic," said PBA Chairman and Air21 team manager Lito Alvarez, referring to the dominant color of the Air21 banner.
"We will try to re-live the success that we had with the Air21 name," said. "We're very upbeat because the Express name has been synonymous with a fast, exciting team that never surrenders until the final buzzer. We can do that again."
The Express, who are seriously working on multiple trade deals, has tapped the services of rim-rattler LeRoy Hickerson as reinforcement.
Hickerson is a 6'5, two-time slam dunk champion in the Mexican LNBP All-Star Game in 2008 and 2009. He worked out with the Memphis Grizzlies last summer and was chosen last year as the Player of the Year, Guard of the Year and Import Player of the Year by Latinbasket.com.
In 41 games in 2009, Hickerson averaged 19.2 points, 4.7 rebounds, 3.7 assists and 2.2 steals per game while playing for the Halcones UV Xalapa.
"With an explosive import and a return to our former name, the Express vow to deliver again for our legions of fans," Alvarez said. -
GMANews.TV