The spicy poetry of Mark Angeles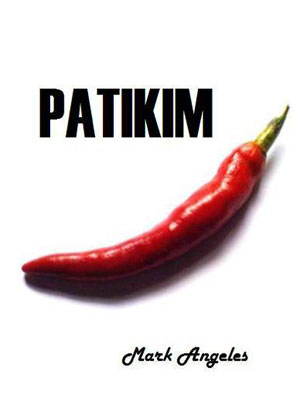 Spicy cover. Like the red pepper on the cover, the poems inside are all hot, with traces of sweetness.
Kaya kong magbitiw ng
bitter words
ngayong gabi. Mag-
scribble-
skribulan halimbawa: "Ang gabi ay pilantod at nangangalantutay, bugbog-sarado, ang mga bituin sa malayo. Paruo't parito ang hangin at ngumangawang parang baka
."
If this sounds familiar, it's probably because you know your Neruda. The Chilean People's Poet's "Tonight I can Write the Saddest Lines" is a poetry reading staple, and the hopelessly depressing piece has been read in innumerable ways.
Though the poem has been translated into many languages, perhaps none are as humorous as the
Mark Angeles a.k.a. Makoy Dakuykoy
version.
Angeles performed his take on the poem with Khavn Dela Cruz at the book launch of
Patikim
last February 19 at the Conspiracy Garden Cafe along Visayas Avenue.
"
Kaya Kong Magbitiw ng
Bitter Words" was a strange experience. Neruda's lines in English were interspersed with Angeles' lines in Taglish, which were sung by Dela Cruz, who also accompanied himself on the keyboards. Paper props made the presentation even more bizarre.
One felt slightly uncomfortable, unsure whether to laugh or cry. What was certain was the enthusiastic applause following every performance.
Patikim is, in a word, spicy. Button pins were given away that asked "
Maanghang ka ba?
" There couldn't have been a better question to ask. Like the red pepper on the book's cover, the poems inside were all hot, with traces of sweetness.
At the launch were a number of award-winning writers and a few accidental attendees who were pleasantly surprised to partake of the modest spread of yummy morsels, both literary and literal.
Guests munched on
kwek kwek
(quail eggs deep-fried in orange-colored flour), nachos with salsa, and bite-sized hotdogs while listening to performers who read pieces from Angeles' latest book.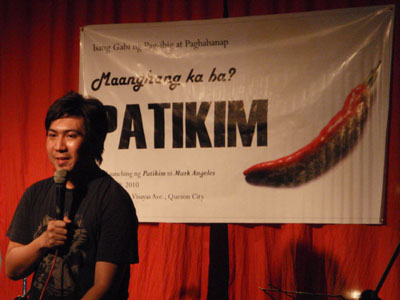 Poet's turn. Mark Angeles wows the crowd with his verses.
Patikim is full of intimate love poems like "
Sa Pagitan Natin,
" where Angeles poses questions like "
Bakit umiiyak ang bato?
" (Why does the stone cry?) and "
Bakit matamis ang halik?
" (Why is a kiss sweet?)
Angeles thanked the guests and quoted from his poem "
Salamin
" for his parting words, "
Ang personal ay politikal rin.
"
Indeed, at the end of the launch, proceeds from the book for the
desaparecidos
were handed over to Atty. Rex Fernandez of Karapatan.
Angeles is an AB Journalism graduate from the Polytechnic University of the Philippines, Fellow sa Tula of IYAS and Iligan National Writers Workshops. He has won prizes from the Maningning Miclat Poetry Awards and the Haruki Murakami Essay Contest (organized by the Japan Foundation). -
FVI, GMANews.TV