Priest bans nude frat 'Oblation Run'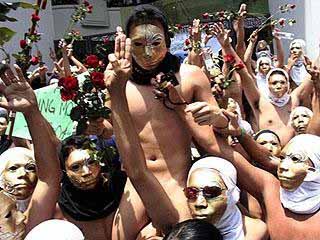 Members of the Alpha Phi Omega walk naked during the centennial celebration of the University of the Philippines-Diliman in 2008. Charlie Magno (File Photo)
A Catholic university chaplain has barred students in Malabon from re-staging their annual naked "freedom run" around the campus to mark their fraternity's anniversary.
Father Salvador Curutchet of the Institute of the Incarnate Word (
Instituto del Verbo Encarnado
, or IVE) has banned students of De La Salle Araneta University (DLSU-Araneta) in Malabon City from conducting a nude run as part of their fraternity's traditional anniversary celebrations.
The traditional nude run of the Alpha Phi Omega (APO) fraternity is most closely associated with the organization's University of the Philippines chapter and is popularly known as the "Oblation Run."
'It does not show our Christian values'
"I do not feel that students from a Catholic school should be running around the streets naked. It does not show our Christian values in the community," he told the Union of Catholic Asian News (UCAN).
An article on the
UCAN website
said that the run was scheduled for Tuesday and had the approval of the Malabon City Hall.
The Argentinean Curutchet, who has been the school's chaplain for five years, said he felt that it was not appropriate behavior for students from a Catholic university.
Permit granted by City Hall
Members of the APO international students' fraternity staged a similar Oblation Run two years ago.
Randell Tupaz of the student affairs Office at DLSU-Araneta said that APO had a freedom run in 2008, marking the 50th year since the school charter recognized the fraternity.
"Just as they did in 2008, APO members went to the City Hall and applied for a permit to run naked around the streets outside the campus. The permit was granted by city officials again this year," he said.
He said that the run was canceled after Father Curuchet wrote a letter to the school administration advising them to stop it.
Luncheon instead
Tupaz said that the APO members did not fight the ban and pushed on with the 60th anniversary celebration by instead hosting a luncheon for its members and alumni.
-TJD, GMANews.TV