Llamados tap young import as Fiesta Cup reinforcement
The Derby Ace Llamados (formerly Purefoods TJ Giants) don't want to be an underdog in the coming PBA Fiesta Conference.
"How teams perform in the Fiesta Conference depends on the right import, that is why we evaluated carefully who's the right choice for us," Gregorio told GMANews.TV.
Llamado is a Spanish word meaning called or named but its translation in Filipino is favored.
That's the reason why coach Ryan Gregorio and team manager Alvin Patrimonio took some time before choosing 6-foot-6 lefty Lorrenzo Wade, the import they believe is the right piece that would help Derby Ace complete its bid of winning a second straight PBA crown.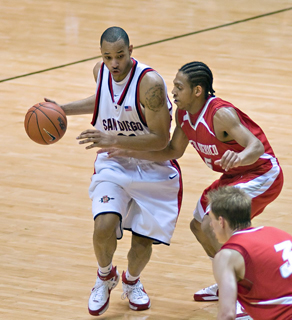 Lorenzo Wade, left, in action while playing for the San Diego Aztecs in the US NCAA tournament.
"After all, we really want to figure prominently in the Fiesta Conference where we have a chance to score a modern-day grandslam."
The Llamados, then known as the Giants, scored a 4-0 sweep of the Alaska Aces in the Philippine Cup.
Wade played for the Rick Pittino-coached Louisville Cardinals that reached the US NCAA's Final Four tournament during the 2004-05 season. He transferred to San Diego and played two seasons with the Aztecs, 2006-08.
Wade, who possess a great leaping ability that made him an excellent dunker, averaged 25.3 points and 9.8 rebounds in the 66 games he started with the Aztecs. He also had an average of 6.2 assists, 2.9 steals and 1.8 blocks in his two years in San Diego.
This year, Wade played in Greece where he also figured prominently.
"We don't want to disrupt team chemistry. I believe Lorenzo Wade can fit well with us. He's a lefty, an open court player, but he's long, highly athletic and very skillful. He's an incredible dunker with decent perimeter shot," said Gregorio.
Daniels back for another PBA stint
But while the Llamados tapped a young and talented import, Talk 'N Text opted for a grizzled veteran who knows what Filipino basketball is.
Talk 'N Text got the services of Shawn Daniels as Erick Hicks' replacement even before the Tropang Texters battle the Barangay Ginebra Kings when the import-flavored conference opens on Sunday, March 21, at the Araneta Coliseum.
This was confirmed by Texters team manager Virgil Villavicencio who said that 6-foot-6 Daniels will arrive on Thursday.
"Erick Hicks is good, but we felt he cannot carry us all the way to the finals. Our objective is to make it to the championship round and he is not the right fit," said Villavicencio in a telephone interview.
Daniels, known for making his teammates better, will join a team loaded in talent. The 30-year-old import will be reunited with former Air21 and Burger King teammates Ranidel de Ocampo and JR Quinahan.
PBA approves 4 imports
The PBA commissioner's office allowed four more imports to finally suit up for their respective teams after passing the 6-foot-6 height requirement.
The Kings will have Awvee Storey (6-foot-5 3/16) as their reinforcement when they face the Daniels and Texters in Sunday's second game.
The Barako Energy Coffee Masters will be relying on Sammy Monroe (6-foot-5 1/16) when they go up against Anthony Johnson (6-foot-5) and the Sta. Lucia Realtors in the opening game.
Other imports that will be seeing action in the Fiesta Cup are Diamon Simpson (6-foot-5 15/16) for the Alaska Aces and the Air21 Express' Keena Young (6-foot-5).
– GMANews.TV