Arroyo adviser Joey Salceda deserts Lakas in favor of LP
(Updated 1:25 p.m.)
Albay Governor Jose Sarte Salceda, President Gloria Macapagal-Arroyo's economic adviser, on Wednesday confirmed talks that he was bolting the ruling Lakas-Kampi-CMD party to support college classmate Benigno "Noynoy" Aquino III, the Liberal Party's standard bearer.
"Last Monday, I accepted the challenge of my Ateneo classmate Noynoy (Aquino's nickname) to become the Bicol regional chairman of the Liberal Party. My task is to make him win in Bicol on May 10," Salceda, who is abroad, said in an e-mailed statement.
The Bicol Region has a voting population of more than 2.8 million based on the Commission on Elections records as of January 2010.
Salceda, who is seeking reelection as governor, said he was supposed to announce his move on April 20 but rumors of his transfer preempted his announcement. He added that he would have wanted the LP to give him more time to notify Lakas-Kampi-CMD and President Arroyo.
"I would like to thank them especially our dear President for the unique opportunity to work with them in the field of public service, economic policy and social reengineering," he said.
Salceda added that Aquino and running mate Sen. Manuel Roxas II had given him a free hand regarding the local politics in Albay. "The only thing that changed is that I would now campaign for Noynoy for President. Everything else remains the same," he said.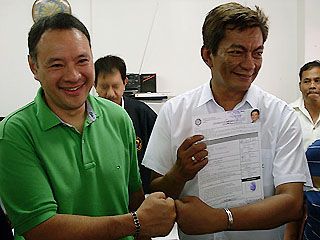 In this file photo, Teodoro accompanies then administration ally Joey Salceda as he files his certificate of candidacy for reelection as Albay governor. On Wednesday, Salceda announced he is supporting Teodoro's cousin, Noynoy Aquino. GMANews.TV file photo
In a separate e-mail to GMANews.TV, Salceda said he had not yet informed administration bet Gilberto Teodoro Jr. about his move to the LP. Prior to his shift in allegiance, Salceda had staunchly supported Teodoro.
"I will try to say goodbye [to Teodoro]
pero inunahan ako ng media kaya parang hindi maganda
(but media preempted me so it does not look good)," he said.
He added that his decision to leave Lakas-Kampi-CMD was "difficult, but not abrupt."
Malacañang and Teodoro's camp could not be reached for comment as of posting time. Lakas-Kampi-CMD has been rocked by a series of defections in recent weeks. The latest in the saga was House Speaker Prospero Nograles Jr.'s threat that a faction in the party might desert Teodoro.
Ties with Noynoy
Last Tuesday, Aquino hinted that an administration stalwart was moving to the Liberal Party. He declined to identify who he was, until Salceda made the admission on Wednesday.
Salceda said his ties with Aquino dated back to their college years at the Ateneo de Manila University, where they graduated in 1981. Both are Economics graduates and were students of Mrs. Arroyo, herself an Economics graduate.
"I distinctly remember Noynoy as a seatmate in the English class… during my first year in Ateneo. He struck me as being quite ordinary for a son of the biggest political prisoner, a future martyr-hero and a future President," Salceda said, referring to Aquino's late parents Benigno Jr. and Corazon Aquino.
Salceda noted that his friends since the Marcos regime — LP campaign manager Florencio Abad, Akbayan Rep. Risa Hontiveros, former Social Welfare Sec. Dinky Soliman and former Defense chief Avelino Cruz — are now part of Aquino's camp.
Investments
Salceda, one of Mrs. Arroyo's trusted economic advisers, predicted that the country's economy would improve under Noynoy Aquino's leadership.
"I have come to the preliminary conclusion that a new mandate under an Aquino presidency would have the highest statistical probability of triggering a significant increase in the investment rate from the current [14 percent of economic output]," he said.
Salceda claimed an Aquino presidency could increase it instantly by 8 percentage points, or almost P642 billion more in private investments in the first 18 months.
"This would create 642,000 [more] jobs on top of the organic capacity of the economy for job creation," he added. —
RSJ/NPA, GMANews.TV