A sizzling afternoon with Miguel Syjuco
It was a sizzling 34 degrees outside on a sunny Wednesday afternoon, but inside the Filipinas Heritage Library, the only warm thing was a stimulating conversation with Miguel Syjuco.
Moderating the lively discussion was Andrea Pasion-Flores, Executive Director of the National Book Development Board. Syjuco sat between the two guest panelists, penman Dr. Jose Y. Dalisay and Milflores President Antonio Hidalgo. Also on the panel was Maria Riccia Angeles-Knust of Macmillan Philippines.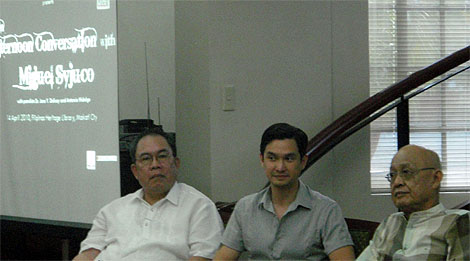 Author-of-the-moment Miguel Syjuco (center) is flanked by fellow writers Butch Dalisay (left) and Tony Hidalgo at the forum.
Impeccably dressed and charming, Syjuco bore none of the typical starving artist look. Sure enough, Syjuco, who says he is "nothing but a Filipino," thinks of writing as his main job instead of how it usually is – a hobby.
Syjuco, whose list of survival hobbies (things he did to put food on the table while working on his novel) includes being a bartender, a medical guinea pig, an assistant bookie at horse races, and an Ebay vendor, works hardest at his writing. Bringing home the bacon is just the beginning of what critics say will be a promising career.
After winning locally with the 2008 Palanca Grand Prize for the unpublished manuscript of his thick (more figuratively than literally) novel
Ilustrado
, he gained worldwide recognition by bagging the
Man Asian Literary Prize
for the same book in the same year.
Syjuco said he attempted to get it published in the Philippines, but got no help. Later, he discovered that his manuscript was already circulating on the Internet.
He said then that he would "really beat them up." This was probably about as serious as his answer to the question, "What do you wish someone would ask you?" To this, he replied he had never been asked to get married, and would accept all offers.
Syjuco comes across as polite, sweet, and intelligent (but we know that much - he is, after all, on a scholarship towards a Ph.D at the University of Adelaide in Australia).
In the middle of the conversation, Syjuco acknowledged his mother's presence, and gave some very Pinoy (read: sentimental) words of gratitude.
Mrs. Syjuco later bought a copy of
Ilustrado
and fell in line with the rest of the crowd to have the book signed. She said it hadn't occurred to her to have it signed later on, and besides, her son was leaving the next day for Hong Kong.
In the audience were other writers, critics, and fans. Syjuco was especially pleased to see Gregorio Brillantes. Syjuco could not help but thank him for inspiring him, and Brillantes replied with praise for Ilustrado, and thanks in return.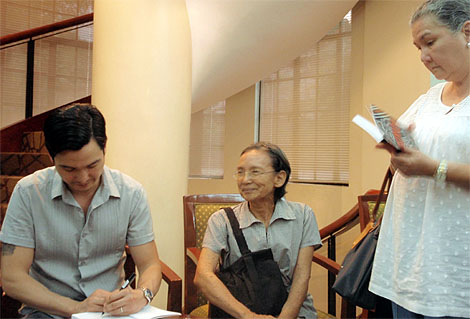 Syjuco signs a copy of the book while his mother (right) waits for her turn. "Everyone else was lining up," she said.
Brillantes also informed the audience about page 113, where he is mentioned. Some people later approached him and asked him to sign their copies of
Ilustrado
, and the Palanca Hall of Famer gladly obliged.
It was a small room fit to burst with a mutual admiration society, and one wonders if the book will make it to the masses.
As one member of the audience pointed out,
Ilustrado
is a novel that respects its readers. It's challenging, but it trusts that the reader is smart enough to stick with it and, as writer-critic Tony Hidalgo said, it is ultimately rewarding.
Discussed were audience (who do you write for?), language (we need more translators for all the undiscovered talent of writers who don't write in English or Filipino) and, of course, writing.
Writing for Syjuco is a conversation, and above all, work. He doesn't believe in writing rituals, writer's block, or inspiration. What he does believe in is sitting down and getting to work.
"I believe in sitting down and working your ass off every day, like a job. It is an art, when you do it very well, but you don't have to be 'arte,'" he said.
And he should know. His four-year struggle with
Ilustrado
involved near-giving up, several separate color-coded documents, numerous workshops in his masters' classes at Columbia University, and some memorable eureka moments.
Syjuco explained that he had first written his novel as a narrative, but after watching a documentary on the T'boli weavers, decided to rearrange the novel in the form of a tapestry where the threads stream into each other and form a whole fabric.
Possibly, this technique is precisely the essence of writing, as the word "text" has its roots in the Latin 'texere' which is, in fact, to weave.
He then split up the novel in distinct plots, and painstakingly mapped them out before arranging them in the form they appear now.
Distance played a large part in the weaving of
Ilustrado
. Syjuco says that writing about his home from abroad afforded him freedom.
"I wasn't so worried that so and so might think this is them and they might shoot me," he said. Being far away also gave him a larger perspective – seeing the forest from the trees, as he put it.
Syjuco agrees that writers ought to keep every single draft – no matter how much it makes you cringe later on.
"It's all about learning, and studying. These are studies that you can go back to later on. And we need to be able to learn to take criticism from other people, we need to be able to workshop our work, we need to be able to look objectively at who we were… if only to make yourself laugh, to make you feel better about how far you've come."
He shares that a lot of short stories that made it into
Ilustrado
came from short stories that he had previously abandoned. "It's like building a nest," he says.
Although
Ilustrado
enjoys a generally warm reception, to say the least, there is of course some resistance to it. Not everyone likes it, Syjuco admits, but he isn't bothered.
"Someone said they didn't quite like it, but, you know, I know that the book will be liked by some people, and will be not liked by some people, but what's important to me is it creates a discussion and I hope that those people who don't like the book are challenged and inspired to go write their own and do one better," he said.
Asked if there is anywhere people can openly discuss the book (an Internet discussion board for instance), Syjuco says he's just a writer and not tech-savvy, but thinks it would be wonderful if someone set up something like that.
The afternoon conversation had spilled over to dinnertime, and Syjuco's food remained untouched. He had just finished signing books for almost everyone in the room, but despite his jet lag and having to fly to Hong Kong the next day, he agreed to answer a few more questions.
"I've wanted to do this all my life. I love that I'm able to meet readers after being so solitary for such a long time while working on the book. I'm enjoying it," he said.
Wondering about what was written on the writer, I asked about his tattoos. He has five, more or less, because the one on his back could be counted as two small ones or one large one.
On his right shoulder, there's San Miguel slaying the dragon. On his left, something in
Alibata
, an early Philippine alphabet. On the back of his neck, the seal of Manila, with
Insigne y Siempre Leal Ciudad
– "noble and ever loyal," an
anting-anting
on the back as well as the Ifugao symbol for fertility and the sun rays on the Philippine flag. Asked what was written in
Alibata
, he says it's something he used to believe in, but doesn't anymore.
Bathala, Pagibig, Bayan, Sarili
. Those were his priorities before, but he's outgrown them, he says.
"I'm an atheist. I don't believe in God, I believe in humanity now. I believe we are all one people. I'll always believe in love, and self is always last."
Syjuco's future as a writer looks stunningly bright, and fortunately for his audience - which, according to him is everyone, a second novel is already in the works.
"It's a lot of pressure. But of course one tries to make the next book better." -
YA, GMANews.TV
Published by MacMillan Philippines and exclusively distributed by Anvil, Ilustrado is now available in local bookstores for 385 pesos.