4 All-Star dunk crowns enough for high-flying Canaleta
Puerto Princesa City –
KG Canaleta's dunking days are over.
Instead of planning to defend his 2010 PBA All-Star Game slam dunk crown where he could possibly win a record fifth title, Canaleta decided its time to give others a chance.
The high-flying B-Meg Derby Ace forward, who won his fourth title against the
best dunkers
on Friday night, has retired from active competition in the All-Star game's much-awaited side event.
"I don't think there's nothing more to prove," said Canaleta after winning his fourth slam dunk trophy. "As early as last year, I was contemplating of not joining this event anymore."
Next year, PBA fans will see Canaleta trying to upset Mark Macapagal's title defense bid in the three-point shootout. "Next year, I will definitely no longer join the slam dunk contest. I am planning to compete in the three-point shootout."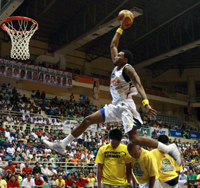 Derby Ace's KG Canaleta shows off his winning dunk by leaping over three people.. GMANews.TV
Canaleta won his fourth and last slam dunk title when he beat Sta. Lucia's Kelly Williams in a hotly-contested finale.
The former University of the East stalwart jumped over three ball boys to complete a soaring one-handed slam similar to what "Dr. J" Julius Erving loves to do.
But Canaleta is done doing those gravity-defying stunts.
Now a vital cog for the Llamados' offensive rotation and a third-string forward behind James Yap and the injured Peter June Simon, Canaleta wants to focus on the other facets of his game like improving his outside shooting.
"I want my shooting to be more consistent. That's why I am aiming for a spot in next season's three-point shootout in the All-Star Game. I joined once in 2008, but lost. Maybe next time, I will be given the chance again," he said.
– Rey Joble, GMANews.TV