Foton launches its all new 2010 vehicle models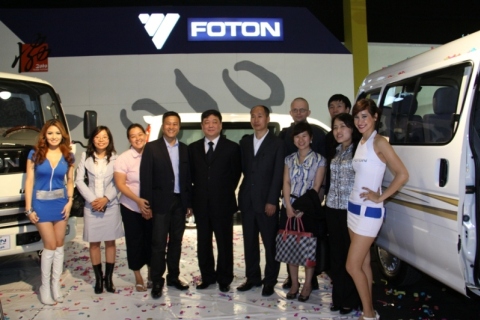 (L-R) Foton China Truck Sales Manager Catherine Cheng, wife of FMP President Mrs. Sandra Sytin, FMP President Rommel Sytin, Foton China Trucks Manager Li Xingxing, Trucks Engineer Yan Changcai, AUV Senior Manager Matevz Honn, R&D Trucks Manager Tian Mengyi, Trucks Marketing Manager Wu Yanqin and AUV Manager Xiang Yanfei.
Last April 15, 2010, Foton Motor Phils. (FMP) unveiled 4 new models which include the View Van, Tornado 2.5, Blizzard 4x2 and 4x4 Turbo and MPX with captain seats at the 6th Manila International Auto show held at the World trade Center in Pasay City. Foton now provides a more complete line-up of commercial vehicles.
Included in the launch is the Foton View Passenger Van equipped with a reliable, potent, and fuel-efficient 2.8L CRDI Turbo diesel engine. Currently the longest (5,320mm) and most powerful (102hp) 15-seater diesel powered van in the Philippines; the View is also the best value for money given the introductory price of only P888, 000.00. This van boasts of having 11 individual reclinable seats and a spacious bench type seat for 4 people. Unlike other vans in its category which have jump seats that fold away to provide a passage way for passengers, the View has a fixed aisle where they could pass through at any given time without disturbing the other commuters.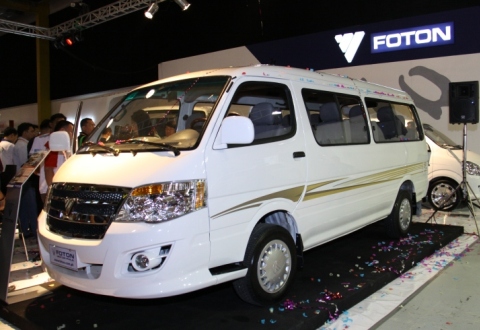 The recently launched 15-seater Foton View Van during the 6th Manila International Autoshow (MIAS).
Adding to the extensive series of Foton Tornado trucks is the all-new Tornado 2.5. With its powerful yet efficient 3.5 liter Turbo Intercooler Diesel Engine, this variant can effectively haul up to 2500kg of load and accommodate various goods with its 14 footer cargo body. Available in cab and chassis, drop side, and aluminum van, businessmen has an array of choices to suit the demands of different needs.
FMP's best selling model Foton Blizzard Pick-up recently got a heart transplant with a better and more powerful engine. Now equipped with a new Turbo Charger the 2.8L Direct Injection Diesel engine of the Blizzard promises boost in performance. More horsepower, increased torque, better fuel efficiency, and improved driving pleasure are just some of the additional benefits.
The Best Van for 2009 now has a new variant which is the MPX with "Captain Seats". This spacious van can sit up to 8 adults in elegantly designed captain leather chairs. All of these are reclinable to assure a safe and comfortable travel. The front row passenger seats at the cabin are also completely movable making it ideal for business meeting simply by rotating it to face the passengers at the back. Also, this van is handicap-friendly since the chair can be maneuvered to face the door for an easier lift.
The success of this year's launch can be attributed to FMP's dedication in living up to its commitment of providing high quality commercial vehicles at very affordable prices.
Go to comments