Comelec en banc proclaims 9 of 12 newly elected senators
(Update 2 - 5:50 pm)
Five days after the country's first nationwide automated polls, the Commission on Elections (Comelec) proclaimed nine of the 12 winners in the senatorial race on Saturday at 3:20 p.m. at the Philippine International Convention Center.
The poll body – sitting as the National Board of Canvassers (NBOC) – announced that leading those joining the 15th Congress of the Philippines is reelectionist Senator Ramon "Bong" Revilla (Lakas-Kampi) with 18,218,514 votes.
Senator Jose "Jinggoy" Estrada of the Pwersa ng Masang Pilipino (PMP) will also join him in the Senate for placing second among the senatorial winners with 17,722,162 votes.
Also among the nine senatorial aspirants proclaimed winners were:

• DEFENSOR-SANTIAGO, Miriam of the People's Reform Party (PRP) - 16,066,001 votes
• DRILON, Franklin of the Liberal Party (LP) - 14,770,612 votes
• ENRILE, Juan Ponce (PMP) - 14,695,263 votes
• CAYETANO, Pilar Juliana of Nacionalista Party (NP) - 12,821,946 votes
• MARCOS, Ferdinand Jr. (NP) - - 12,372,118 votes
• RECTO, Ralph (LP) - 11,640,679 votes
• SOTTO, Vicente III of the Nationalist People's Coalition (NPC) - 11,160,077 votes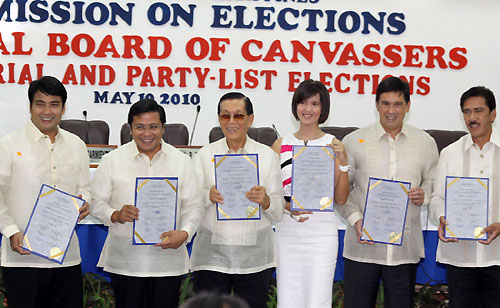 Newly-proclaimed senatorial race winners show their Comelec-issued certifications. From left to right: Ramon 'Bong' Revilla Jr., Jose 'Jinggoy' Estrada, Juan Ponce Enrile, Pilar Juliana 'Pia' Cayetano, Ralph Recto, and Vicente 'Tito' Sotto III.
Danny Pata
Senators Cayetano, Enrile, Estrada, Recto, Revilla and Sotto personally attended the proclamation at the PICC, where the NBOC is undertaking the national canvass of votes for the senatorial race.
Comelec spokesman James Jimenez said that Santiago could not make it because of the short notice, while Marcos could not attend because of a medical appointment.
Waiting in the wings
Comelec chairman Jose Melo said that the proclamation was based on 115 certificates of canvass (COC) from 73 Provincial Board of Canvassers (PBOC), 22 City Board of Canvassers of cities comprising one or more legislative districts, one District Board of Canvasser from Taguig-Pateros, and 19 Special Board of Canvassers for Overseas Absentee Voting (OAV) processed by the poll body as of Saturday 11 a.m.
"The remaining uncanvassed COCs will not materially affect the votes obtained by the aforesaid candidates, and the tenth up to the twelfth ranking winning candidates for senator shall be proclaimed after the receipt and canvass of the remaining COCs," Melo said before the proclamation.
There are a total of 274 COCs, 171 of which are from the OAV.
Jimenez said he estimates that only some two to three million votes have yet to be canvassed.
Expected to fill the last three of the 12 slots are Sergio Osmena III (Independent) with 10,996,061 votes, Manuel Lapid (Lakas-Kampi) with 10,327,121 votes, and Teofisto Guingona III (LP) with 9,686,352 votes.
But consistently trailing the three at 13th place is Akbayan Rep. Ana Theresia "Risa" Hontiveros-Baraquel with 8,581,125 votes. Behind Hontiveros are Muntinlupa Rep. Rozzano "Ruffy" Biazon with 8,148,685 votes and Jose de Venecia III with 7,867,883 votes who now rank 14th and 15th, respectively.
Meanwhile, a joint session of Congress, sitting as the NBOC, will serve as the canvassing board for the positions of president and vice president.
Celebration and advice
First-placer Revilla said he was happy that he was reelected into office with the highest number of votes. In the 2004 polls, he placed second just next to outgoing Senator Manuel Roxas II.
"I would like to thank everyone who placed their trust on me. I would not be here if not for them. I promise to pursue the legislation I left in the Senate," he told reporters in Filipino in an ambush interview.
Cayetano likewise said she was "ecstatic" to "walk the same path" she did six years ago. She placed sixth in the 2004 senatorial elections.
"
Ngayon po naniniwala ako na dinala ako ulit dito dahil sa serbisyong pinakita ko. Muli akong nagpapasalamat
(Now I believe that I was reelected because of the service that I have rendered. Again, I am thankful)," he said.
Enrile, before the proclamation, just alluded to his campaign slogan. "
Mula ngayon, hanggang matapos [ang termino ko], ang gusto ko, happy kayo
(From now until my term ends, I want the people to be happy)," he said.
On the other hand, Estrada said he was "amazed" with the fast proclamation.
Comelec Commissioner Gregorio Larrazabal said that the proclamation for this year's senatorial race is probably the fastest one in Philippine history.
In 2004, it took the Comelec two weeks before it could declare the complete slate of new senators. In 2007, it took them two months to do the same.
Melo, for his part, reminded the senators that they have a great responsibility as newly instated leaders of the country. "You are now our representatives, our champions. Do not let us down. I... hand over the hopes and expectations of the Filipino people to you," he told them.
The Senate's new shape
Of the newly-proclaimed senators, only Marcos is the first-timer. Five will finish their current terms on June 30, namely, Revilla, Estrada, Defensor-Santiago, Enrile, and Cayetano. Three others are former senators on the comeback trail: Drilon, Recto, and Sotto.
They will join incumbents Edgardo Angara, Joker Arroyo, Alan Peter Cayetano, Francis Escudero, Gregorio Honasan, Panfilo Lacson, Loren Legarda, Francis Pangilinan, Antonio Trillanes, Manuel Villar Jr., and Juan Miguel Zubiri in the 15th Congress.
Senator Benigno Simeon "Noynoy" Aquino III's term expires in 2013, but official and unofficial tallies show that he is likely to win the presidency.
Twelve of the 24 senators are elected every three years. Each senator is given a six-year term to ensure continuity of Senate function.
Striking parallels
Remarkably, six of the nine proclaimed senators can boast of senatorial lineage.
Revilla is the son of former senator Ramon Revilla Sr.
Cayetano is the daughter of the late senator Renato Cayetano, and the sister of incumbent Senator Alan Peter Cayetano.
Sotto is the grandson and grand-nephew respectively of journalist brothers Vicente Sotto and Filemon Sotto, who served as senators in the 1940s.
Recto is the grandson of the late nationalist senator Claro M. Recto.
Bongbong Marcos and Jinggoy Estrada share a particularly striking parallel. Both are sons and namesakes of former senators who became presidents and later ousted from power — Ferdinand Marcos and Joseph Estrada.—
LBG/JV, GMANews.TV