Sakur Tan re-elected governor of Sulu
SULU, Philippines
– The Commission on Elections (Comelec) on Saturday night proclaimed Sakur Tan as the re-elected governor of this province, beating Sulu Rep. Munir Arbison and former Autonomous Region in Muslim Mindanao (ARMM) governor Nur Misuari by over 24,000 votes.
"We will continue what we had begun and our priority remains the same – peace and development and progress for the province of Sulu and its people," Tan said.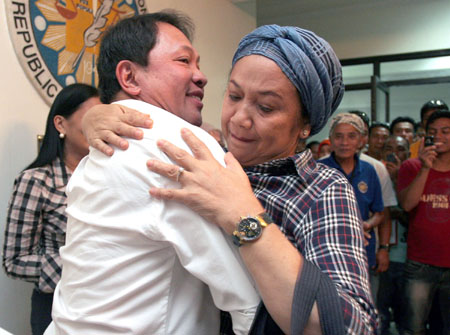 Re-elected Sulu governor Sakur Tan embraces his wife Hajja Nurunisah Tan, who broke into tears after the Commission on Elections on Saturday night proclaimed her husband as winner in the May 10 local and national elections. Al Jacinto
Sulu is one of the five provinces under ARMM and has been the site of numerous armed conflicts between government security forces and members of the al-Qaeda-linked terrorist group Abu Sayyaf.
A
GMA News tally
on the May 10, 2010 elections showed Tan with 75,266 votes over Arbison's 48,837 and Misuari's 11,988 as of Sunday afternoon.
Tan praised the Comelec, the military and the police for the peaceful and orderly conduct of the elections in Sulu last Monday.
"We are commending the Commission on Elections and our Philippine National Police and the Armed Forces of the Philippines for maintaining peace and order during Monday's elections," he said.
Brig. Gen. Rustico Guerrero, commander of military forces in Sulu, largely credited the cooperation of the public and the different sectors to the peaceful elections.
"The credit goes to the different sectors and the public. There was a strong cooperation from all sectors and the people of Sulu for peaceful and orderly conduct of the elections," he said.
Police also said the peaceful elections were due to long security planning and cooperation of local politicians who signed a peace covenant in connection with the elections.
"The peace covenant signed by the local politicians and their cooperation led to the peaceful elections in Sulu," said Senior Superintendent Joseph Ramac, commander of a special police task force thath covered the provinces of Sulu, Basilan and Tawi-Tawi during the elections.
- Al Jacinto/KBK, GMANews.TV