Ateneo, La Salle memorable battles rekindled
The Los Angeles Lakers and the Boston Celtics are considered the greatest rivalry in the National Basketball Association.
The Army and the Navy established a feud in college basketball, playing in the Patriot League in the United States.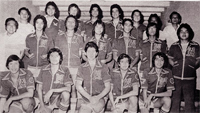 The members of the Ateneo Blue Eagles squad that won back-to-back NCAA men's basketball championship are shown in this file photo. The Eagles, handled by Baby Dalupan and beefed up by Steve Watson, Padim Israel and Joy Carpio, won the titles in 1975 and 1976, their last championships in the NCAA before they transferred to the UAAP two years after. Ateneo Wikipedia page
In the Philippines, the YCO-Ysmael created a feverish grudge in the old Manila Inter Commercial Athletic Association to the point that the losers would sport a balding haircut.
Then, of course, Crispa and Toyota would captivate the nation with their intense matches in the Philippine Basketball Association that things even went out of hand several times.
The 1977 opening-season match, marred by a free-for-all, clearly defined how these two teams really hated each other. Players didn't mind the repercussions of being jailed for the scandal they have done in front of thousands of spectators and watched by millions of Filipinos on national television.
But there's a rivalry that is simply separated by the school's color and prestige.
Blue for Ateneo and green for La Salle. One big fight for the Eagles and Animo spirit for the Archers.

Ateneo's record highlights:
NCAA titles: 1928, 1931, 1932, 1933, 1937, 1941, 1953, 1954, 1957, 1958, 1961, 1969, 1975, 1976.

UAAP titles: 1987, 1988, 2002, 2008, 2009

Notable players: Sen. Ambrosio Padilla, Luis Moro Lorenzo, Virgilio "Baby" Dalupan, Quintellano "Tiny" Literal, Ed Ocampo, Chito Afable, Ricky Palou, Marte Samson, Joy Cleofas, Francis Arnaiz, Fritz Gaston, Joy Carpio, Padim Israel, Steve Watson, Jojo Lastimosa, Vincent "Chot" Reyes, Nonoy Chuatico, Alex Araneta, Danny Francisco, Jayvee Gayoso, Eric Reyes, Vince Hizon, Ritchie Ticzon, Gabby Cui, Brandon and Rainier Sison, Enrico Villanueva, Gec Chia, Wesley Gonzales, Rich Alvarez, Paolo Bugia, Larry Fonacier, LA Tenorio, JC Intal, Macky Escalona, Japeth Aguilar, Doug Kramer, Chris Tiu, Rabeh Al-Husseini, Jai Reyes, Ryan Buenafe, Eric Salamat and Nonoy Baclao.
The two glamour squads rekindle their long feud on Saturday in the first meeting this season between two bitter rivals in the Universities Athletic Association of the Philippines (UAAP) men's basketball tournament.
The two were the glamorous teams from the UAAP, but were known as founding members of the oldest collegiate league in the country – the National Collegiate Athletic Association (NCAA).
But what made their rivalry distinctive to others?
"It's simply put as both teams trying to beat the hell out of each other whatever the stakes are," said Alaska Milk general manager and former PBA chairman Joaqui Trillo.
Trillo coached La Salle from from 1978 to 1981 and brothers Jong and Joel Uichico as well as former Tanduay Rhum stalwart Alex Marquez were some of his key players.
Trillo would also have the luxury of having one of the PBA's Greatest Players in Lim Eng Beng and former Tanduay and Beer Hausen guard Mike Bilbao as his teammates.
"Mike is more of a slow-type guard, while I'm more of a wacky one," Trillo recalled.
Lim, who had an illustrious PBA career winning championships with U-Tex and Crispa, was one of only three players whose jersey number was retired by his alma matter. The other two were PBA star Ren-Ren Ritualo and the great Kurt Bachmann, Philippine Basketball Hall of Famer and member of the last RP team that won the championship in the Asian Games in 1962.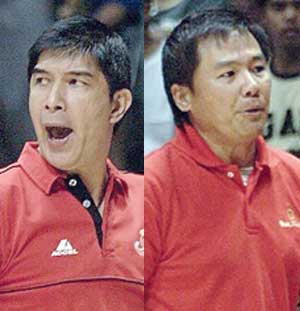 Jong Uichico (left) and Chot Reyes
Chot Reyes, who became one of Ateneo's big stars in the 1980s, and Uichico, a clutch player from La Salle, recalled great memories while donning their school uniform.
The two multi-titled PBA coaches and former mentors of the all-pro national team had a great ride playing as an Eagle and as an Archer. But they, too, idolized players who suited up for their respective schools.
"It's funny but any Ateneo-La Salle game that I've watched, played or coached in was a game to remember. You had the same passion, excitement and nervousness. When I was in high school, both teams were still in the NCAA. When I was in college, they were in the UAAP," said Uichico.
"Among the great players that I've watched were Lim Eng Beng, Peter Ley, Mike Bilbao, Boysie Henares, Steve Watson and Chito Narvasa. Of course, the great coaches that I've watched were Baby Dalupan for Ateneo and Tito Eduque for La Salle," he added.
Reyes didn't have a chance playing La Salle, who was still in the NCAA at the time when he was a member of the Eagles squad in the UAAP.
"While I was still playing for Ateneo, La Salle was still in the NCAA and we only played each other in tune up and exhibition matches," said Reyes, who had the luxury of playing alongside PBA 25 Greatest Player member and current Alaska assistant coach Jojo Lastimosa and ex-PBA player Nonoy Chuatico among others.
A deadly point guard during his time, Reyes even made it to the Mythical Selection in the UAAP along with UE's Allan Caidic and Jerry Codinera, Glen Capacio of FEU and Pido Jarencio of UST.
But Reyes was able to see an Ateneo team defeating La Salle in the 1969 NCAA championship.

La Salle's record highlights
NCAA championships: 1939, 1947, 1956, 1971, and 1974)

UAAP titles: 1989, 1990, 1998, 1999, 2000, 2001, and 2007

Notable players: Kurt Bachman, Martin Urra, Lim Eng Beng, Joaqui Trillo, Mike Bilbao, Peter Ley, Alex Marquez, Rey Pages, Ricardo Brown, Jun Limpot, Franz and Dindo Pumaren, Willie Pearson, Jong Uichico, Tonichi Yturri, Teddy Alfarero, Alfie Almario, Jun Tan, Naning Valenciano, Johnedel Cardel, Joey Sta. Maria, Noli Locsin, Richard del Rosario, Tony Boy Espinosa, Gee Abanilla, Ren-Ren Ritualo, Don Allado, Mark Telan, Dwight and Elmer Lago, Jason Webb, Dino Aldeguer, Mac Cuan, Chris Tan, Dickie Bachmann, Mac Cardona, Mike Cortez, Joseph Yeo, Rico Maierhofer, Ryan Arana, TY Tang, Jayvee Casio, Carlo Sharma, Jun Jun Cabatu, Jerwin Gaco.
"I was in my preparatory class in 1969 and I saw Ateneo winning over the Lim Eng Beng-powered La Salle team. The team was composed of PBA great Francis Arnaiz of Toyota, Chito Afable and Olympian Joy Cleofas," said the outspoken Talk 'N Text mentor.
"During my high school days, I can remember players like Steve Watson, Fritz Gaston, Joy Carpio and Padim Israel winning the championship for our school," he added.
The formidable Ateneo team bannered by former PBA players Watson, Gaston, Carpio and Israel were members of the back-to-back NCAA champion squads of 1975 and 1976.
Watson, who played for Gilbey's Gin/Ginebra, was the 1976 MVP and was inducted to the Ateneo Hall of Fame in 2000.
Reyes' younger brother, Gilbert, achieved a lot more in the UAAP.
Gilbert was a member of Ateneo's back-to-back UAAP champion team in 1987 and 1988 and also became the MVP in those times.

Dindo Pumaren
Reyes took center stage in 1988 where he was up against another great point guard – La Salle's Dindo Pumaren. The small men took the spotlight but Reyes' team bolstered by frontliners Danny Francisco and Alex Araneta, JV Gayoso, Eric Reyes, Jet Nieto, Joseph Canlas, Chuatico and super backup Olsen Racela proved to be too much against the Archers.
"Winning the championship over La Salle was one of my defining moments as a player and a representative of the school," said Francisco, who is now the special assistant to Jean Henri Lhuillier of the PJ Lhuillier Group of Companies.
The 6-foot-7 Francisco was described by basketball experts as the "best big man who never made it to the PBA because of a heart ailment."
The 1988 championship series jumpstarted the rivalry of the two schools in the UAAP.
Ateneo would encounter a 14-year title drought from there and would see La Salle winning back-to-back championships in 1989 and 1990 behind coaches Derick Pumaren and Gabby Velasco, and winning four straight titles from 1998 to 2001 piloted by Franz Pumaren.
But La Salle, too, had experience the "bridesmaid-syndrome tag" and would experience quite a number of heart-breaking finals setbacks against University of Santo Tomas from 1994 to 1996 and Far Eastern University in 1997 and 2005.
In 2001 and 2002, La Salle and Ateneo would meet again in the finals and would split the championships.
La Salle would exact revenge of its finals setback against Ateneo 13 years ago and would upstage its rival in three grueling matches in 2001 that capped the school's four straight titles.
In 2002, the Eagles, behind new coach Joel Banal, would strike back and win the UAAP crown.
In 2008, La Salle and Ateneo would rekindle their rivalry and the Eagles would sweep their rivals in their best-of-three finals.
-JVP, GMANews.TV