Phivolcs lowers Taal alert level to '1' but...
After noting two months of lowered activity, state volcanologists on Monday lowered the alert level at Taal Volcano from "2" to "1."
But the Philippine Institute of Volcanology and Seismology (Phivolcs) maintained that the main crater remains strictly off-limits as sudden steam explosions may still occur.
"This means that hazardous eruption is not imminent. The public, however, is reminded that the main crater should be strictly off-limits to the public because sudden steam explosions may occur and high concentrations of toxic gases may accumulate," it said on its
website
.
"The public is also reminded that the entire Volcano Island is a Permanent Danger Zone (PDZ), and permanent settlement in the island is strictly not recommended," it added.
Phivolcs raised the alert level at Taal to Level 2 last June 8 after noting increased activity there. (See:
Alert level 2 raised on Taal Volcano — Phivolcs
)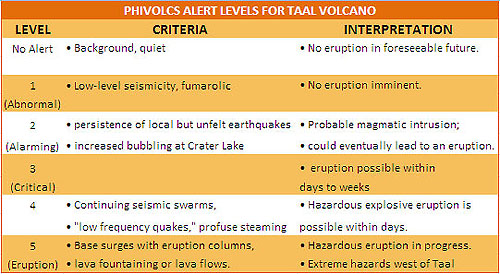 But as of Monday, it said the number of volcanic earthquakes recorded daily gradually declined toward background level beginning the second week of July.
"For the past two weeks, Taal's seismic network has detected 0 to 5 volcanic earthquakes per day. No felt earthquake has occurred since 02 July," it said.
It said hydrothermal and steaming activities in the northern and northeast sides of the Main Crater and Daang Kastila have decreased.
Temperature measurements of the Main Crater Lake did not increase further and remained at 33 to 34 degrees Celsius since June 8.
Also, it said intensity in bubbling activity and the number of bubbling sites inside the Main Crater have decreased.
Ground temperature and total magnetic field intensity continuously measured at Daang Kastila and in the Main Crater showed no significant changes, it added.
Phivolcs said the precise leveling measurements conducted on July 13 to 21 along the northeast, southeast and southwest flanks of the volcano detected minimal inflation of the volcano's edifice indicating the absence of fresh supply of magma from depth.
"The above observations suggest that Taal Volcano's activity is declining. In view thereof, Phivolcs is now lowering the status of the volcano from Alert Level 2 to Alert Level 1," it said.
On the other hand, Phivolcs still warned the public of possible steam explosions and accumulation of toxic gases. It also said the northern portion of the Main Crater rim, in the vicinity of Daang Kastila Trail, may also be hazardous when increased steam emission is reactivated along existing fissures.
— RSJ/KBK, GMANews.TV