Factory fire snarls traffic along SLEX
UPDATED 6:00pm
A fire of still undetermined origin broke out on Saturday afternoon at a factory along the Muntinlupa City portion on the Northbound side of the South Luzon Expressway (SLEX). No one was reported hurt in the incident.
Muntinlupa City fire marshal Chief Inspector Roderick Agudo was quoted in a radio dzBB report as saying that the fire started at the Finished Product Section of the Uratex Foam Company in Barangay Kupang.
The factory sits along the northbound lane of the Service Road.
Crowd-sourced reports
also provided photos and additional details about the fire.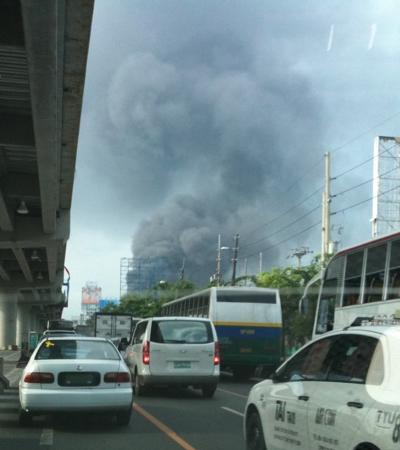 A picture of the fire as of 4pm, courtesy of Twitter user @
shutterbug220
.
- GMANews.TV
An initial investigation showed that factory workers were busy at work when the fire erupted at about 3:20 p.m.
The blaze reached the third alarm before firefighters declared a fire out. Investigators have yet to determine the amount of damage to property.
The fire snarled traffic in the area, the radio report added.
- with Mark Merueñas, GMANews.TV