Walk this way and see Manila differently
"Walk this way," the man in a hat says, and everyone follows. Carlos Celdran has been touring groups around Intramuros for years, but the way he performs could fool you into thinking every time is the first time. This particular Thursday morning, the tour is special for another reason. In an effort to lift spirits following Monday's tragic events, Celdran gave his "If These Walls Could Talk" tour of Intramuros free of charge. It isn't often that such an activity comes without a price, and the gesture is a generous one.
Perhaps it's because being the "Pied Piper of Manila" is no ordinary job - it's the kind of work one does for love, and with plenty of love. All you need to correct the notion that history is boring is two hours with this man. The abstract and much-quoted "
ang hindi lumingon sa pinanggalingan ay hindi makakarating sa pinaroroonan
" is easy to appreciate in Celdran's tour. Every minute is filled with fascinating information you won't find in books about Intramuros, Manila, about the Philippines and ultimately, about being Filipino.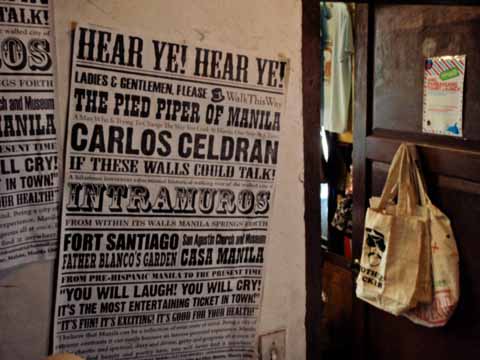 Celdran's posters outside the La Monja Loca store.
Ironically, Celdran doesn't idolize Jose Rizal, our National Hero from which the quote originates. The tour took a couple of hours but Rizal only gets a few minutes, including the sixty-second Rizal 101, just to be sure everyone is on the same page.
Celdran's tour is different in the sense that he doesn't just lecture - he performs. He has an assortment of props: several hats, a pipe, a clear book of pictures that liven things up. The thing is, the tour would still be effective even without the props. Celdran knows his content, and more importantly, he cares about it.
At the end of the tour, he tells the group, "We can't change Manila, but we can change the way we see it."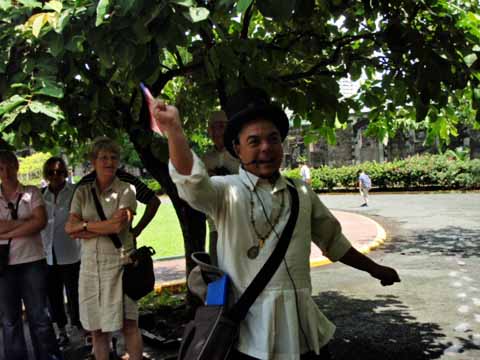 "Walk this way," Celdran says, leading the group to the kalesas which will take them by horse-drawn carriage from Fort Santiago to San Agustin Church.
He describes himself as "a man who is trying to change the way people see Manila, one step at a time."
Just a few days ago, like many other Filipinos, Celdran vented his frustration through Twitter, saying he would migrate. His tweet bore more expletives than anything else, which captured the anger and disbelief the world felt about the tragedy that had just happened.
Dismissed Senior Inspector Rolando Mendoza hijacked a tourist bus at Fort Santiago, and held hostage 21 Hong Kong tourists and four Filipinos. Nine people died, including eight Hong Kong tourists and the hostage-taker, who was killed by a sniper's bullet. The hostage situation ended in a bloodbath at the Quirino grandstand, where less than a hundred days earlier, more than a million Filipinos celebrated the inauguration of President Benigno Simeon "Noynoy" Aquino III.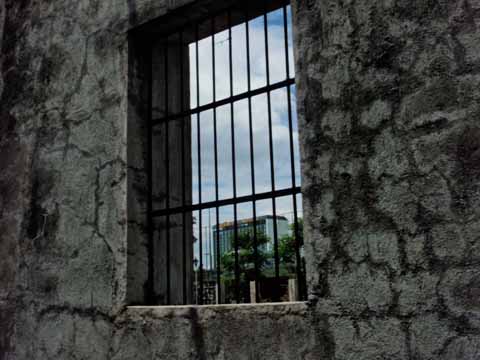 Manila Hotel can be seen a kilometer away, where the hijacked tourist bus remains at the crime scene of last Monday's tragic event.
Most people's reactions were of anger, sadness, disappointment and hopelessness. The more optimistic ones would say things like "now, more than ever we need to be united, not divided" or "it's useless pointing fingers, the challenge is to get back up and move on."
Still, the airwaves are mostly filled with negativity, a lot of talk and not much walk. But not the Pied Piper. While he continues to protest online - his profile picture is a black square, it wasn't long before he decided to actually do something.
On Wednesday morning, he announced through his Facebook status message that he would hold a 'free' tour of Intramuros on Thursday. "I am waiving my fee. Just pay for the museum entrance fee, snack and kalesa ride. Just to remind folks that our city ain't so bad. Hope to see you there. Confirm via FB or twitter. Thu. 930am. Meet at Fort Santiago."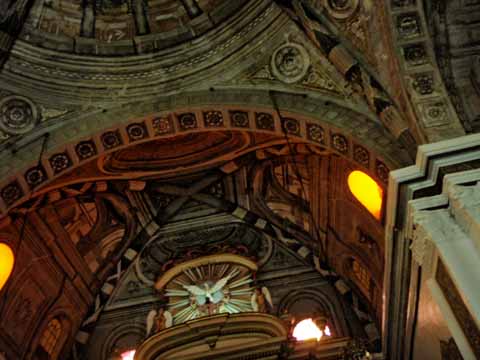 The illusion on the ceiling of San Agustin Church, which survived World War II because it was converted into Red Cross headquarters, remains standing to this day. In one of its chambers, a memorial lies for the 120 priests who were bayoneted by the Japanese soldiers.
Already, the tourism industry is feeling the brunt. There have been reports of cancellations from hotels in the Manila Bay Area. Celdran himself admits he has less groups to tour. Still, he is optimistic. "We need to work harder and stay focused. It's just very painful for us because we were in a high moment," he told GMANews.TV during a break in his tour this morning, which was attended by around 25 people, mostly foreigners.
"It's affected us not just nationally but internationally as well. I want to prove we can make it. We just want to show the world that we're not monsters. I'm showing the best of what our culture can offer," he said.
His audience is smaller than the usual crowd of around 40 people - perhaps the news has effectively discouraged tourists from coming. But among those who showed up this morning, people were willing to take a kinder view. "It was unfortunate, but this could have happened anywhere in the world," said one tourist.
At Celdran's suggestion, two tourists light candles for the three wishes granted to first-time visitors at the San Agustin Church.

In two hours, Celdran walked the group through Philippine history of colonizers, from Spain to Japan to America, ending with a sweet, colorful and refreshing metaphor for what the Filipino is. "We've all heard, it's been accused, 'there's nothing special about being Filipino, there is nothing unique or original in your culture because you've been so colonized' (but) I really believe it's that lack of originality that makes us completely original," Celdran says.
"To be Filipino is to really be a mix and match of all the best values of the world. To be a Filipino is to truly be a
halo-halo
. You know
halo-halo
? The national dessert called mix-mix? It's got a lot. It's got ice it's got rice it's got sugar, it's got way too much. Because Filipinos just don't know when to stop," he says, adding that since it would be impossible to explain the dessert, everyone would get a taste. Celdran then instructed the group to "walk this way," this time leading them to the shady courtyard of Plaza Real, where cups of
halo-halo
were served to the group.
- GMANews.TV
For tour dates and rates, visit http://www.carlosceldran.com