GMANews.TV to livestream PNoy's historic interview today
Networks often have to beg presidents for sit-down interviews, especially in the wake of a crisis that has rocked the government.
President Noynoy Aquino reached out and invited not one but all three major commercial television networks in a unique one-on-three interview format in the Presidential Studio in Malacañang.
(Watch the PNoy interview livestream
here
.)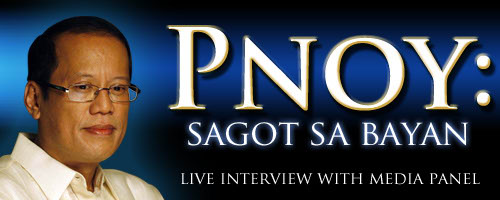 Amid the questions about his actions and decision-making last August 23, when eight Hong Kong hostages were killed by a disgruntled ex-cop, President Aquino surprised network executives when he proposed a "no-holds-barred" group interview with their chosen anchors.
"I can't think of a precedent. It's usually one-on-one" says Manuel L. Quezon III, the resident historian on the President's staff. "This was the President's idea."
GMANews.TV will be
livestreaming
this historic event, one of the first formal interviews of the fledgling President, starting at 1 p.m. today. The coverage will be accompanied by a Facebook Connect interface enabling real-time comments by viewers from around the world as they watch Aquino give his version of the first major crisis to hit his administration.
Aquino will be facing news anchors Mel Tiangco of GMA Network, Ted Failon of ABS-CBN, and Paolo Bediones of ABC-5 in an hour and a half interview that did not require a prior submission of questions.
Before the rare sit-down interviews with Aquino's predecessor, Gloria Arroyo, broadcast organizations were told to submit questions and at times warned that some controversial topics were off limits.
Aquino, in contrast, has been accessible and candid even in chance interviews in hallways and public spaces.
GMANews.TV has pioneered in the Philippines in livestreaming important national events since President Arroyo's last State of the Nation Address in 2009. Since then, GMANews.TV has livestreamed, among other events, Cory Aquino's wake and funeral, Ondoy disaster coverage, election day, and Noynoy Aquino's inauguration.
Watch the livestream
here
.
-- GMANews.TV