New PPO music director reaches out to Filipino audience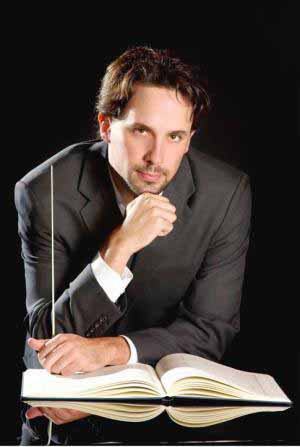 Philippine Philharmonic Orchestra Music Director Oliver Ochanine.
Orphaned for almost two years, the Philippine Philharmonic Orchestra (PPO) begins its latest season starting Sept. 10 with a new music director selected by the management of the Cultural Center of the Philippines (CCP) last summer.
French-American Maestro Olivier Ochanine, who was chosen after an international audition in June 2009, debuts with the orchestra's 28th concert season for 2010-2011 on the theme "Bold Strokes, New Growth."
Ochanine, 30, opens the eight-month season with "La Musique Française" featuring Japanese violist from the Seattle Symphony Sayaka Kokubo, who performs Berlioz's Harold in Italy. The Sept. 10 concert also features Milhaud's rarely performed Le Boeuf sur le Toit, Honegger's Pastorale d'Ete, and Ravel's well-loved Bolero.
He said the latest season will bring back well-known and well-loved composers. "We are not reinventing the wheel, although there will be time for that," he added.
"The Bold Strokes, New Growth season concert is really about me getting to know the Filipino audience. What do they know musically and what they do not know?" Ochanine said. The social networking site Facebook and the use of surveys are effective ways to know an audience, he said.
Ochanine plans to get to know the PPO "musically" as he goes along with his duties and responsibilities as its new musical director. "I have not faced anything like this before. Coming to the Philippines is an amazing part of my life. Here, I have a great job, a great audience. And I am really excited," he said.
Classical music for children
In an exclusive interview, Ochanine said he plans to re-orient the PPO reach-out programs toward "stronger, more vibrant educational campaigns targeting children and youth of all ages."
He recalled his early exposure to music at the age of three and said, "There is a need to educate children from a very young age to appreciate classical music. I don't think we are doing enough of this here."
The dashing conductor's strong emphasis on children's musical education goes back to his days as an avid music educator in Los Angeles. He moved to Manila last July.
"I am thinking hard about doing away with holding concerts in malls for our reach-out projects. Instead, the PPO will have to go to schools where there are lesser distractions," Ochanine said.
"Children have a very short attention span. We have to mix up classical music, or our programming, with something that is accessible to them," Ochanine said.
Asked to describe how he perceives the Filipinos, Ochanine said: "You are an extremely warm people, very easy to know, most kind. Back in Los Angeles, I have many Filipino friends."
He found out about the search for a new music director for the PPO when he chanced upon the online advertisement while surfing the Internet. "My Filipina girlfriend said, 'You have to go for it.' I just thought that it was a job that one has to grab," he said.
From France to the US
Ochanine began his musical studies in Paris, France, where he was born. He studied flute in Germany and the US. He also took up lesson in contrabass in the US, where he developed an interest in orchestral conducting while pursuing a Bachelor's degree for Flute Performance at the University of Kentucky.
He studied conducting with Dr. Robert Baldwin, director of the Orchestral Studies at the University of Utah and also served as auxiliary bassist with the Lexington Philharmonic Orchestra. In 1998, Ochanine was chosen to perform as bassist for the celebrated American Spiritual Ensemble's Gershwin Tour of Spain.
In 2001, he began his master's studies in Orchestral Conducting at the USC's Thornton School of Music in Los Angeles. There, he gained conducting experience while working with the USC Symphony, Chamber, and Concert Orchestras. He was chosen the recipient of the Conducting Department Award in 2003.
Before coming to the Philippines, Ochanine pursued his doctoral studies in Orchestral Conducting under Mark Gibson at the Cincinnati College-Conservatory of Music.
Prior to his appointment as PPO music director, he conducted the orchestra during a concert featuring Enrique Barcelo, the PPO's principal flutist, and the tone poem "By the Hillside," written by Filipino composer Antonino Buenaventura.
Ochanine was chosen by the legendary Jorma Panula as one of his students in the 2009 master class in Milan, Italy, with the I Pomeriggi Musicali Orchestra. Last summer, he was also selected from a large pool of applicants to study with Gustav Meier and Marin Alsop, of the Baltimore Symphony.
He performed at the 2009 Cabrillo Festival of Contemporary Music and Conductors Guild Workshop in Santa Cruz, California. Ochanine is scheduled to participate in the Rose City International Conductor's Workshop, held each year in Portland, Oregon.

PPO 28th Concert Season Repertoire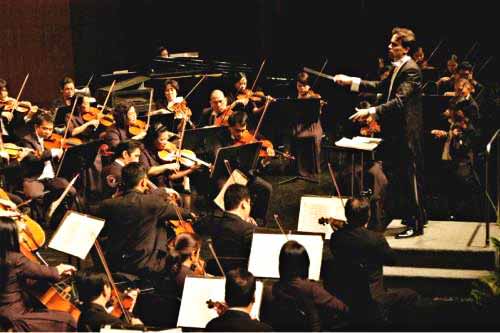 PPO Music Director Oliver Ochanine leads the orchestra. Photo by Julio Sambajon
Bulgarian pianist Georgi Slavchev performs with the PPO on Oct. 8 with Beethoven's "Emperor" -- Piano Concerto No. 5, Op. 73. The "Emperor" program also includes Bartok's Two Pictures and Haydn's Symphony No. 104 in D Major "London."
On Nov. 12, American bassoonist Steven Dibner performs Weber's Bassoon Concerto in F major, Op. 75 and Elgar's Romance for Bassoon and Orchestra, Op. 62. Dibner played as principal bassoonist of the New Jersey Symphony Orchestra from 1978 to 1983.
Ochanine wields the baton in the Christmas concert "Ring in the Holidays" on Dec. 9 featuring Ives' The Unanswered Question, Romero's Philippine Portraits, and Tchaikovsky's Francesca da Rimini: Symphonic Fantasy after Dante, Op. 32.
American conductor Robert Ryker returns to conduct the PPO as it ushers the New Year on Jan. 14, 2011. Alfred Reed's Hamlet, A Symphonic Suite after Shakespeare, Mussorgsky's Pictures at an Exhibition and Elgar's Variations on an Original Theme, Op. 36, Enigma Variations are the pieces for this concert entitled "Robert Ryker: Character Portraits."
The young Chinese violinist Tianwa Yang, who has won the Volkswagen Foundation's "Star of Tomorrow" and the "Prix Montblanc 2006" awards, performs on Feb. 11 with Brahms' Violin Concerto in D major, Op. 77.
Giuseppe Verdi's Monumental Requiem is the main program on March 18, featuring the Philippines' leading soloists and choirs.
The PPO concert season ends on April 15 with pianist Poom Prommachart, the first prize winner in the 2010 Isidore Bajik International Piano Competition in Serbia. Prommachart performs Rachmaninov's Piano Concerto No. 3. The closing concert also includes Hohvaness Symphony No. 2 "Mysterious Mountain" and Mahler's Symphony No. 1 "Titan." –
YA, GMANews.TV
All concerts will be held at the CCP Tanghalang Nicanor Abelardo (Main Theater) at 8:00 pm. Ticket prices range from P200 to P1000. For inquiries and subscriptions, please call the CCP Marketing Department 832-1125 local 1806, the CCP Box Office 832-3704, or Ticketworld at National Bookstore 891-9999.