A touch of silk and French couture in Phnom Penh
Visitors to Cambodia's capital city, Phnom Penh, will notice an abundance of boutiques -- some quite high-end -- specializing in silk products these days. Many are found along the streets catering to expats and foreign tourists near the Sisowath Quay area, overlooking the Tonle Sap River.
As an avid buyer of silk shawls, bags, and all kinds of trinkets, I try to pick up at least one item of silk in every city or country I go to, and Phnom Penh is no exception. The quality of the silk here is as good as the silk cottage industries of Thailand, sometimes even better.
During my latest trip, I sought out how the local silk industry, particularly Cambodian designers, have fared in promoting their silk creations within the country and the rest of the world.

When a French couturier comes to town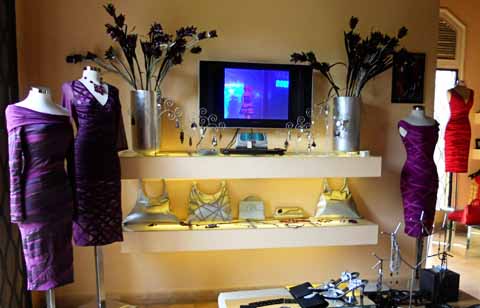 Romyda Keth's Atelier Ambre in Phnom Penh
When the French-Cambodian designer Romyda Keth came into town in 1994, Phnom Penh was just beginning to open up to the outside world. She had lived in Paris for most of her adult life, and after her studies at the Paris School of Fine Arts, she joined her medical doctor-husband in Phnom Penh.
The backwater town was a strange base for starting a boutique specializing in Western design and fashion, but Romyda did the unthinkable -- set up shop in a traditional two-storey French colonial mansion in the heart of the upmarket district, Street 178, just a stone's throw away from the fashionable and exciting nightlife of Sisowath Quay.
My first acquaintance with Romyda's creations was in a three-storey boutique called Gaya in Saigon's District 1, the place where most hip and fashionable people usually go in Vietnam. Gaya sold the latest avant garde household and furniture products, but it also had a section featuring the works of Saigon's up-and-coming designers.
That was where I found Romyda's silk dress. It was made of Khmer silk – soft, slightly shiny, and smooth to the touch. Sparsely embroidered with multi-colored beads at the skirt's hem, it was a simple design with the right accents in the right place, but very chic! I vowed to someday find the designer's atelier.
Understated chic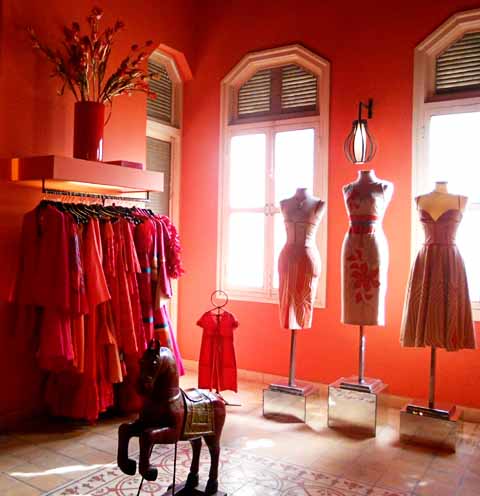 The Red Room at Ambre Boutique.
At the time of my visit to Romyda Keth's Atelier Ambre in Phnom Penh, the famed designer was out on holiday in France. A young lady dressed in black greeted me at the door and escorted me up the winding spiral staircase into the second floor atelier. Ambre's boutique manager, a French-Vietnamese named Sybille, showed me around.
"This season, Romyda has a lot of this kind of design," she gestures towards a violet dress. It had straps of fabric on the bodice criss-crossing each other. "She produces several designs every month, which is why she chose Phnom Penh to be her base. Here, she can focus on her passion for the creative arts," said Sybille.
In Manila, Romyda Keth has a boutique at G/F Vernida 1 Bldg., Amorsolo St. in Makati. The label is also marketed in Tokyo, Singapore, Mexico, and Chile.
The display area of Atelier Ambre is divided into several rooms, with a very high ceiling supported by large beams. Each room features dresses and accessories such as beaded necklaces and specially designed bags, shoes, and belts. The delicate and intricate embroideries are done in-house.
For this season, which follows the spring-summer collection of 2010, the dominant colors are navy blue, violet, fuschia, red, and white. Accessories are also arranged according to the color theme of each room. But at the same time, Sybille says Romyda doesn't go by the season. She creates as many designs as she wants, no matter the season or trend.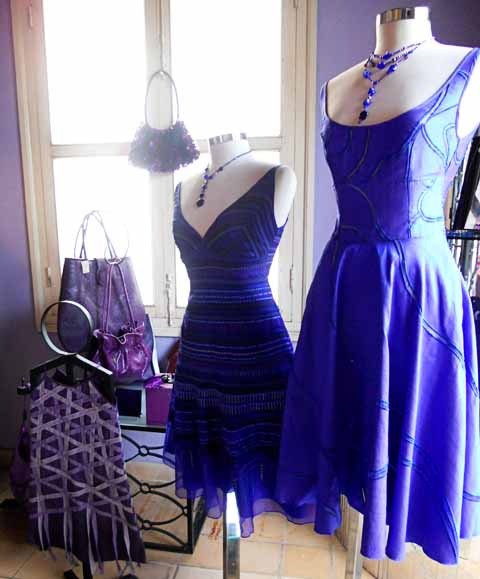 Ambre's spring-summer collection of 2010 features royal blue dresses with matching beads.
While we chatted, several models were looking over the current collection and having a fitting. A mature large-framed foreigner also arrived for the first fitting of two brightly-colored dresses, which fit perfectly around her tall frame. This is the magic of Romyda's silk creations. Even with the straps across the bodice, and the sequins and embroideries, a perfectly tailored outfit makes you look svelte and feeling regal and confident as a queen!
Romyda's fashion creations are usually made for the active and curvy woman who is confident of herself and her femininity, says Sybille. Her designs are unique and fit all ages -- from a youthful 25-year old to a 65-year old lady.
Sybille ushers me into the Bridal Room, and explains that for the astounding dresses, silk is the fabric of choice. "We keep the samples of the bridal couture creations here," said Sybille. The cream-colored room was like a fairyland, with racks and racks of exquisite silk and tulle wedding dresses on display.
About 50% of the current collection uses Khmer silk, which is personally selected and sourced by Romyda and her staff from local silk manufacturers, says Sybille. Sourcing out the silk is not a problem, as Cambodia has a long tradition of silk-making, she adds. However, marketing is still a big question, as the country does not have the capacity to mass-produce high quality silk products for international consumption.
At the Bridal Room, astounding wedding dresses are made of exquisite silk.
Silk on Street 178
Still, I thought the quality of the silk products I saw in the little silk boutiques along Street 178 already shows a certain sophistication in design and the quality of silk.
For the budget-conscious, one of my favorite little stores is Ta Phrom, a hole-in-the wall boutique selling silk bags, shawls, fabrics, shoes, and other items. The owner, Sam Oeurn Ouk, worked with an NGO before he started his boutique in 2004. Prices are okay – from US$5 to $10 for silk scarves to only US$6 for a little violet bag.
One common characteristic of the small boutiques on what is known as the street of silk products is that most of the beautiful silk creations seem to come from only one source – or perhaps, from the same village. Even Kravan House, another silk boutique that churns out exquisite silk handbags and supplies small entrepreneurs in the Philippines, have pieces that are available in another boutique just a few buildings away.
So while I would agree with Sybille that Phnom Penh has its own silk heritage and produces some of the best silks in the Indochina region, it still has to get its act together to produce high quality and unique designs that are unparalleled in the region. –
YA, GMANews.TV