Information for Foreigners: A grim play on reality
I was never fond of rides. As a little girl, the only reason I got on roller coasters was to prove I could keep up with my cousin - who is male and three years older than I am. Still, I could never bring myself to enter a horror booth, or anything similar. I had a tendency to frighten myself with an overactive imagination, and just the opening sequence of "Are You Afraid of the Dark?" could keep me tossing and turning for about a week.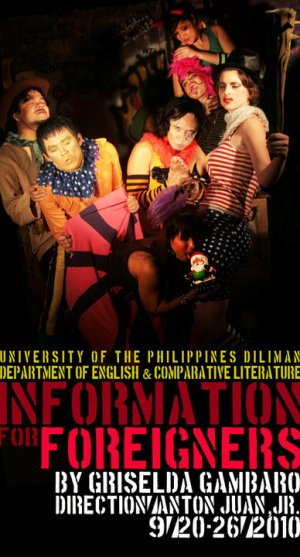 Lining up for the play
Information for Foreigners
felt like I was about to enter a horror booth. The tour guides each had their own noise-making device. Mine had a xylophone. He strikes it randomly while another guide plays tunelessly on a harmonica. They were all loud, their gestures extravagant. The resulting cacophony was making me dizzy, and the play hadn't even begun. This was not the kind of play you go to for entertainment. Unless, of course, emotional exhaustion, physical activity and mental exercise is your idea of a good time.
At quarter to seven, we (the "foreigners") were instructed to form single lines following the guides of their choice. The guides looked like they went crazy in a room full of costumes, donning clothes and headresses randomly. The result is six whimsical tour guides, none of them looking like the sort you'd want to entrust with two hours of your life. They handed out flashlights, confirming my suspicion that I was about to experience something I usually avoided - something scary, something dark.
The invitation to
Information for Foreigners
comes with a few reminders.
1. Please wear comfortable clothes.
2. For mature strangers only.
3. Standing room only.
4. If you're bringing a friend, hold on to them - TIGHT. We don't want anybody missing!
I found the last one particularly ominous, and as it turned out, necessary. The foreigners are lead down dark corridors through several rooms, each one containing a tableaux. Since the six groups experience the play simultaneously, foreigners will emerge with unique memories of the play's sequence. At certain points, all the groups are brought to the atrium for bigger scenes.
Originally hidden in Argentinian playwright Griselda Gambaro's house, the play introduces the country's landscape to foreigners by placing them in dramatized news items. Political kidnappings, torture, disappearances and killings - the sordid stuff of our own local dailies.
Anton Juan's adaptation is grand and grotesque, had there been a curtain it would have to be velvet, the color of wine, or of thick, fresh blood. It's a carnival as wild and surreal as the infamous
perya
, only instead of cheap thrills, what you get is a priceless tour of the horrors of Philippine society. The actors are a mix of professionals and workshop participants, and some performances are better than others. Still, the overall effect is powerful.
At some point it begins to feel like a dream, being led from room to room where more and more gut-wrenching scenes await. Up and down and up again, the play is dizzying but not delicious. Disgusting comes to mind, because one realizes that contrary to the guide's mocking reassurance that "it's just a play," it isn't. This is reality.
No amount of makeup or elaborate sets and fantastic props can conceal the awkward truth.
Information for Foreigners
is grotesque and disturbing, despite the ironic treatment, the manner of presentation where foreigners are toured as if in a museum, detached and unconcerned. The play begins in the atrium, where the foreigners are spectators to the Milgram Experiment, which reveals how people will harm others in obedience to authority.
Participants take on the roles of "student" and "teacher." There is a drill on word association. Each mistake means electric shock treatment for the student. The "teacher" believes that the treatment is real, but there is no actual shock. The voltage is increased until the student is finally "killed." Conducted in 1961 on Yale students, 26 of 40 participants administered the final 450-volt shock.
"Sixty five percent of you are capable of killing fellow human beings if ordered by authority," the guide explained.
On this pleasant note, the tour begins. After two hours of being herded through the nightmarish maze, the foreigners all assemble in the atrium for the final scene. Jonas Burgos' mother searches frantically for her son, tirelessly presenting her case, but the heartless mechanical office mocks her, stammering through the court decision, typewriter dings punctuating the sentences. Abducted in broad daylight over three years ago, Jonas Burgos remains missing while the case plods along at an excruciatingly slow pace, without significant progress.
With the Supreme Court's resolution on May 23, 2010 ordering a comprehensive probe by the Commission on Human Rights, the case is back to square one. Burgos is only one of 206 desaparecidos - the disappeared, and it is their faces that the foreigners gaze upon before they are told "the show is over, go back to your country."
- GMANews.TV
Information for Foreigners runs at the CAL New Building in U.P. Diliman from September 21 - 26. Foreigners meet promptly at 6:30 PM. For reservations, please contact Karen at 0917 554 18 54.