PNoy renews anti-corruption vow as US grants $434-M aid
After receiving the $434-million Millennium Challenge Corporation (MCC) grant from the US government, President Benigno Simeon "Noynoy" Aquino III renewed his commitment to fight corruption, one of the main reasons why the country did not receive the grant during Arroyo's term.
During the signing ceremony in New York City, witnessed by US Secretary of State Hillary Clinton, Aquino said the Philippines will keep implementing anti-corruption programs and lifestyle checks.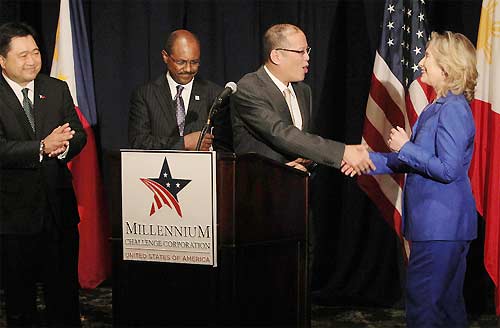 President Aquino greets US Secretary of State and MCC chairperson Hillary Clinton after signing the $434 million Republic of the Philippines-Millennium Challenge Corporation (GRP-MCC) Compact at the Waldorf Astoria Hotel on Friday (Manila time). Also in the photo are Finance Secretary Cesar Purisima and MCC CEO Daniel Yohannes. OP
In 2009, the Philippines failed to secure the large-scale grant from the MCC due to the long-standing allegations of corruption under the administration of former President and now incumbent Pampanga Rep. Gloria Macapagal-Arroyo.
However, the Philippines was re-selected to apply anew for additional funding under the MCC's compact program for its development projects.
The five-year development compact was signed by MCC Chief Executive Officer Daniel Yohannes and Finance Secretary Cesar Purisima.
"We share the same view – a key to unlocking the potential for growth and prosperity among nations is good and honest governance," said Aquino, whose electoral campaign slogan was
"Kung Walang Corrupt, Walang Mahirap
(If there are no corrupt officials, there would be no poor people)."
"The American people and their government have put forward the financial means for developing nations to accelerate their development. And yet, as Ben Franklin reminds us, God helps those who help themselves. All the aid, all the assistance in the world, would be meaningless if it ended up stolen or misspent," Aquino said.
"I am here to assure you that the Philippines is committed to good housekeeping practices in its domestic and international dealings with investors. We are committed to not just a fair, but a square deal for all. We will not abandon the poor to the markets, just as we will not distort markets by means of red tape or crony impositions," Aquino said.
Before he delivered his speech, Clinton, the chair of the MCC Board, said the US wants to see real results from the grant.
"I know how smart the Filipino people are. I know how hard they work. I'm not sure there's any group of people anywhere in the world that work harder than Filipinos," she said.
"But let's be very honest here. Too many of them feel that they cannot progress in their own country. Too many of them feel that the elite in business and politics basically call the shots, and there's not much room for someone who's hardworking, but not connected," she said.
"Too many of them believe that even if they get the best education they can, that there won't be an opportunity for them, and so they take that education and help build someone else's economy, very often here in the United States," added Clinton.
The US official said she was confident the Philippines will progress under Aquino's leadership.
Three projects
The compact lists three projects for funding:
The Revenue Administration Reform Project or RARP (US$54.3 million) — directly targets improvements in governance or "internal integrity" within the Bureau of Internal Revenue (BIR);


The Kapit-Bisig Laban sa Kahirapan ("Linking Arms Against Poverty")-Comprehensive and Integrated Delivery of Social Services or Kalahi-CIDSS (US$120 million)— ensures that essential resources are provided to needy communities and enforces transparency and accountability for local development projects.


The Secondary National Roads Project (222-kilometer road segment in Samar/Eastern Samar; US$214.4 million) — checks on construction standards and road contractors.

Aquino said the Philippine government will continue to refine the indicators for the performance governance system.

Development goals

He also said the government will revive the Philippine Development Forum this year to keep the country on track toward achieving the United Nations' Millennium Development Goals (MDGs).

The MDGs are eight international development goals that all 192 United Nations member states, and at least 23 international organizations, have agreed to achieve by the year 2015.

These goals are:
(1) Eradicating extreme poverty and hunger;
(2) Achieving universal primary education;
(3) Promoting gender equality and empowering women;
(4) Reducing child mortality rate;
(5) Improving maternal health;
(6) Combating HIV/AIDS, malaria, and other diseases;
(7) Ensuring environmental sustainability, and
(8) Developing a global partnership for development.

New investments

Aquino has been in the US since Tuesday morning (Manila time) for a week-long working visit that includes the United Nations general assembly, the Association of Southeast Asian Nations (Asean)-US leaders' meeting, and various business conferences.

His spokesman, Edwin Lacierda, told reporters at a briefing in Malacañang on Friday that the president himself will disclose the investments he and his delegation secured in the US.

Aquino said before flying to the US that he expects to secure investments that would generate tens of thousands of jobs for Filipinos. –VVP/YA, GMANews.TV