Bishops threaten civil disobedience over RH bill
Catholic bishops threatened to lead a civil disobedience campaign if the controversial reproductive health (RH) bill becomes a law, a Catholic bishop said on Wednesday.
"Sasabihin namin sa mga Catholics na hindi nila dapat sundin ang batas na yan
(If the RH bill becomes law, we will advise Catholics not to follow it)," said Caloocan Bishop Deogracias Iñiguez Jr., head of the Catholic Bishops' Conference of the Philippines (CBCP) public affairs unit.
In an interview on dzXL radio, Iñiguez said in Filipino, "Population control is something the government and Church must work together on. But the Church considers as non-negotiable its opposition to artificial contraception."
Iñiguez also said it is highly likely that Congress will pass the RH bill into law as President Benigno Simeon Aquino III recently reiterated that he is in favor of "responsible parenthood," which is commonly understood to mean the range of birth control options, from natural to artificial methods.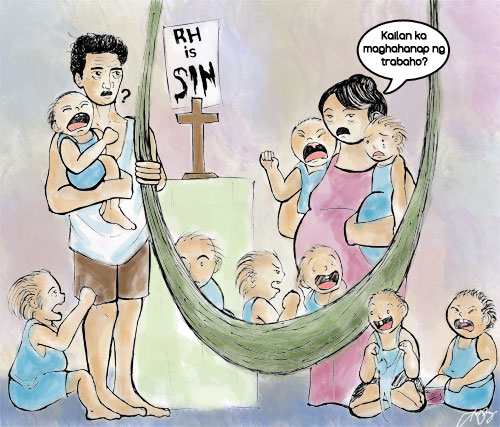 On Tuesday, Malacañang said Aquino will not change his
stand on responsible parenthood
despite the Catholic Church's opposition to the use of artificial birth control methods.
Presidential Spokesman Edwin Lacierda said Aquino, a Catholic, has always supported responsible parenthood and informed choice in family planning.
Aquino earlier said he supports responsible parenthood and informed choice but not the RH bill per se. He said he supports the use of artificial contraception because couples are the ones who should decide what family planning methods they prefer to use.
RH bill 96
The reproductive health bill has been a contentious social issue in the country because it pits two powerful sectors against each other -- the church on the one hand and on the other, a well-funded and determined development NGO sector backed by government technocrats.
It is estimated that 80 percent of the country's population are baptized Catholics. According to the
National Statistics Office
, there were 88.57 million Filipinos as of August 2007. The projected population for 2010 is 94.01 million.
The Catholic Church promotes only natural family planning and is opposed to the use of artificial birth control methods such as condoms and birth-control pills, saying these could lead to promiscuity and a rise in abortion cases. RH advocates say natural family planning methods have not proven to be as reliable as artificial means of birth control.
However, not all Catholics are against the RH bill. In an
earlier report
, Ben De Leon, president of the Philippine Center for Population and Development, which organized the recent Women Deliver conference, some members of the CBCP have expressed their support in the RH Bill but not publicly.
"There are young bishops and priests who would support our advocacy but they cannot state it publicly," he said. "They encourage us to push the RH Bill because they know that the bill is very useful especially to the poorest of the poor."
Several versions of the RH bill have been filed in previous congresses. In the present Congress, the RH bill is known as "Bill 96" whose main proponent is Minority Leader Edcel Lagman of Albay.
The RH is based on the premise that the country's population growth impedes economic development and exacerbates poverty.
The bill seeks to "guarantee to universal access to medically-safe, legal, affordable and quality reproductive health care services, methods, devices, supplies and relevant information."
The bill also seeks a "consistent and coherent national population policy," citing studies that show that "rapid population growth exacerbates poverty while poverty spawns rapid population growth."
End contraceptive mentality
Earlier, Philippine bishops urged Aquino to reject current policies that promote artificial contraception to control the country's population.
CBCP President Nereo Odchimar said the government must
protect the sanctity of life
by putting an end to contraceptive mentality.
Odchimar said the bishops hope the Aquino administration will not pursue programs that promote the use of contraceptives such as condoms and pills.
The Catholic Church accepts only natural family planning (NFP) methods. The NFP has two distinct forms:
* Ecological breastfeeding (a form of child care that normally spaces babies about two years apart on the average), and
* Systematic NFP (a system that uses a woman's signs of fertility to determine the fertile and infertile times of her cycle).
Church: Complying with RH law is a sin
Asked if the Church will consider complying with an RH law a "sin", Iñiguez said: "E yun, ganoon po (yes, that is the case)."
"(The Church) will insist and continue to teach (its) moral stand," he said.
Iñiguez reiterated the answer to population management is responsible parenthood.
He also echoed pro-life groups' claims that Aquino's open stance on artificial contraception may have been due to fresh aid from the United States, including a $434-million grant from the Millennium Challenge Corp.
"(The problem) is not so much population control as population management. That is what government must work on. The best resource we have is human persons," he said.
Fr. Melvin Castro, executive secretary of the bishops' Commission on Family and Life, claimed on the CBCP website that Aquino's support for responsible parenthood is linked to the
$434-million grant from Millennium Challenge Corporation
for Philippine social welfare programs.
"I'm certain that the US government had a hand over Aquino's abrupt decision to support population control," said Castro on the CBCP website.
Castro was quoted by the Philippine Daily Inquirer as saying the government is "selling out the Filipino soul" for "that measly sum of money in the name of fighting poverty."
Open to dialogue
Iñiguez said the Church remains open to dialogue with the government on the matter.
"We welcome a dialogue, although it should have been made while the government was formulating its policies," he said.
He said that while he is not aware of any government overture to a dialogue, such invitations will likely be coursed through the CBCP Episcopal Commission on Family and Life.
Survey: More than a third of voters prefer bets who support RH bill
A survey conducted by the Social Weather Stations (SWS) before the May 2010 elections showed that More Filipinos were likely to vote for candidates who support the Reproductive Health Bill than those who oppose it.
The survey results showed that 38 percent of the 2,100 respondents (or 798 persons) would vote for candidates favoring House Bill No. 5043 or the Reproductive Health and Population Development Act of 2008, the previous version of "Bill 96."
The survey also showed that 39 percent of the surveyed respondents who were Catholics would also vote for candidates supporting the RH Bill.
Sponsored by the Forum for Family Planning and Development (The Forum), the survey was conducted nationwide from January 21 to 24 using face-to-face interviews.
The survey also showed that more people think that natural family planning, which is being preferred by the Catholic Church over artificial methods, "sometimes" works.
Out of the 2,100 respondents, 31 percent think natural family planning is "effective only sometimes" while 26 percent believe the method "almost always works."
— LBG/RSJ/VVP/HS, GMANews.TV