Tigers hold off Boosters' late rally, pick up 2nd win in PBA
Just as expected, Gary David presided over Powerade's offense, but the rest of the Tigers put a premium on defense en route to their 87-77 victory over the Barako Bull Energy Boosters in the Philippine Basketball Association Philippine Cup Sunday night at the Araneta Coliseum.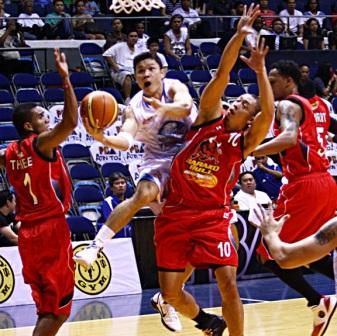 Gary David of Powerade challenges the defense of three Barako Bull defenders during their PBA Philippine Cup match at the Araneta Coliseum Sunday won by the Tigers, 87-77. GMANews.TV
The Tigers concentrated on making stops, particularly in the first 24 minutes of play where they held their rivals to only 26 points in the first half.
A Wil Antonio basket inside the 10-minute mark of the third period gave the Tigers their largest lead at 50-26.
But just when everybody thought the Tigers were headed to an easy triumph, the Energy Boosters slowly crept their way back into the game behind undrafted rookie Hans Thiele.
The do-it-all forward from University of the East was everywhere, grabbing rebounds, providing hustle and doing the little things that mattered most for the Energy Boosters.
Thiele finished with 13 points and 13 rebounds, seven of those at the offensive end. He led the Energy Boosters' comeback in the second half, initiating a 10-0 run in the third period that trmmed the lead to 14, at 36-50.
Barako continued its comeback in the fourth quarter to come to within eight at 64-72 on a short stab by Mark Isip.
Reed Juntilla, who led Barako's production with 19 points, came through with a jumper as the Energy Boosters threatened for the last time at 72-80 with 2:30 left. But they ran out of time, allowing Powerade to pick up its second win in three matches.

Scores:
Powerade 87 – David 23, Espino 17, Antonio 14, Ritualo 8, Reyes J. 6, Reyes R. 5, Lanete 4, Calimag 4, Rizada 2, Macapagal 2, Laure 2, Gonzales 0, Mendoza 0.
Barako 77– Juntilla 19, Thiele 13, Isip 12, Salvacion 11, Yee 8, Wainwright 7, Misolas 4, Cruz 2, Alonzo 1, Duncil 0, Andaya 0, Hubalde 0, Dimaunahan 0.
Quarter scores:21-15, 46-26, 69-55, 87-77

"I was a bit worried when we came out of the locker room during the break. I was worried about my players' tendency to become overconfident everytime we establish a big lead," said Poweradecoach Bo Perasol. "True enough, we became complacent and allowed Barako to come back. But overall, I think we played good, particularly on the defensive end."
The Tigers missed the services of rookie Sean Anthony, who sat out the game after undergoing an operation to repair a broken nose bridge. He will be out for six to eight weeks.
"He suffered a broken nose bridge during our tuneup game against San Miguel Beer in the off-season. That's why when our doctor had a chance to examine his injured nose, we gave him anesthesia and without him knowing it, our doctor performed an operation on his nose. He was mad when he learned he was operated on, but we felt that we will be needing him in the long stretch, while allowing others to step up," said Perasol.
– Rey Joble/KY, GMANews.TV