RP Q3 investor confidence remains up — ING survey
As the US economic recovery sputters, investors are turning to emerging markets toward which sentiments remain upbeat, the ING Investor Dashboard Sentiment index for Pan-Asia including the Philippines showed.
Data from the quarterly ING Investor Dashboard Survey showed consistency in investor sentiment toward the Philippines over the past two quarters with a score of 157 in the third quarter.
"The Philippines maintains its position in the optimistic zone for the fifth consecutive quarter, suggesting that investors are confident in the market despite continued signs of a slowdown in the US economy, the global financial investment adviser said in a statement released to the media.
ING Investor Dashboard Sentiment scores for RP 1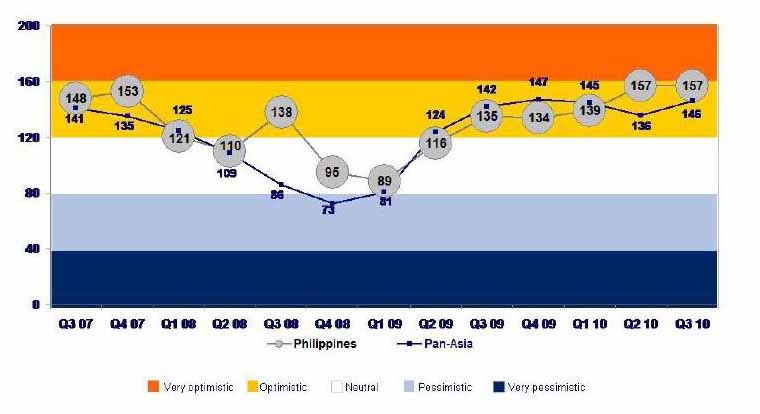 ING Investor Dashboard Sentiment Index scores for RP 2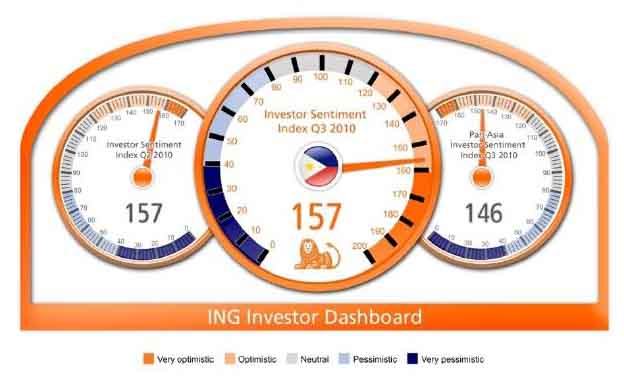 The ING Investor Dashboard Sentiment index for the Philippines again ranked considerably higher than the overall pan-Asia (ex-Japan) rating, which increased by 7 percent to 146 in the third quarter from 136 in the second quarter.
"The Pan-Asia Index moves higher in the optimistic territory and registers a 100 percent increase from the financial crisis low of 73 for Q4 2008," ING said.
Southeast Asia (SEA) emerging markets outperformed the region with the SEA Emerging Market index scoring 149 in the third quarter, with the the Philippines lead the SEA emerging markets with an index score of 157 in the July-September period, the financial investment adviser said.
ING Investment Sentiment Dashboard index for Pan-Asia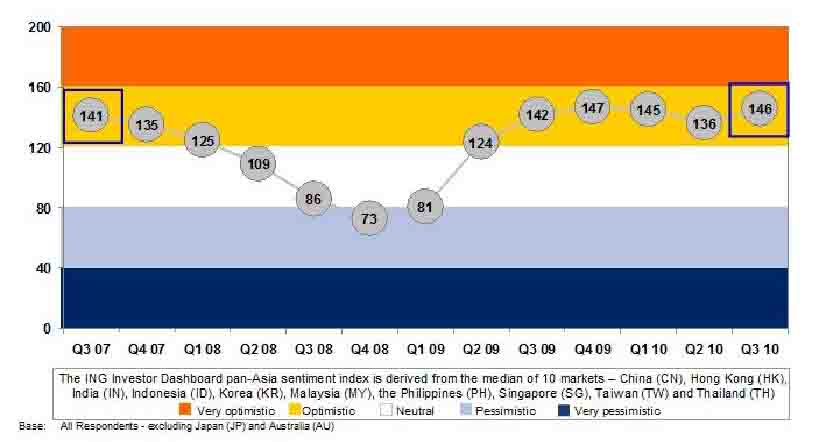 Pan-Asia, India, China, Hong Kong, Singapore and SEA emerging markets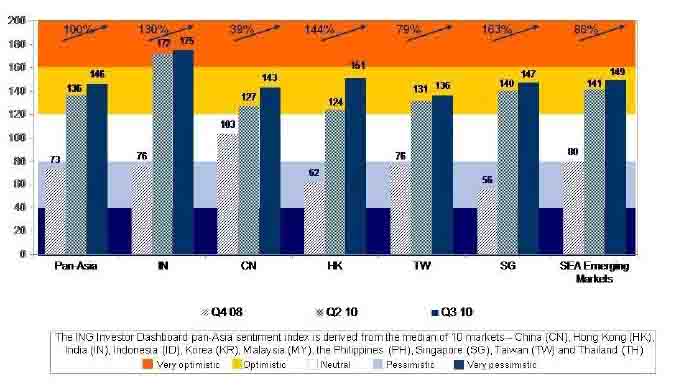 Investor confidence in the Philippines has increased substantially (76 percent) since falling to the financial crisis low of 89 in the first quarter of 2009, according to ING.
Scores across all indicators in the second quarter of 2010 reflected high sentiment, and most scores remain consistent in the third quarter, indicating that the Philippines has achieved stability in the last quarter as it held on to its position as one of the region's most optimistic markets, ranking second to India as the strongest driver of Pan-Asia (ex-Japan) sentiment for the second consecutive quarter, ING said.
"Local and foreign investors alike have reflected this optimism by pumping more money into
Philippine stocks," says Paul Joseph Garcia, head and chief investment officer of ING Investment Management Philippines. "Average daily turnover in September 2010 almost doubled to P6.053 billion, in contrast to the P3.906 billion average daily turnover from January to August 2010."
Despite US outlook
Asia investors (ex-Japan), said ING, are positive about their local economies despite remaining cautious of economic recovery in the US.


According to Pranay Gupta, chief investment officer of ING Investment Management
Asia/Pacific, "US data continues to point toward a slowdown in economic growth and expectations of further quantitative easing in the US is putting pressure on currency appreciation in the export markets in Asia."
He said, "The emerging markets in Asia are resisting this appreciation as much as possible. This has helped to keep interest rates low and drive positive consumer sentiment in Asia. A rush of money is also coming into the emerging markets in Asia from investors seeking yield and higher returns, boosting the stock markets in the region and keeping investment sentiment buoyant."
Philippine investors are less optimistic about the U.S. economic situation next quarter, with a drop in the number of those expecting it to improve (62% in Q3 2010 from 71% in Q2 2010). However, there is a rise in the percentage of investors who believe that the US economy will have no effect on investment decisions.


Becoming more resilient
Garcia believes that investors still base their cautiousness on the events that transpired in the 2008 financial crisis and mentions that it is not an uncommon belief that the US drives local economic activity.
"To a small extent, this is still true," Garcia said. "But the Philippines, along with many emerging market economies, is increasingly becoming more resilient to external developments."
He added, "Record high OFW remittances and the strengthening of the peso against the US dollar have made a strong case for consumption-driven growth. Infrastructure investments are also a key priority of the Aquino government and the roll-out of such projects will have a multiplier effect that should be felt even outside the infrastructure space."
Enter Aquino administration
In the second quarter of 2010, 82 percent of Philippine investors believed that the May 10 elections were successful, according to the ING survey.
In the third quarter, 69 percent of investors responded positively when asked about the impact of the current performance of the new administration on the economy. Only 23 percent were unsure.
Investors indicated support for President Aquino's campaign platform, as 71 percent believed that the he should focus on minimizing graft and corruption in his first 100 days in office, while 57 percent believed that economic reforms should be prioritized to improve investor confidence.
Promoting business growth and foreign investment should also be a priority for the new administration, as expressed by 55 percent of investors polled.
Other priorities that investors believed President Aquino should focus on in his first 100 days were government transparency (48 percent), regulation of critical utilities such as fuel, water and energy (41 percent), and poverty alleviation (36 percent).
When asked which industries the president should prioritize to create a more stable
investment environment, respondents' top three choices were Information & Telecommunications (60 percent), Energy (52 percent), and Consumer goods related industries (40 percent).
The stock market
The Philippine Stock Exchange index picked up significantly in the third quarter with a 22 percent growth rate from 12 percent in the second quarter.
Investors' views on key indicators for the past three months indicated that they benefited from the way the stock market performed.

Looking at the next three months, there were slightly fewer Philippine investors who believed that the stock exchange will rise, and the average expected increase is down a bit as well, ING said.
"However, investors' views on key indicators such as return on investment (ROI) and personal and household financial situations remain largely consistent with Q2 2010's highly positive scores," ING added.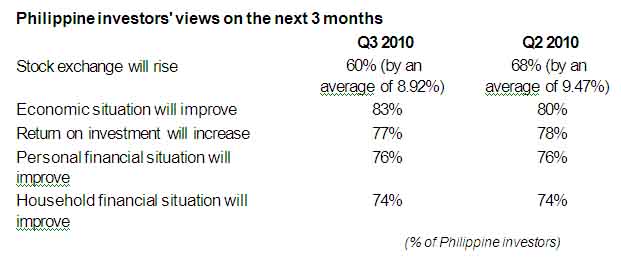 An increasing number of Philippine investors — 22 percent in the third quarter from 14 percentin teh second quarter — claimed that recession has had a negative impact on investment returns.
"Inflation and the worsening of the US economy come in behind recession concerns at 14 percent, while 11 percent believe that oil prices have a negative impact on investments," the financial investment adviser said.
Investor risk appetite
Philippine investors viewed the medium risk investment sector more favorably in the third quarter and showed a higher preference for a balanced investment strategy.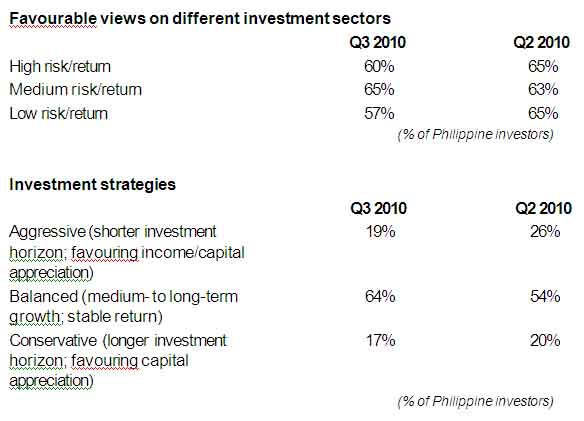 Looking at the top three investment tools used in the third quarter, it was clear that in practice Philippine investors were somewhat more cautious than they were in the April-June period.

When asked where Philippine investors should invest their money, Garcia said, "Growth assets will continue to outperform defensive assets. This is an early part of a bull cycle that recognizes the earnings potential of Philippine companies under this economic 'sweet spot'."
Garcia said that "Revenue growth is imminent coupled with a low inflation environment." He also mentions that from a global standpoint, emerging markets provide better growth opportunities at similar valuations and possibly lower risk."
Inflation, interest rates
Fifty-five percent of Philippine investors believed that inflation will rise in the next three months, a slight drop from52 percent in the second quarter. "More investors see this change having a negative impact on investment decisions," ING said.

To beat inflation, 26 percent of investors planned to re-allocate their current investment portfolio. Still, 23 percent would invest less and reserve more money for daily expenses, 20 percent would invest more for higher returns, 6 percent would invest less and re-allocate current portfolio, and 6 percent will invest more and re-allocate current portfolio.
Investors preferred cash deposits (51 percent), properties (33 percent ), and stocks (32 percent) as the top three tools for beating inflation.
Fifty percent of Philippine investors expect a rise in domestic interest rates this fourth quarter, while 36 percent and 13 percent expect no change and a decline, respectively.
"Although there are fewer respondents in Q3 2010 who see positive outlook from domestic interest rates in the next quarter, a substantial majority are still optimistic that it will have positive impact on the local economy," ING said.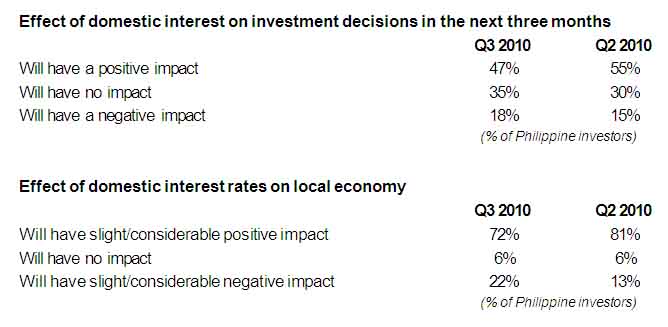 Philippine investors still believe that cash and deposits are the top investment tools to take advantage of domestic interest rates, with a 2 percent increase to 56 percent in the third quarter. Properties ranked second with a 3 percent increase to 34 percent from the second quarter.
Those who believed in investing in stocks increased by 5 percent, "bumping off foreign currency," to 33 percent.
The Q2 2010 survey was conducted by The Nielsen Company in June 2010 and involved online interviews with 3,792 mass affluent investors across the 12 Asia Pacific markets. The respondents were aged 30 and above, and had disposable assets or investments of $100,000 and above, with the exception of Indonesia (disposable assets or investments of $60,000 and above) and the Philippines (disposable assets or investments of $60,000 or monthly income of P200, 000 and above). — JPF/VS, GMANews.TV