NU107: the last broadcast
"It's a minute before 12.
NU107
is DWNU FM at 107 dot 5 megahertz in Pasig, once the loudest and proudest member of the KBP. This has been NU107, the Philippines' one and only Home of NU Rock. This is NU107. We are signing off."
This is the last thing station manager Cris 'Cruise' Hermosisima says before the first chords of The Eraserheads' Huling El Bimbo fill the airwaves, the words almost drowned by cheers from listeners inside and outside the booth. It is midnight on a Sunday, but work or school the next day didn't stop NU107's fans from dropping by to pay their last respects to the station.
The otherwise quiet studio on the corner of Emerald Avenue and F. Ortigas Jr. had been welcoming a steady stream of special guests and fans dropping by to say hello, and goodbye. After 23 years of rock and roll, the home of NU Rock closed its doors.
"Sometimes, home forces us to kind of you know, get out, get out look for something else, enjoy something else, discover something else. This is our chance to do that. As sad as tonight is, this is our chance to do that. Step out of home for a little bit. Maybe someday, we'll come back home. We want to be optimistic," said Francis Brew on air for the last time, before instructing the listeners to look for Rivermaya's
Sayang
. "Play that. That is the final song," he said.
Technically, the final song was
Lupang Hinirang
, but it can be argued that there was no final song. The station is no more, but what it stood for lives on in everyone who was ever a part of what NU107 was.
"This is not the end. Music will live on. Music was here before NU, music will remain after NU. NU is a community of music lovers and so many artists in the industry. And we'll still keep listening to them, and in that sense, NU doesn't end," said Evee Simon, one of the newest and last rock jocks, who played The Smiths'
There is a Light that Never Goes Out
in the station's final hour.
When listeners heard that their beloved station was closing down, they organized the event
107 Candles for NU107
on Facebook. Anticipating over a thousand attendees, Rock Ed founder Gang Badoy informed barangay authorities that the radio station would be signing off and that many artists would be coming to the area. She requested traffic re-routing assistance and additional security, as well as cooperation from the attendees, reminding them that the gathering is about "saying thank you to an entity, a venue, a purveyor of things rock - NU107. We are happy NU existed, we are proud we are/were part of its existence. So - let's all be there, rock the right way, do the right thing, but still be present anyway. This is how we rock, we rock right."
Outside the station, a couple of hours before it all ended, Gang Badoy said she was nothing but grateful, since if it were not for NU, there would be no Rock Ed Radio. The past few days for her had been like "an impending death of a loved one," and needing an image, she pictured wires, an antenna, an engineer, a microphone, a building, and people.
"We created something like a micro world that said, 'rock and roll is a rhythm of life, that rock can still do good, that rock is not evil, that rock is not dark - although it could be that.' I think what I appreciate most about NU is that it gave us a venue to say that we can rock right, and that rockers are actually upright citizens and we contribute also to society not the stereotype that they always quote. Isn't it amazing how you have a set of wires a building equipment a set of ideas and people but look at what you created, my god, it's a great rhythm of a generation," she said.
For many listeners, NU was, truly, much more than a station.
As film critic Phil Dy put it, for every kid that grew up in the '90s, it was a defining thing. "You know, if you were, halfway cool. Obviously, there weren't enough cool people, that's why it's shutting down," he said.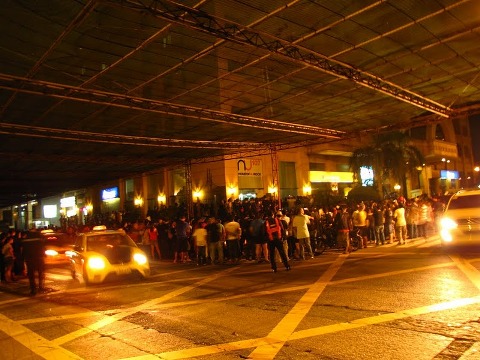 Listeners spill out of the studio and into the streets for the last broadcast.
More than playing alternative music, NU107 was home to several other unique radio shows. Sunday afternoons meant Francis Brew's
In The Raw
, which welcomed demos from unsigned bands, giving local musicians a chance to be heard on air, despite not being represented by a record label. Monday nights meant Mico Halili's brainchild
University Rock
, dedicated to supporting the campus music scene, and invited college bands to guest on the show. Tuesday nights meant
The Crossroads
with Captain Eddie, 90 minutes of the blues. Saturday mornings meant
The Real Score
with Roanna, who would feature movie soundtracks. And of course, there was
Not Radio
, where you could discover tracks that changed your life. "They said we couldn't play it, so we're putting it on," went the plug that began with a mooing cow, one of the many memorable spiels that loyal listeners will gladly recite for you, even after several years.
NU107 provided the soundtrack to many a teenage life, and although everyone has a different story, the music is a shared experience - a point of intersection shared by those who came for the last time.
"I want to thank NU for making me feel like I belong to a community of listeners, a community of people that care about music intensely and found a common language in it. It's just a little hard to imagine now, after everything, all the changes in how we consume music, that there was still a time that we would make an effort to listen to the radio, that it existed as more than background noise. And that you know, we were able to find an affinity with each other through the songs that we heard being broadcast," said writer Paolo Cruz.
Audiophile Paul Wenceslao describes NU as a stepping stone. "After each step
magpro
-progress
ka. Parang 'yung
psychomotor years,
diyan nagsimula
," he said, explaining that he stopped listening to radio after picking up enough good music from NU.
Erin Sinogba, whose band's demo was played on
In The Raw
"many many many years ago" said she was thankful to NU for being there during her formative years. "They were the ones that really influenced me and my friends to start our own band," she said.
"It's kind of like bidding farewell to a sibling. I'm kind of sad because I've always said I want my kid to grow up with NU," said URock Jock Maika Gomez.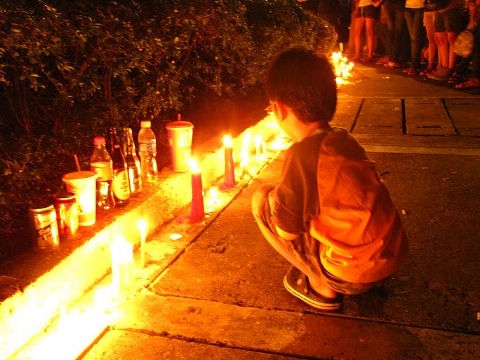 A little boy lights a candle for the station he won't get to grow up with.
"Right now it's so beautiful, because everyone's just hanging out. And whenever everyone cheers you feel like you're part of something special. And, well I guess we all grew up with NU that's why it's so sad to see it go but at the same time it's bittersweet because you know that it has done something for you and the reason you're here is just that, it's done something for you," said Klieg Lights bassist Caloy Soliongco.
Strangebrew
director RA Rivera was among those who had a lot to thank the station for. "
Malaking utang na loob. Wala siguro ako at 'yung mga kaibigan ko sa mga kinalalagyan namin ngayon kung hindi dahil sa
NU 107," he says.
Strangebrew
, which featured the quirky tandem Tado and Erning aired on UNTV, NU's short-lived television station. "It's a very sad day. Beyond words.
Ngayong nandito ako ayokong mag alas dose ng gabi
, actually
lumalayo ako kasi 'pag naririnig ko 'yung dulo ng
song
na 'to nalulungkot ako e
," he says, as Sandwich's
Masilungan
plays.
Even some listeners who don't consider themselves avid fans of the station turned up. For film director King Palisoc, who says he was technically banned from listening to the station since he asked his father to tune in when he was around 10 years old, he just knew he had to drop by. "The thing with NU is, I've listened to other stations, I was never one of those really hardcore loyal fans, other stations have come and gone, but the thing is I don't really care.
'Eto lang 'yung
station
na alam kong kailangan kong pumunta sa
last night. Just the fact that I had to be somewhere for this station means it's different from all the others," he said.
The moment was palpable, even for those who hadn't grown up listening to NU. "It is really amazing to be a part of a community that has clearly shown and demonstrated support for a radio station. As a former radio station disc jockey myself, I am quite impressed with the turnout and the love shown for NU107," said Oward Bodie, who was moved to attend when he saw an outpouring of emotions from his friends on Facebook.
For some, the whole idea of having to bid the station farewell was still surreal, despite the reality of the candles melted on the pavement.
"I can't believe this is happening. The only other constant thing in my life aside from God and family has been NU. To be kinda sentimental about things,
hindi na matutuloy ang pangarap kong marinig ang kanta namin sa
NU
kasi mawawala na
," said Severo's Enzo Marcos.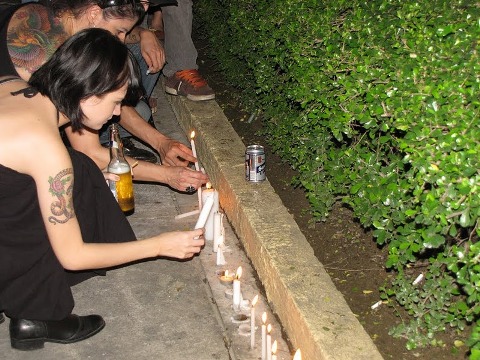 Dressed in black, a couple of listeners light a candle for NU107.
Ryan Villena, academic head for Shift School of Intermedia, Film and Technology was melancholic, but felt that the post-NU stage is actually a "call for owners, for rich people, for example, Manny Pangilinan, to start all over again, to recognize the need for the rock audience," which he believes is very lively and profitable as well, if you play the cards right.
In the last few hours, the rock jocks played their swan songs. Pale Fountains, Color It Red, The Smiths, and Wolfgang played in the background as listeners, mostly in black, milled outside the station.
Though the atmosphere was somber, it was like a grand reunion, people greeting each other left and right, not having seen each other for years. NU graphic designer and vocalist of The Lowtechs Gelo Lagasca expressed his frustration at the belated show of support. "
Bakit ngayon lang kayo nagpakita? Kung kailan magsasara doon niyo lang pinakita
love
ninyo. Masakit. Kasi noong andiyan 'yung
NU
parang sinisiraan niyo pa
. Well
ganyan talaga 'yung buhay, kung mamamatay na 'yung isang tao doon niyo lang papakita 'yung pagmamahal niyo
. Thank you
pa rin
," he said.
For Lagasca and the others on the staff and crew, NU was not just a job. "
'Di talaga matatapatan kasi para kaming
family
talaga
," he said.
For rock jock Mondo Castro, it goes beyond that. "This may sound cliche but it feels like the end of an age, you know? It feels like saying goodbye to a friend that has given us so much, it's a cultural thing, it feels like being part of a culture," he said. He added that he hopes people will keep the idea of NU within themselves and support the scene more. "In whatever form that NU comes back, it could be another station, or another movement, hopefully we'll support it. Because we're all guilty of not supporting NU in the last few years, so there you go. Hopefully more unity from people who love music. We need more of that, a lot of bands need help," he said.
But life goes on, as rock jock Jewel said. "It's incredibly heartbreaking, but at the same time it's heartwarming how people actually came here to pay tribute to the station. NU 107 will stop airing but the music will live on."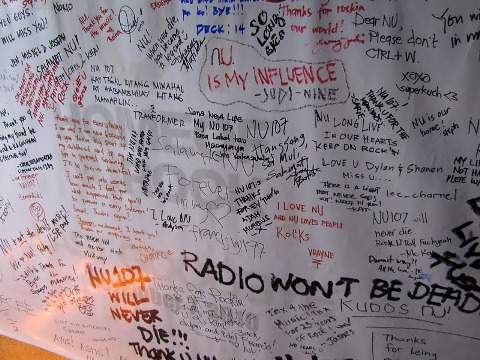 Fans leave messages of gratitude on the freedom wall.
"I believe in the creativity of our local artists, and I don't think that it's gonna stop here. It may be the death of one station, but there are so many great bands being born everywhere, every day in the Philippines. I believe there will always be a venue to showcase great talent. We may have been the first to give a lot of people opportunities but I firmly believe that we won't be the last," said Jay, who hosted the
Upswing with Trish
every morning from six to nine.
"To everyone I ever worked with, to all the jocks and the staff, to all the listeners, to all the bands that we played, to everyone who ever made music that we played, thank you very much for giving me a chance to work with you, to spin all this great music. Thank you for listening to NU107. I'm so honored and privileged to be part of the station. Thank you very much. Nothing will replace NU as NU, but I hope something comes along that will make the scene exciting, just like NU did," said rock jock Myrene Academia.
"Thank you for supporting NU107 for the past 23 years. It wouldn't have lasted this long without the support of all the listeners. Basically, everyone's a fan. From all the listeners to the broadcasters themselves to the staff, everyone's a fan. This is a collective effort," said rock jock Cyrus, who ended his last time on board with The Dawn's
Iisang Bangka
.
"It's defined who I am and it will always be in my blood. I'm very very grateful. I'm also very very happy to end this night not with depression, or a lot of sadness but gratitude for everyone, for the listeners, the bands, the jocks, I'm very very grateful," said
Let's Fun
host Quark Henares, son of Atom Henares who put up the station in 1987.
"You're part of history," Cris Hermosisima tells me. "Hats off to Mico Halili. URock was his idea. But I think we gave a break to a lot of college bands on U Rock. If I have my chance, I'll resurrect URock," he said. "We'd like to thank everyone, the fans. 23 years is not bad. It's a good run. Okay
na 'yun
. Let's finish it tonight."
"NU107 was about the people behind it, the music it played, and the people it entertained. So, it never really disappeared," said Zach Lucero. People were hugging and crying and singing along, randomly shouting "NU!" When the song ended, the national anthem played. Then there were a few seconds of static and silence, almost immediately broken by chanting. "
Walang aalis! Walang uuwi!
" they said. But the crowd eventually disappeared into the night, quietly, some staying to help clean up. It was unexpectedly tame and well-behaved. Maybe that's what happened, the fans grew up. Francis Brew was right. It's a chance to step out of home. It's about time.
- GMANews.TV