OFW barred from boarding flight over 'bomb joke'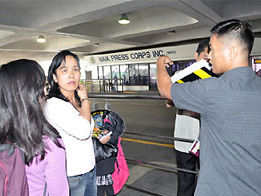 Zenaida Sangalang (2nd left) of Batangas, an Italy-bound Filipino, is questioned by a member of the PNP Aviation Security Group on Thursday after she told a NAIA passenger screener that her baggage contains a bomb. GMANews.TV
Airplane passengers, be warned: "Bomb jokes" are not allowed inside the Ninoy Aquino International Airport (NAIA).
An overseas Filipino worker (OFW) scheduled to fly to The Netherlands on Thursday was barred from boarding her flight for allegedly mentioning the word "bomb" in a joke.
Zenaida Sangalang, 40, a resident of Sta. Rita town in Batangas province, reportedly made the mistake of uttering the word "bomb" while her luggage was passing through the the X-ray machine of the NAIA Terminal 1.
"
Sabi raw niya, 'Wala naman pong bomba,'
[She reportedly said, 'There is no bomb there'] " PO2 Marcelino Peninoy of the Aviation Security Group told GMANews.TV.
Due to protocols on people joking about explosive devices while inside an airport, Sangalang was asked to step aside as her baggage was once more inspected and made to pass through the X-ray machine.
Except for "black patches" that appeared on the monitor, which signified the presence of metal objects, airport inspectors found nothing suspicious inside Sangalan's bag.
Just the same, Sangalang and her child — whom she was petitioning for to live with her abroad — were not allowed to take the Royal Dutch Airline KLM connecting flight (KL 804) to Amsterdam scheduled to leave 11:30 a.m.
Peninoy said the two will have to stay inside the airport for a "reglementary period" of 12 hours while authorities investigate her.
"Subject for evaluation
ang ginamit niyang
word.
Aalamin namin kung ano ang
intention
niya
for doing that.
Marami bang nakarinig? Nag
-create
ba ng
panic?" the security official said in detailing the process of their investigation.
Peninoy said if found guilty, Sangalang could be imprisoned for five years for violation of Presidential Decree No. 1727, which declares as unlawful the malicious dissemination of false information about bombs, explosives, or any similar device or means of destruction.
But as early as now, Peninoy hinted that Salangang would most likely be cleared and be allowed to leave, saying a background check on the woman showed she was a good citizen.
The security official also said while a number of people heard Sangalang's supposed joke, nobody panicked.
From The Netherlands, Sangalang was supposed to fly to Italy where she works.
"The result of what she did was to her expense anyway. Even if she gets cleared, her being delayed is already like her punishment," Peninoy said.
- KBK/RSJ, GMANews.TV