Palace allegedly behind critical fan page's closure
UPDATED 3:00am, 14Nov2010
A Facebook fan page with over two million fans that contained comments critical of the Aquino administration was summarily taken down by Facebook recently, allegedly on the initiative of the President's staff.
Meanwhile, the recently established official Aquino fan page has received a sudden and as yet unexplained infusion of fans, fueling suspicions that the closed fan page's fans were transferred without their consent.
GMANews.TV reported earlier this year that
Aquino was the third most-liked politician on Facebook worldwide
because of the large fan base of the original —and now defunct— page.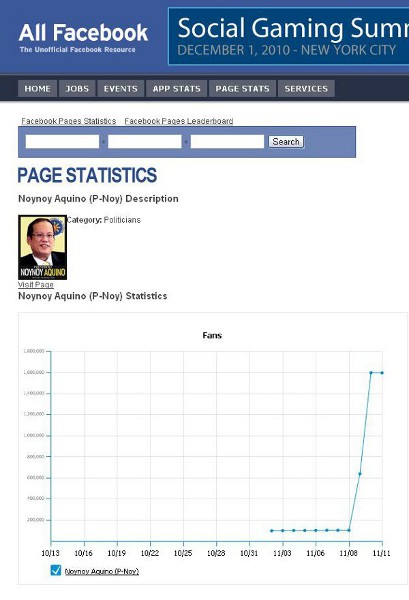 Graph above shows improbable spike in fans of official Aquino fan page. Source: AllFacebook.com
According to California-based computer professional Ben Totanes, he and fellow online volunteer Betty Abrantes set up the BSA3 fan page (
http://www.facebook.com/noynoy.aquino
) in 2009 shortly after the demise of former president Cory Aquino. The page was initially meant to show support for the presidential bid of her son, Benigno "Noynoy" Aquino III, in the upcoming nationwide elections in 2010.
"
Hindi pa ina-announce ni Noynoy ang kanyang pagtakbo, na-itayo ko na ang (BSA3 Fanpage). Siguro, mga dalawang linggo bago sinabi ni Noynoy na tatakbo siya bilang presidente, mayroon nang 25,000 fans ang BSA3 dahil sa aming mga advertising at marketing
," he said in a
blog post
.
(Noynoy hadn't even announced his presidential bid yet when I set up the BSA3 fan page. Even about two weeks before Noynoy made his announcement, the fan page had already amassed 25,000 fans because of our advertising and marketing efforts)
Abrantes is a Los Angeles-based graphic designer.
Official Palace statements
In an
official statement
posted around 9 p.m. on the president's website, Presidential Communications Group head Sec. Herminio Coloma sidestepped the question of whether or not Malacañang had anything to do with taking down the BS3 fan page.
Instead, Coloma cited Facebook policies that disallow the creation of accounts without authorized consent.
"It is clear... that Facebook Management seeks to minimize confusion that may arise from the existence of more than one Official Facebook Fan Page for a public official —in this case, for President Aquino," Coloma said in his statement.
In a
follow-up statement
issued around midday on Saturday, November 13, Coloma directly addressed Totanes and Abrantes.
"We recognize and honor the contribution of Ben Totanes, Betty Abrantes and all the volunteers who painstakingly established and grew the BSAIII Facebook Fan Page during the last campaign. We will communicate with Facebook Management on how their concerns may be addressed appropriately. We want to continue working with Ben, Betty and all the volunteers in pursuing our common objective to support President Aquino's good governance and anti-corruption programs and to strengthen the feedback mechanism of the government," Coloma's statement read.
Still no mention was made of whether or not Malacañang requested Facebook authorities to act on the BSA3 fan page, however.
History of the BSA3 fan page
Totanes said that he and Abrantes were contacted in October 2009 by Vicente Romano III, the head of Aquino's New Media Bureau at the time, to ask if they could lend their support to the Aquino campaign.
According to Totanes, the BSA3 fan page was subsequently adopted as Aquino's official campaign page, with some 80,000 Fans at the time. Following Aquino's triumph at the polls, the number of fans steadily grew to 2.2 million as of November this year, Totanes said.
After the election, Totanes said that Romano recommended that the fan page be shut down to facilitate the transition and turnover from the campaign volunteers to the president's staff.
"(Romano) wanted a clean cut-over from 'campaign mode' to when PNoy actually resumed his new office with the new communications group," Totanes explained in an addendum to his original blog post.
"(My request) was in anticipation of turning (the BSA3 fan page) over to government, and to make a clear distinction between the campaign team and the official team who would later manage it under the Office of the President," Romano affirmed in a private message sent to GMANews.TV via Facebook.
However, Totanes and Abrantes offered to turn over administration of the page to the then newly-formed Presidential Communications Group on the condition that comments critical of the administration would not be removed.
"
Sinabi ko sa kanila na pwede pa rin nila gamitin ito, nguni't dapat pamalagiin itong 'Feedback Forum' ng sambayanang Pilipino, at huwag tatanggalin ang mga comments —pro or anti— ng mga tao
," he said.
(I told them that they can still use the fan page, as long as it's maintained as a venue for feedback from the Filipino people. No comments must be removed, be they negative or positive.)
Coloma allegedly disagreed with Totanes' conditions, and decided to set up a new official fan page,
PresidentNoy
, in August this year.
On November 9, Totanes received an email directly from Facebook administrators saying that the BSA3 fan page "has been removed for violating (Facebook's) Terms of Use."
"Among other things, Pages that are hateful, threatening, or obscene are not allowed. We also take down Pages that attack an individual or group, or that are set up by an unauthorized individual. If your Page was removed for any of the above reasons, it will not be reinstated," Facebook administrators told Totanes.
Meanwhile, the number of fans of the PresidentNoy fan page jumped from around 100,000 on November 8 to almost 1.6 million just two days later, according to
AllFacebook statistics
.
Direct accusation
Totanes directly accused the Aquino administration of instigating the closure of the BSA3 fan page.
"
Hindi lang basta-basta kikilos ang Facebook upang isara ang isang Facebook Page. Kailangan ng opisyal na dokumento o request bago ito mangyari, at kailangan ito i-authenticate. Batay sa aking mga narinig galing sa ibang kaibigan na naging kasama namin sa kampanya at may alam sa nangyayari sa Malacañang, ang BSA3 ay ini-utos ipasara ng Communications Team ni (Aquino), at karamihan ng member nito, ini request sa Facebook na ipa-lipat sa 'Official' Facebook Page ng wala nilang pahintulot,
" he said.
(Facebook doesn't just close down a Page without an official and authenticated request. Based on what I heard from our friends in the campaign and people in the know in Malacañang, the Communications Team ordered the BSA3 fan page to be taken down. They also requested Facebook to transfer most of the Page's members to the new 'Official' Page without their consent).
"Whoever caused this are likely upset at the anti-PNoy tirades (on the BSA3 fan page)," wrote another Noynoy campaign volunteer, Marian Pastor Roces, in a note on Facebook. "And it is true that trolls are wildly abroad in BSA3. In my view, however, shutting down the site is no answer to trolls. Especially because BSA3 is a forum of surprising size and reach—therefore an ideal 'space' for democratic debate and feedback."
GMANews.TV has verified Totanes' identity and role in the campaign through other volunteers.
- HS, GMANews.TV