PCSO website 'offline' before big lotto draw
Filipinos who will be betting on Wednesday night's big 6/55 Grand Lotto draw may be inconvenienced again as the Philippine Charity Sweepstakes Office's website showing draw results is still down.
This is the
second time
that the website has been unavailable just before a big lotto draw.
As of Wednesday noon, the PCSO's "Games Results" section was again offline. In its place was an advisory from the PCSO Management Information System (MIS) Office: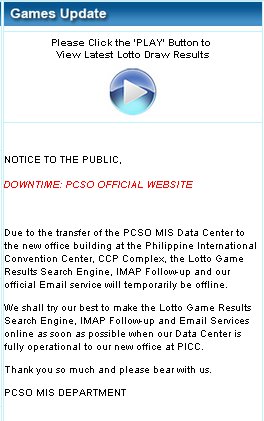 A closeup screengrab from the
PCSO website
as of Wednesday noon, barely nine hours before the P620 million jackpot draw.
GMANews.TV
"Due to the transfer of the PCSO MIS Data Center to the new office building at the Philippine International Convention Center, CCP Complex, the Lotto Game Results Search Engine, IMAP Follow-up and our official Email service will temporarily be offline," the advisory said.
The new advisory gave no indication as to when the site will be fully operational. The PCSO merely said it will "try our best" to make sure the sections are online "as soon as possible."
"We shall try our best to make the Lotto Game Results Search Engine, IMAP Follow-up and Email Services online as soon as possible when our Data Center is fully operational to our new office at PICC," the notice said.
All eyes are on the Wednesday draw of the 6/55 Grand Lotto because of the jackpot, which an earlier report on dzBB radio said may go up to P620 million.
-TJD, GMANews.TV