One Love: LGBT Pride March against AIDS
Tomas Morato was never as colorful as it was last Saturday during the annual LGBT Pride March themed "One Love: Stop AIDS, Promote LGBT Human Rights, Keep the Promise." This year's march was the biggest yet since the first LGBT Pride March in Asia on June 26, 1994, organized by Progressive Organization of Gays in the Philippines (ProGay Philippines) and Metropolitan Community Church (MCC) Manila.
"We've been marching for more than 10 years, and this is the largest pride march ever. We have mobilized more than 80 organizers, and around 300 individuals have registered" said Task Force Pride (TFP) co-coordinator Ryan Silverio. This year's parade is a collaboration among Task Force Pride, the Philippine AIDS Society and the Quezon City government. The march is usually held in Malate, but TFP moved this year's parade to Morato after the QC Mayor's Office and Social Hygiene Clinic expressed interest to support the LGBT community's annual celebration.
TFP has been organizing the Metro Manila Pride March since 1999 and in 2003 decided to move the march from June to December to coincide with human rights activities. The original date was set on the anniversary of the Stonewall Riots, considered to mark the beginning of the gay rights movement in the United States, and around the world.
Gabriela joins the parade with a giant rainbow flag.
The pride march gathers LGBT groups and individuals to promote solidarity within and outside the community. It is also a venue for LGBT's and their supporters to raise pressing issues, such as this year's focus on HIV AIDS awareness.
"One of the advocacy calls of Task Force Pride is to push government to take it seriously in terms of supporting awareness-raising and also for members of the community to voluntarily get tested," said Silverio.
Danton Remoto, who led the UN group explained that their program for HIV AIDS is for everyone. "Our program shows that all people should have equal rights, and also the right to be educated about HIV AIDS. The program spreads information and knowledge against infection which affects everybody, not just lesbians, gays, bisexuals and transgenders, but also children, injectible drug users. It must be known that all of these are included in the program."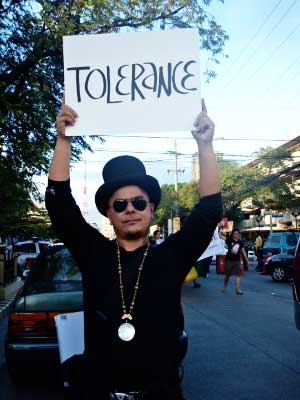 Carlos Celdran is one of some 300 individuals who joined the parade.
The program is urgent, as the cases of HIV in the Philippines are on the rise. "
Limang Pilipino ang may
HIV every day. So 1,305 in one year! That's a lot,
ang dami dami niyan
. It's a cause for alarm so we should really work towards the mitigation,
pagpapabawas ng sakit na iyon
," said Remoto, who is the former chair of Ang Ladlad Partylist.
Several non-LGBT organizations joined the parade, including the Filipino Freethinkers. "We are here to show our alliance with the LGBT community and also our general stance against irrational bigotry," said Kenneth Keng of FF.
The support was very much welcomed by members of the LGBT community. "The representation cuts across sectors. We see non-LGBT groups marching alongside LGBT groups, and I think that's the spirit of pride. It's a solidarity activity," said a member of U.P. Babaylan.
The Employee Alliance for Gay, Lesbian, Bisexual and Transgender Empowerment, Akbayan, Gabriela, Metropolitan Community Church of Quezon City, Galang, Accenture, and Babaylan were among the groups that joined this year's march.
The parade of colorful floats stopped traffic along Tomas Morato, Eugenio Lopez Drive, Scout Albano Street, Panay Avenue, and Timog Avenue, but many drivers were smiling, seeming to tolerate the unexpected roadblock. Some even rolled down their windows to watch the parade go by and voice support for the LGBT community.
While the parade is supposedly a safe space, anti-LGBT groups were also present. Most visible were several groups of three to four people, bearing placards with messages like "Jesus can change you!" or "Warning! God Will Judge the Sexually Immoral!"
Those marching had varied reactions to such placards, from simply laughing to answering back.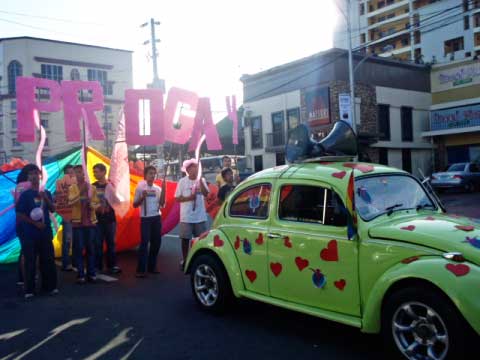 Progay Philippines' beetle has been bitten by a lovebug.
"
Magbasa kayo ng bibliya
," shouted a girl carrying a sign that said "Turn from sin!"
"
Nagbasa na ako
," answered a beauty queen from her float, with a flippant wave. Others carried signs saying "God made me gay" and "If Jesus is love, why hate?" The mood was light, however, and no physical violence took place.
"I think one key principle when you're a human rights advocate is to respect opinions of dissenting groups, and of course we will be practicing maximum tolerance with regard to them," said Silverio.
The parade stopped where it began, at the corner of Scout Lozano and Tomas Morato, where a program was held until late in the evening.
- GMANews.TV