Lauro Vizconde in tears, Webbs on 'cloud nine'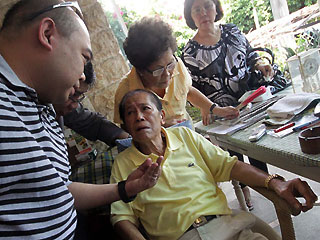 Lauro Vizconde is comforted by relatives on Tuesday after hearing the Supreme Court acquittal of those accused in the 1991 Vizconde massacre.
Danny Pata
After the Supreme Court (SC) acquitted Hubert Webb, the son of a former senator, and six others in the Vizconde massacre case, one family is in tears, the other, on "cloud nine."
Lauro Vizconde, the husband and father of the victims who were killed in 1991, cried and even fainted after hearing about the decision of the SC on Tuesday.
On the other hand, the family of Hubert, the son of a former senator and one of the convicts in the 19-year-old Vizconde massacre case, rejoiced over the SC decision to reverse the conviction of seven people convicted for the crime.
"Kami right now are on cloud nine. Bago sa lahat, there is so much to be thankful for
(Right now we are on Cloud Nine. There is so much to be thankful for)," said former senator Freddie Webb in an interview on dzBB radio.
Freddie said now that his son Hubert is acquitted, he is mulling the filing of charges against Jessica Alfaro, the star witness who sent his son and six others to jail in 1995.
"Everything happens in God's time, you cannot rush God into making a decision," he added.
He said he and his family are relieved that the truth finally came out. He said he hopes the family can resume a normal life after 15 years.
"Siyempre ... siya ang unang hahabulin namin. Masakit ang kasinungalingang ginawa niya. Di lang si Hubert, pitong tao ang kanyang pinakulong. Nasira ang buhay ng mga bata na yan
," he said.
(Of course Alfaro is first on our sights. Her lies ruined the lives of Hubert and six others.)
He said they will see if Alfaro is still with the government's witness protection program. "We will file a case against her," he said.
Freddie also said they plan to visit Hubert at the New Bilibid Prison although he admitted they are not aware of the procedures involved for his release.
On Vizconde patriarch Lauro, Freddie said he "shares his grief."
"I share with him his grief ... his sorrow. At the same time di namin pwede ikumpara, siya naubusan ng pamilya
(I share with him his grief, his sorrow. But I know I cannot make comparisons because he lost his entire family and we still have ours)," he said.
An earlier report by radio dzBB's Sam Nielsen quoted Hubert's brother Fritz as saying the SC decision was the best Christmas gift for the Webb family.
The report also quoted Fritz as saying the acquittal is an opportunity for Vizconde patriarch Lauro to search for the "real" killers.
Hubert had been jailed for the crime since 1995.
Earlier on Tuesday, the Webb family stayed inside their residence at the Cleveland Tower in southern Metro Manila, and declined media interviews.
A separate report by dzBB's Cecilia Villarosa quoted the Webbs' lawyer Demetrio Custodio as saying they will now concentrate on Hubert's release.
Lauro's greatest fear
Meanwhile, Lauro said his greatest fear has come true — that Hubert and the other convicts in the massacre case would be acquitted.
Barely able to talk while inside his home, a sobbing Vizconde - being pacified by his relatives - expressed his outrage over the SC decision absolving seven convicts due to "inconsistencies" in witness testimonies.
"Nangyari na ang aking kinatatakutan... Wala na kong panawagan... Wala nang katarungan dito sa ating bansa,"
said Vizconde, who fainted briefly while talking to reporters and had to be seated.
Vizconde's wife Estrellita Vizconde, 47, and their daughters Carmela, 18, and Jennifer, 7, were killed in their Parañaque home on June 30, 1991.
A Parañaque court — basing its ruling mainly on Alfaro's testimony — convicted seven individuals in the case, including Hubert.
"Paano ninyo maipaliliwanag iyon [pagpatay sa kanila] ng mga huwes? Ewan ko kung matutulungan niyo pa ako matapos niyong ibasura iyan,"
the widower said.
"Paano pa ang tiwala sa hukuman? Kahit sa mababang kapulungan, eh nababayaran lang,"
Vizconde added.
Like Vizconde, Dante Jimenez, chairman of the Volunteer Against Crime and Corruption, was almost speechless when asked for his reaction on the SC decision. Vizconde joined the VACC ever since the crime happened.
A radio dzBB report said relatives of the Vizcondes and supporters held a prayer vigil on Monday night, hoping that the high court would dismiss Webb camp's motion to be acquitted.
The SC was supposed to have deliberated on the matter several weeks back, but the justices deferred making a ruling and asked for "more time."
– VVP/RSJ, GMANews.TV