Walang pogi dito: The year's top Pinoy Twitter trends
Gone are the days when Twitter was just about broadcasting what you had for lunch.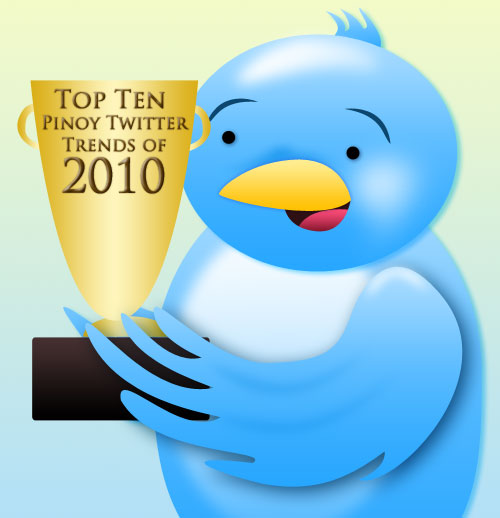 Art by Analyn Perez
The year 2010 saw not only a rise in the number of Filipinos on Twitter but also a sea change in the way Filipinos use the 140-character micro-blogging service.
A ComScore study shows that as of June 2010, there are about 2.1 million Filipinos on Twitter. From being ranked 12th in 2009, the Philippines is now
sixth in the world
. The study also shows that in 2010, there was a 243% increase of users in countries in the Asia-Pacific region, including the Philippines.
This rapid expansion of the Twitterverse is making an impact on the ways people gather and spread information.
While some still tweet about the cow testicles soup they just ordered, many other "tweeple" (people who use Twitter) now use it to tell their followers about obscure, holy-cow articles, support or attack celebrities, and essentially try to connect to millions around the world who are also tweeting while stuck in traffic or waiting in lines, instead of the old-fashioned habit of reading or conversing.
Here are the top ten unforgettable Twitter events or 'Twitvents' of 2010.
1. Noynoy blunders
In 2010, Twitter was an election campaign tool in the Philippines for the first time, and is now playing an interesting role in the administration of President Noynoy Aquino.
Along the way, PNoy and his staff have had to learn painful lessons.
Before the elections, the @noynoyaquino Twitter account was used mostly for campaign reminders and thank you's. One morning, however, an irate Noynoy tweeted, "Won't be bringing a car to work
na
everyday! Stupid taxi bumped my car. 5k down the drain!"
Users in the Twitterverse quickly posited their theories about the tweet.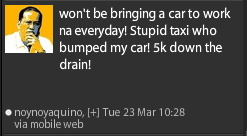 Some thought the Twitter account was hacked, while others speculated that Noynoy might really have been in a car accident. However, an apology soon came for the "mistweet" of one of the then senator's staff, who meant to update her personal account but ended up updating Aquino's Twitter page. That led to questions about whether Noynoy's personal tweets were fake.
A statement from the Aquino camp then said the presidential candidate usually asks one of his staff to tweet for him during hectic campaign days.
However, while the careless accident was forgivable, critical tweeps noted that Aquino was unlike other politicians on Twitter who personally updated their own accounts. Noynoy's running mate Mar Roxas, for example, was known for updating his own account, even tweeting about his honeymoon in Japan with bride Korina Sanchez. (Some followers thought Roxas' tweets were bordering on 'too much information,' but lapped them up anyway.)
The most notorious tweet associated with Aquino was sent by a young underling who seemed to forget that tweets were unlike SMS, meaning everyone can eavesdrop on messages meant for just one person.
On the President's visit to Vietnam, Assistant Secretary Mai Mislang posted several tweets about the trip on her own account. Mislang complained during a state dinner that "the wine sucks" and airily observed that there were no handsome men in Vietnam (
"walang pogi dito"
), even using the hashtag #vietnam.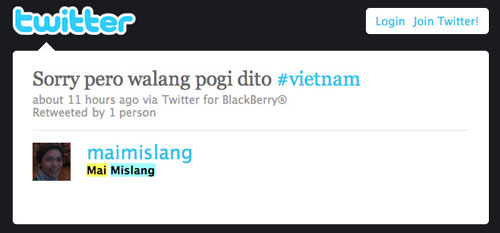 When the incident surfaced in the news media, other tweets by the president's aide were excavated.
In particular, she tweeted to the world about her boss (Aquino) asking her to edit something while she was working out in a gym (
"Tumawag si bosing. May pinapaedit. La akong
ballpen o notepad.
Nasa
gym
kasi ko nun. Parang gripong tumulo ang pawis ko sa tensyon."
).
While the gracious hosts in Vietnam refused to comment on the issue, the incident prompted Communications Group Secretary Ricky Carandang to draft social media guidelines. This coming from the guy who asked Mislang in reply to her wine tweet: "The red or the white?"
2. Showbiz wars
Actress and talent manager Anabelle Rama does not seem like the techy type, which was why a lot of people - including her own daughter Ruffa Gutierrez - were surprised when she set up a
Twitter account
.
Rama is not known for backing out of fights with people in the entertainment industry. And now that she had a Twitter account, she took some of her brawls into the social media arena.
One of her most recent tiffs was with actress
Heart Evangelista
, whose career Rama had been managing. After Evangelista decided to end her contract with the manager, Rama called her a "trying-hard actress," saying that Evangelista's mother was
"mukhang pera"
and that they only used her to advance the actress' career.

Keeping her cool, Evangelista answered back on her account: "Contracts are made to end and not renewing is something the other party isn't happy about… I will always be grateful to everyone that helped along the way. No need for bad words."
In an interview on entertainment show Tweetbiz, Evangelista apologized to Rama for what happened and even thanked her ex-manager for helping her with her career. However, in an interview on 24 Oras' Chika Minute, Rama said she has nothing to say to the young actress.
While the scrap with Evangelista has not been resolved, Rama also lashed out at singer Gary Valenciano's wife Angeli Pangilinan for supposedly saying something about Ruffa behind her back.
Rama wrote on her Twitter account:
"Sana mabasa ni Gary itong tweet ko. Dapat magalit siya sa asawa niyang chismosa at mahilig makialam sa buhay ng ibang tao."
Because of Rama's tweets, her daughter Ruffa warned her via Twitter that she should be "careful" when posting on her account because "everybody can see it."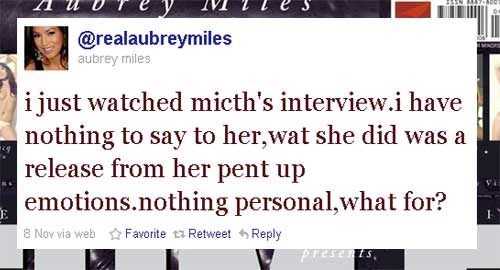 Other stars involved in cyber catfights were Survivor Celebrity castaways
Aubrey Miles
and
Michelle Madrigal
, who exchanged fiery tweets. Michelle, who got eliminated earlier in the reality show, accused Aubrey of voting her off because the latter was supposedly jealous of the former's relationship with model Jon Hall.
Aubrey eventually apologized to Michelle on Twitter, but Michelle called Aubrey's apology "insincere". The exchange provoked even fans of both actresses to lash out at one another.
3. Faster news
People want to get their news fast, and because of social media, people now expect their news delivered straight to them. Twitter allows users to filter the kind of news that they want to get from news organizations.
Adapting to rapidly evolving news consumption habits, news outfits in the Philippines and abroad have set up Twitter accounts, where bite-sized news and real-time reporting are posted.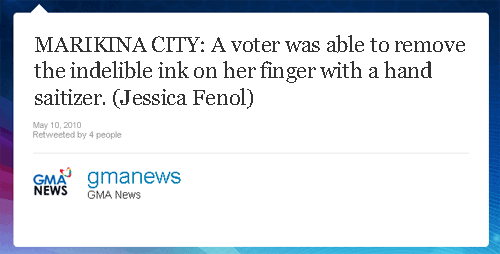 At the height of the campaign season, GMANews.TV pioneered a form of reporting called "rapid reports," where reporters send short news updates on Facebook and Twitter, which are vetted by editors and colleagues. Others have called the more elegant news tweets "haiku journalism."
During the campaign, reporters who trailed the presidential candidates filed rapid reports on their candidate's activities, often including color and details not included in their TV reports. The news about Manny Villar
handing out P20 bills
to children in Batangas, for example, was first filed as a rapid report.
The first details and photos of the blast that happened in Ampatuan, Maguindanao on election day were filed as rapid reports. Photo by Johnson Tam
On election day, news about a blast in Maguindanao province was first reported via rapid reports of the GMA News crew assigned in the area. The first details and photos of the incident were posted on the @gmanews account.
Rapid reporting has spawned subsets, such as the 'Flash Tweets' posted by @gmanews account, similar to the regular news updates on television's Flash Reports.
President Aquino's Inauguration was tweeted by most local news outfits via Twitter, and the range of tweets coming from Malacañang, Quirino Grandstand and other parts of the country added real-time web reportage to complement what they were seeing on television.
4. Lotto fever
During the second half of the year, the Philippine Charity Sweepstakes Office (PCSO) Grand Lotto 6/55 made history by offering the biggest lotto prize ever, a whopping P741 million pesos.
The growing lotto pot became the topic of many Twitter conversations, and every draw night, tweeple eagerly awaited the results.
Finally, in November, a bettor
bagged the prize money
and the Twitterverse was abuzz with tweets of disappointment and maybe-next-times.
The night of the winning draw, TV host and eventologist
Tim Yap
tweeted, "
Eto na
, PCSO confirms one winner - his name is Miko Morelos."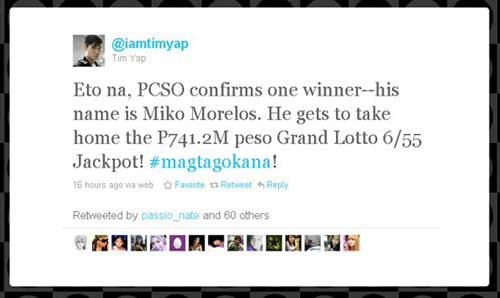 Yap's tweet was based on an Inquirer.net report that said there was a lone winner and had the name Miko Morelos in close parentheses at the end. Yap then retweeted the information, not knowing that Morelos was not the winner but the Inquirer reporter who sent the report. Yap quickly apologized for the mistake, but his first tweet had already informed the world, making Morelos an instant celebrity and potential kidnap victim.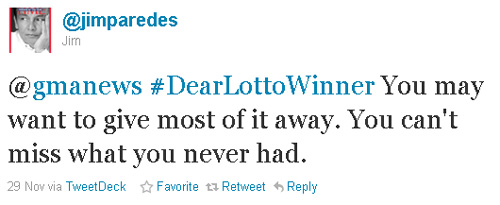 Meanwhile, tweeps greeted and wrote messages to the lotto winner via the hashtag #dearlottowinner. The messages varied from the serious ("Please use the money to help other people.") and the funny (
"Ninong! Regalo naman sa pasko!"
) to the bordering on insane (
"Mag-ingat ka, hahanapin kita at ki-kidnap-in!"
). Even celebrities like Jim Paredes and Bianca Gonzales joined in the fun, suggesting that the lotto winner should donate some of his money to charity.
5. #gamesandmemes
One Saturday, blogger
Tonyo Cruz
was feeling nostalgic and started posting memories from his childhood. Some of his friends joined in, posting their favorite TV shows, food and activities as a kid. Thus the weekly meme #sentisabado was born, where people reminisce the good ol' days with other Twitter users every Saturday.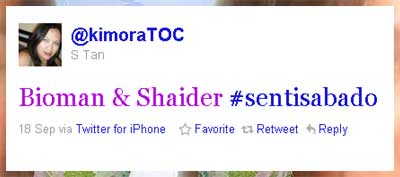 Using the hashtag #sentisabado, Filipino Twitter users who grew up mostly in the Philippines post random things they miss about their childhood, from TV shows (Dat's Entertainment) to classroom pastimes (FLAMES
sa gilid ng notebook
).
After the first few weeks, Cruz decided to make it more fun by having themes every week; for example, one week the #sentisabado theme was to post their favorite afternoon merienda.
Blogger
Professional Heckler
also holds random games on Twitter, usually asking his followers to answer quirky topics like "
mga
famous Pinoys
na nakakain
" - to which his followers would reply answers like "CHERRY Pie Picache" and "MANI Reyes."
6. "Fake" Twitter account = funny Twitter account!
Most of the glitches that happened in the first automated elections in May had to do with the voting technology called the PCOS machine. And while some voters shared their frustration on Twitter, the PCOS machine decided to defend itself by setting up the
@PCOSmachine
account. "I think there's a jammer nearby, my tweets are getting error 400 bad request. I've already informed the Smartmatic techs," the machine tweeted.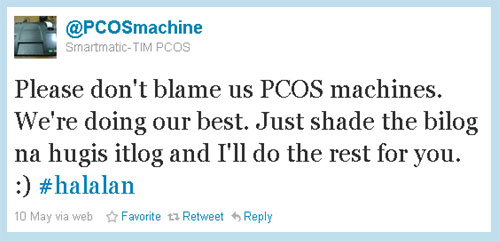 The account, managed by Yves Gonzales, provided much-needed comic relief from the tension during the elections, tweeting that his boss Cesar Flores had to give him a bonus for performing well, and even sending condolences to some machines that "died" in the middle of the voting day.
Another Twitter account born during the election season was
@I_amHologram
, a spin-off from the "hologram effect" technology that GMA News used to beam reporters and interviewees into the studio.
From then on, the account has been tweeting witty observations on news events and personalities. The account is also known for its #in140char interviews on Twitter, one of the more recent ones with GMA News reporter Kara David.
Another account making Pinoys laugh is the
@FakeNoynoy
account,

which posts satirical tweets that are supposedly from President Noynoy. The account clearly states in its bio that it is "fiction", but readers appreciate the ironic take on PNoy's real life, from tweets about his love life ("Don't cry for me, Shalani!") to comments on his sister Kris' activities ("How do I tell young Bimby that Nido is not really powderized milk extracted from Kris' bosom?").
7. Pinoy talent on Twitter
Rumors of
Charice
joining Glee first spread on Twitter, which she quickly denied on her account, even saying "How I wish!" Reports from Hollywood say producers of the US TV musical read her tweet and asked her to come in for an audition.
When she finally announced that she was really going to appear on the show, Hollywood entertainment magazines and shows retweeted the Pinay singer's tweet and congratulated her on her success.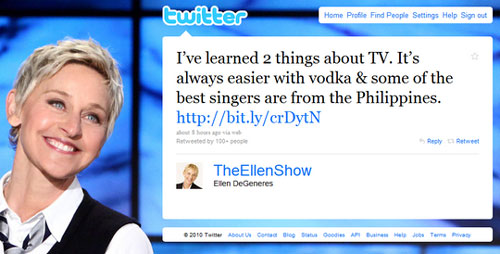 Charice once again put Filipino singing talent on the map, and even TV host
Ellen Degeneres
acknowledged on her account, "I've learned 2 things about TV: It's always easier with vodka and some of the best singers are from the Philippines."
Twitter has been a handy vehicle for the world to convey its admiration for Pinoy boxing legend Manny Pacquiao. After his latest fight with boxer Antonio Margarito, teen heartthrob
Justin Bieber
tweeted, "Heard Manny did work tonight. I think it's time we got the Money Mayweather fight we have all been waiting for" and used the hashtag #EPICBATTLE, referring to the much-awaited fight between Pacquiao and Floyd Mayweather Jr.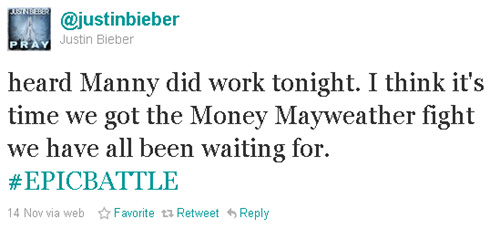 "We just watched David beath Goliath," actor Will Smith tweeted. Actress
Alyssa Milano
thought the fight was "scary".
Meanwhile, hotel heiress and socialite
Paris Hilton
asked followers who "love Pacquiao" to retweet her post, while The Vampire Diaries star
Steven R. McQueen
congratulated not only Pacquiao but also other Filipinos around the globe. "Pacquiao is really the best," he said.
8. Major major trending topics
Twitter trending topics show the most tweeted and talked about people, events and phrases on Twitter. Twitter measures the trending topics per country and worldwide, and some Pinoy topics made the worldwide trending topics in 2010.
During the inauguration of President Aquino, 'President Noynoy Aquino' became a worldwide trending topic, with Filipinos here and abroad posting mostly good wishes and congratulations for the new president.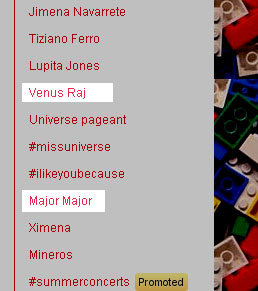 Miss Universe Fourth Runner Up Maria Venus Raj was an early favorite in the pageant, and her name 'Maria Venus Raj' became a trending topic during the pageant. After the question-and-answer portion, her now famous "major major" verbal stumble also became a trending topic, with people from all over the world either dissing or commending her it.
The collegiate basketball scene also found its way on the Twitter trending list. The University Athletics Association of the Philippines (UAAP) often became part of the trending topic list, especially during crucial games, with UAAP three-time champions Ateneo Blue Eagles and its finals opponent FEU Tamaraws making the worldwide trending list.
'Filipino Pride' was also a trending topic during the Pacquiao-Margarito fight. The hashtag #FilipinoPride was used in tweets congratulating Pacquiao on his eighth world title, and elated Filipinos retweeted the message, "If you're proud to be Filipino, RT this. #FilipinoPride."
Most recently, the acquittal of Vizconde massacre suspect Hubert Webb made 'Vizconde' and 'Hubert Webb' trend worldwide.
9. Government offices on Twitter
Despite his team's Twitter troubles, President Aquino said that his administration will continue to use social media to reach out to the public. True to his word, several government offices have set up Twitter accounts to make information available to Filipinos.
The Office of the President was first by putting up
@govph,
where followers can find links to the latest Executive Orders and the President's speeches. Its most retweeted posts are often the proclamations on holidays.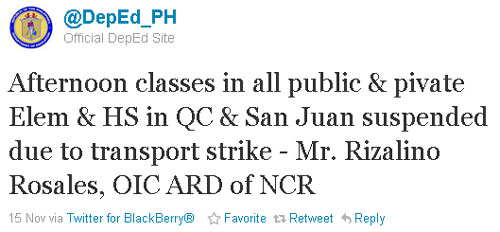 During the height of Typhoon Juan, the Education department set up a
Twitter account
(@DepEd_PH), albeit a little late, to update people about class suspensions. It also posts regular tweets about the department's activities and even answers individual queries on class suspensions and complaints.
Weather bureau PAGASA set up
@DOST_PAGASA
to post updates on weather
disturbances. It has the most number of followers (over 33,000) among the government Twitter accounts, but its last tweet was during Tropical Storm "Katring" in October and it has not updated since.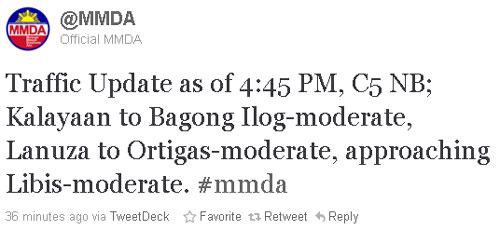 The MMDA also set up its own
Twitter account
, which gives traffic and rerouting updates regularly. It even posts photos of the traffic situation on major Metro Manila roads. The account is also known for answering direct questions like, "Traffic
po ba sa
EDSA
ngayon
?" to which it replied, "As of 5:40 PM, Edsa SB Boni to Buendia-heavy, Edsa Roxas Blvd to MOA-heavy."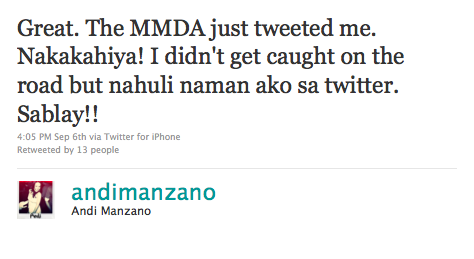 The MMDA Twitter account is also one of the most interactive, and it seems like it even monitors people's tweets about traffic violations. Radio DJ and TV host Andi Manzano once tweeted, "Forgot I was coding today. Hahaha!" After a few minutes, the MMDA account replied: "Ma'am, we hope you will do your civic duty and stay off the road until 7pm since you are coding today. Thank you." – to which Andi sheepishly replied, "Great. The MMDA just tweeted me.
Nakakahiya!
I didn't get caught on the road but
nahuli naman ako sa
Twitter."
10. "We have something to say"
Notwithstanding the 140-character limit, Twitter has become another expression of democracy -- a way for Filipinos to voice opinions on hot issues such as the Manila hostage crisis and the tourism department's 'Pilipinas Kay Ganda' fiasco.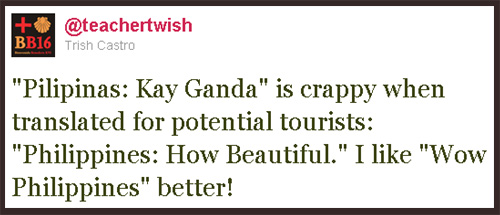 Many of the first signs that the Department of Tourism's slogan "Pilipinas Kay Ganda" was not going down well came via Twitter.
One user quipped, "My five-year-old brother can come up with something better."
Hashtag #helpDOT was also used by tweeple to field suggestions for new slogans, which the DOT said they appreciated and would really take into consideration as they craft a new tourism campaign for the country.
Manila tour guide
Carlos Celdran
tweeted, "does NOT like the new "Pilipinas Kay Ganda" DOT slogan for tourism. Let's all #HelpDOT come up with a better slogan before it's too late." Celdran suggested the slogan, "The Philippines. It's all about you," which he said shows that there is a little something for every taste here in the Philippines.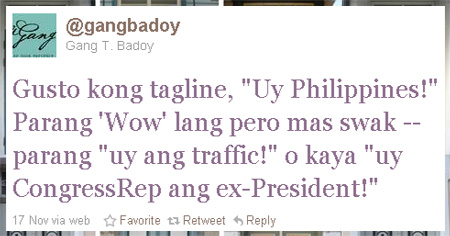 While other tweeps had more serious suggestions like, "Philippines: World of Wonder" and "Guaranteed 7,107% enjoyment or you get to take home one island," the rest took the humorous route. Rock Ed founder
Gang Badoy
said,
"Gusto kong tagline, "Uy Philippines!" Parang 'Wow' lang pero mas swak."
Another tweep suggested, "Since the culture now is Jejemon, why not introduce this culture to the world? Thus, my suggested slogan is EoW pFouHWz, pHFiLiPPeEnZZ!" –
HS, GMANews.TV