GMA News website gets one million page views per day
The official news website of listed GMA Network, Inc.,
GMANews.TV
, gets an average of one million page views per day, making it one of the most popular websites for online news in the country.
Howie Severino,
GMANews.TV editor-in-chief
, said that based on data provided by Google Analytics, the Web site has become the go-to site for Filipinos, especially during major news events like the national elections.
Mr. Severino said traffic on the website spikes during major news events in the Philippines, with more than half of the daily one million average page views coming from outside the country — the United States of America, Canada, Saudi Arabia, Singapore, Japan, the United Arab Emirates, and Hong Kong.
For instance, Mr. Severino said the site recorded 12 million page views during the May 10 national elections, reflecting the increasing reliance of Filipinos on online news to get information.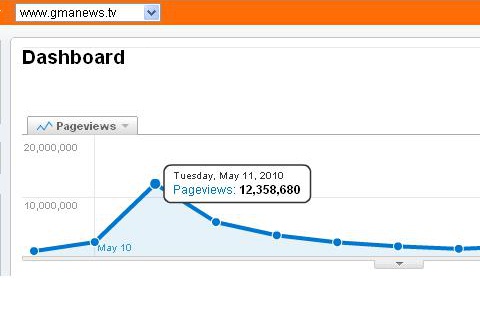 Following the Philippine national elections last May 10, Filipinos around the world came in droves to GMANews.TV for the latest election results. The site received more than 12 million page views in less than 24 hours. Source: Google Analytics
"We [got this record number of page views because of the site's] superior programming and user-friendly display of election data," Mr. Severino said in a statement. He credited the technical experts at GMA Network subsidiary
New Media, Inc. (NMI)
for the application that quickly and accurately converted raw data from the Commission on Elections into information used by both the Web site and GMA Network's news programs. "We had almost real-time results on our site all the way down to the municipal council level. No one else had that."
In its annual awards given to the nation's leading websites,
Digitalfilipino.com
recently
recognized GMANews.TV
for its "technical performance," as well as "high user engagement," and "search engine visibility."
Digitalfilipino.com took note of the various ways GMANews.TV keeps users on the site, noting that it has been a Philippine pioneer in the use of a range of multimedia tools, including Google maps for disaster information, "YouScoop" for crowd-sourcing news, and Flash animation for interactive content.
The news site also has the country's first online sports show, FTW (
www.gmanews.tv/ftw
), with commentators Mico Halili, Richard del Rosario, Jason Webb, Magoo Marjon, Alex Compton and Miakka Lim, and audio podcasts (
www.gmanews.tv/pbr
) of boxing expert Chino Trinidad.
The Web site has also been cited for old-fashioned shoe-leather reporting, recently receiving a
PopDev Award for Best Feature of the Year
for an enterprise report on abortifacients sold around Quiapo church written by the Web site's special correspondent, Stephanie Dychiu. The site's editor Joe Galvez was runner-up in the Photo Essay category for his visual report on the displaced victims of tropical depression Ondoy.
The GMA news website also has a number of resident bloggers (
www.gmanews.tv/blogs
) like Prof. Winnie Monsod, Fr. Eliseo Mercado, Red Constantino, Ellen Tordesillas, and personal finance expert Francisco Colayco.
It also has lifestyle and feature stories from editor-at-large Krip Yuson and writer Katrina Stuart Santiago.
Next year, Mr. Severino said GMANews.TV will introduce "new and engaging forms of multimedia experiences."
"At the same time, we plan to expand the site's reach with new sections in several regional languages intended to cater to Filipino Web users who prefer to read their news in their vernacular," he said. —
Jeffrey O. Valisno, BusinessWorld