Gerry Ortega: From crocodile hunter to hunted crusader
The sad thing about news stories on media killings is that often, they rarely portray the real human behind the victim of the latest example of impunity to hit the country.
He is listed as the 142nd victim of violence against media workers in the Philippines since 1986, when the country regained its democratic footing from the ravages of a dictatorship. But beyond the statistics, what most people do not know is that the hard-hitting broadcaster Gerardo Ortega was also a passionate environmental advocate, supremely devout Roman Catholic, tireless crusader for good governance, one-time maverick politician, and a devoted family man to his wife and five children.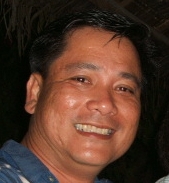 Shuttling between environment and media circles, my path inevitably crossed that of Gerry's when I entered Palawan's vibrant bohemian scene in the early 1990s. Most people called him Doc Gerry, the wildlife veterinarian who fearlessly hunted rogue reptiles as the director of the crocodile farm in Puerto Princesa. Under his leadership, the crocodile farm became the top tourist attraction in the city.
However, he was also involved in many civic and religious causes, from information campaigns about Muslim autonomy to Gawad Kalinga housing projects. For his activism and courage, our small community newspaper
Bandillo ng Palawan
named him our very first Palaweño of the Year in 1998, an award he treasured so much that he had the issue cover framed, often showing it to visitors in his house.
The mayor's son
As the most popular son of former Aborlan Mayor Rafael "Totoy" Ortega, Gerry had always seemed to be destined for politics. Thus, it came as no surprise when he resigned from the crocodile farm in 2000 to run successfully for the provincial board of Palawan the following year.
During his three years at the capitol, he was often the lone oppositionist in a legislature full of traditional politicians. His anti-corruption stance earned him many enemies, and he often exposed questionable government transactions.
In 2004, he waged a quixotic electoral bid for governor with plastic sacks for banners and the family's rickety jeep as his only campaign vehicle, literally. His platform included transparency in government, moral recovery, poverty reduction, sufficient social services, protection of indigenous people's rights, and a pledge to fight for a 40% provincial share in the proceeds from the Malampaya natural gas project. As expected, he lost miserably, but I would often teasingly console him with the fact that 38,000 people in Palawan believed in him enough to vote for him.
Mimicking Mitra
Although he was serious in the socio-civic arena, Gerry was also a fun guy with many talents. He liked to mimic the speech of former House Speaker Ramon Mitra, his political mentor, to the delight of his audiences. Gerry also loved to act, and the last time I saw him, at a dinner last December, film director Auraeus Solito was even considering Gerry for a businessman role in his latest movie.
With his gift of gab, boisterous humor, and engaging personality, Gerry settled into the role of media personality quite easily. But it was just one of the many hats he wore, a fact of life in rural Philippines that is not easily understood by journalists in Manila but is often quite common in community media.
Often, Gerry would use the media for his advocacy, knowing it was the best forum for lashing out against corrupt politicians and selfish business interests. He has put his life on the line so many times that his friends could be forgiven for thinking Gerry was invincible, able to weather all the threats that followed him everywhere. The flurry of text messages and calls I received right after the killing made references to his recent crusades against mining firms, corruption in road projects, and political interests in a local environmental council.
Last night, I was watching the Oprah Winfrey interview on CNN and I remember thinking that if she had known Gerry, she would have liked him immensely. Gerry was the perfect example of someone who lived life to the fullest and continuously strived to fulfill his potential as a human being. He was only 47 years old when he was killed, but crammed into that brief existence are so many things that other people who have lived longer would have envied.
My heart goes out to Gerry's wife Patty and their five children Mika, Erika, Joaquin, Sophia, and Bettina. I hope they will be consoled by the thought that during Gerry's short but meaningful life, he did not waste a single minute of it.
– Yasmin Arquiza/KBK, GMANews.TV