Man-made islands in Bohol? No way, fishers say
For the mayor of Panglao town and potential investors, it represents limitless revenues. But for the local fishers and environment advocates, the plan to build artificial islands off the tourism haven could mean destruction of their livelihood and vital marine life.
Patterned after the luxurious Palm Islands in Dubai, the proposed Panglao Oasis Islands in the waters off Bohol are envisioned as perfectly built enclaves that will accommodate upscale tourists.
"These islands are presenting a solution to boost tourist arrivals and double the paltry revenue of the country's tourism industry," Panglao Mayor Benedicto Alcala told GMA News Online in an interview. Philippine tourism receipts are currently estimated at $2.25 billion a year, Department of Tourism (DOT) records show.
The project could also open up opportunities for both domestic and foreign investors, Alcala said. "There is a limitless possibility of investments that would pour into the country," he added.
However, the fisherfolk alliance Pambansang Lakas ng Kilusang Mamamalakaya ng Pilipinas (Pamalakaya) is opposing the ambitious reclamation project, saying profits should not take precedence over the livelihood of small fishers.
"These man-made islands will be put up where we catch fishes.
Kung maitayo na ang mga 'yan, lalo kami papalaot, lalo naming ilalagay sa panganib ang mga buhay namin,
" Pamalakaya chair Fernando Hicap said in a separate interview.
Hicap said the government will be engaging in "all-out destruction" of Panglao's geography if it pushes through with the creation of the artificial islands.
"The construction will stir up so much silt that coral reefs and other creatures will be asphyxiated or chased away. Eventually, fishes will die or find new habitats," he explained.
A master-planned Boracay?
The proponent, Oasis Leisure Islands Development Inc. based in Bohol's capital city of Tagbilaran, intends to create five interconnected islands off the seas of Panglao for the reclamation project.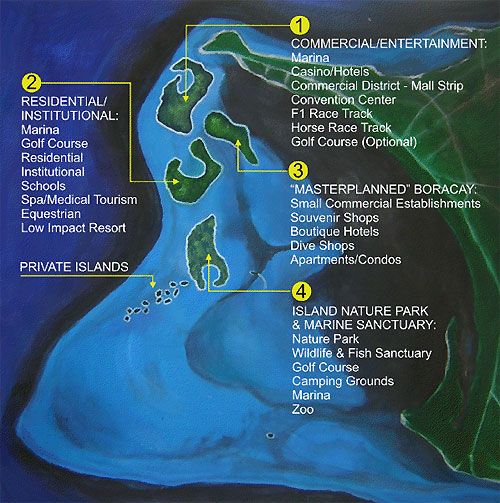 The first island is for commercial and recreational facilities such as convention centers, hotels, and casinos, said lawyer and Oasis spokesperson Carlos Castillo. "We hope to upstage Macau's development in this island," he said.
Schools, spas, and residential areas are planned for the second island, Castillo said.
The third island, he said, would house commercial establishments like boutique hotels, souvenir shops, dive shops, and theme parks. Apartment complexes for employees of the tourism facilities in the islands will also be located in the island, described in the project profile as a "master-planned Boracay."
A greater part of the fourth island would be developed as a nature park, with the remaining area utilized for camping and fishing grounds, Castillo said.
Finally, the fifth island would be for "those interested in owning a piece of paradise," said Castillo.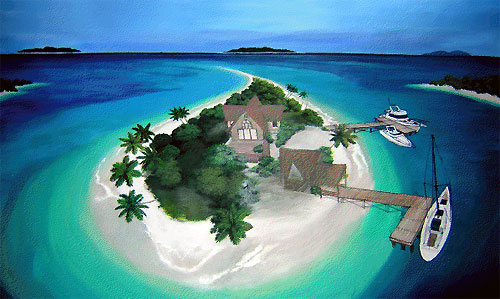 The provincial government of Bohol entered into a joint venture agreement with the company in June last year for the reclamation project, said Castillo, who refused to provide financial details about the proposal.
The Panglao Oasis Islands, according to the project profile obtained by GMA News Online, will "harness and sustain" Bohol's vast tourism potential.
In 2009, a total of 313,317 tourists visited Bohol, according to DOT data. The provincial government is pursuing major transport infrastructure projects, including the Circumferential Roads and Panglao-Bohol International Airport, to cater to the expected exponential increase in the influx of tourists from all over the world.
The Panglao Oasis Islands proposal has found a major ally in Mayor Alcala, who is looking at the "building of trust between the public and private sectors" to realize the project. "It can be challenging… but when done correctly, such a partnership can have world-changing results," he said.
Also called land-filling, land reclamation has been employed by many countries to develop infrastructure and agricultural areas in places that are already crowded.
Mayor Alcala cited the examples of Japan, where boatloads of dirt and rock were hauled from a nearby mountain and dumped into Osaka Bay to create an island for the new Kansai international airport, and Singapore, which extended its terrestrial territory into the shallow waters around its main island with the help of the private sector.
He described the creation of man-made islands as "a dream project that will not only address the difficulty in acquiring property for investments in Panglao, but will also put Bohol and the country at the forefront of the international tourism landscape."
Tarsier habitat
The project is facing stiff opposition not only from fishers but also environmentalists, who are worried about its impact on the marine environment of Bohol.
Pamalakaya's Hicap said creating new land masses will alter the sea current, lead to rising sea levels, and bury coral reefs, oyster beds, and sea grasses that nurture fish and other marine life. Scuba diving will suffer as a result, he said.
The huge volume of land needed to fill the waters off Panglao is expected to come from Maribojoc town in Bohol province, the non-governmental organization Environmental Legal Assistance Center (ELAC) said.
"It is inevitable that they need to quarry a vast area of land and cut trees. As a consequence, that small town of the province may eventually face massive flooding and soil erosion," ELAC executive director Raul Barbarona said.
He pointed out that there are already applications for quarrying in Maribojoc — home to the world's smallest primates. "We cannot stand the desire of these selfish investors to destroy this small town, particularly the habitat of tarsiers," Barbarona said.
Solid waste from the reclaimed areas that may be disposed in a sanitary landfill in mainland Panglao will result in "adverse impact to the environment and people," Barbarona said.
The proponent has downplayed these concerns, saying an environmental and feasibility study will be done first. "It is our major priority to promote land sustainability and the availability of usable land to future generations," Castillo said.
While the mayor of Panglao favors the project, the municipal council is currently in the opposition camp. Last week, the local legislature passed a resolution banning all kinds of reclamation activities within Panglao's territory, Barbarona said.
Yet, fishers and environment groups are far from complacent, knowing that the project is supported by the provincial government, he added.
— YA, GMA News