Gromyko Semper rising
"Putok sa buho" is an old Tagalog idiom referring to a child born out of wedlock. It invites a somewhat different meaning for an emergent Filipino visionary artist.
Discovering his richly symbolic work on Facebook, I was jolted to learn that at 26, he's already pursuing a global artistic career from the rice-growing plains of Nueva Ecija.
It seems his first name "Gromyko," after a Russian premier, came from his history buff of a grandma. Next I learned that he has traced his surname "Semper" to a German lepidopterist in his Caviteño father's family tree. With his mom in business and his grandma and dad both accountants, Gromyko is an exotic bloom – the first artist in a clan of rice farmers, traders and entrepreneurs.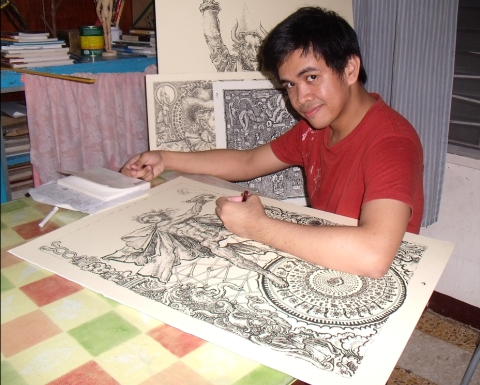 Gromyko Semper
He was in a hurry about it, too. At three he was drawing scenes from excursions to the zoo, the beach, the river and his grandma's farm. Pictures in books, TV and comic book cartoon characters flowed from his little fingers. Japanese manga especially fascinated him. "He's going to be an artist who'll be known beyond Nueva Ecija," an aunt predicted.
Indeed, when the watercolorist Nil Perez saw Gromyko's abstract watercolors and surreal drawings in his first exhibit in a local group show at 15, he quickly pronounced the teener "a young Picasso." A decade later, without once leaving our shores, admirers from Italy, Greece and America call him "Albrecht Durer of the East" and "William Blake of the Orient."
How did this 26-year old native of Cabanatuan, Nueva Ecija swim upstream from its ricefields to the world of visionary art? His path is worth tracing.
An Early Autodidact
The perennially drawing child grew into a "thin, shy and bullied introvert" always vanishing into the library in high school. Little did they know: Gromyko was an autodidact "devouring" a range of subjects way ahead of his peers – Manansala, the complete writings of Rizal, English and American literature, Philippine orchids and butterflies, botany, psychology, quantum physics…
When time came for college, however, failing family fortunes worried his parents about his future as an artist. Gromyko wanted Fine Arts in Manila but noting his parallel interest in science, they enrolled him for BS Science in Cabanatuan's La Fortuna College instead. They didn't count on his deep passion.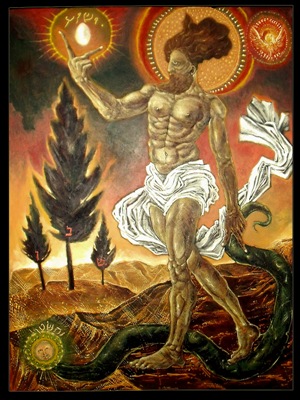 The Allegory of the (Meta)Physician
"Metaphysics became my friend in college," he says. Not settling for anyone's word, he was ceaselessly comparing societies, cultures and beliefs and engaging his philosophy professor in endless discussions. Meanwhile, he won every school quiz bee and poster-making contest in sight. He loved his art classes so much that he got a humanities teacher expelled when he complained to the dean that she was "unfit to teach art."
Gromyko did not graduate. At 15 he persuaded his grandma, then a Chief Accountant in PNB, to enroll him in art classes in the only art gallery in town. But its academic portraiture and basic techniques in watercolor, acrylic and oil were never enough for him. He trawled books, encyclopedias and artists' monographs to learn more on technique.
Meeting older artists was water for Gromyko's deep thirst. Watching Nil Perez's way with pastels and watercolors brought him stirrings of dissatisfaction with the photo-realistic art he was learning. When social realist Edgar Talusan-Fernandez saw his Dali-esque drawings with a ballpoint pen on 9 X 12' surfaces, he showed him slides of his own giant canvases – "Look, this is Pinoy-styled Dali."
"That opened my young eye to a deeper and grander scale of art," says Gromykos.
He was giving art lessons at the gallery by 16 and was quickly promoted "senior artist" the following year. "I was very fond of academic portraiture then," he says. But browsing through a psychology book one day, he saw Picasso's "The Old Guitarist," a cubic masterpiece in the maestro's Blue Period. It was a literal bolt from the blue.
There began Gromyko's "months of research on the basic tenets and manifestos of the Enigmatic Art Movement, digesting every piece of information I could lay my eyes on about every artist and writer who, in one way or another, belonged to the Surrealist/Visionary/Fantastic Art circle." He had begun circling his niche.
That season of artistic frenzy at 18 coincided with his conversion to the Baptist faith. Now he saw – not only was he a born artist, he was also a Filipino iconoclast afloat in a sea of Catholic dogma. He defines his own faith in the mystical words of the Italian painter de Chirico, "There is much more mystery in the shadow of a man walking on a sunny day than in all religions of the world."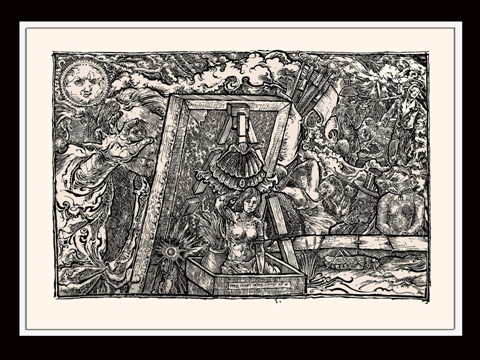 The Enigma of Amorsolo's Veil
Illumination and Pain
"I was illuminated. 'Artist' is too bourgeois. I was to become a creator," he says with the supreme confidence of youth. He had studied art canons and history in libraries and secondhand bookstores for years, meanwhile savoring the art of renowned Filipino painters on frequent visits to the home of the local collector Dr. Ramon Navallo.
Recognizing the power of synergy, Gromyko organized a Nueva Ecija Artists Guild, only to resign a year later when his older colleagues held a show without him. A remark from a Manila art dealer sheds light on a likely reason: "Your art is too European. It won't sell well."
That cut to the quick. Indeed, foreign stars dominated Gromyko's firmament of art – Michelangelo, Da Vinci, Rembrandt, Velasquez, Durer, Magritte, Blake, Dali, Picasso, Max Ernst, Ernst Fuchs, Pollock and Rothko. The only Filipinos were Manansala, Sanso, Botong Francisco and Marcel Antonio. But didn't local artists and an art dealer making millions on Filipino painters know? Art and true artists are universal.
His skill was growing with his vision but selling his work to live meant "painting flowers, lazy still lives, lazy nudes for kitschy, traditionalist local exhibitions." It's the age-old plaint: Most collectors buy art by famous or soon-to-be-famous artists less for pleasure, more to "hedge against inflation." Art by visionary unknowns disturbs a placid existence. Gromyko's first sale was a cubist still life of fish and fruits à la Manansala that he can't bear to look at again.
Cyberspace and Beyond
He was soldiering on when a "turning point" came when the sale of his grandma's rice farm bought him a computer. Now he could closely track a new art wave that so fascinated him. Back in the revolutionary '70s, a phoenix had risen from the ashes of the Dada and Surrealism that was born in the 1920s and expired in the war-torn '40s. When Gromyko discovered the neo-surrealist movement in the late '90s, it was growing by leaps and bounds worldwide.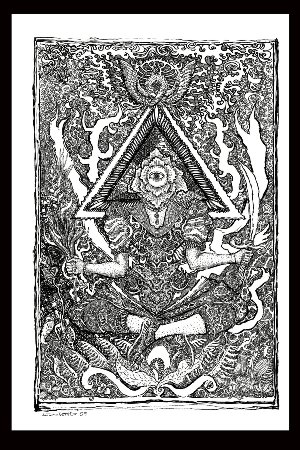 Inang Kalikasan
It has no named founders but it has a compelling binding thread – "dreams and the subconscious mind visualized in irrational space and form." "Surrealism" literally means "beyond the real," a higher vision of the real. Gromyko was home. Here were his kindred spirits in a hall-full of mirrors reflecting one another to infinity. They stood at the cutting edge of the psychological 20th century entering the apocalyptic dawn of the 21st century.
Surrealism's seminal figures – Hieronymus Bosch, Albrecht Durer, Salvador Dali, Rene Magritte, Picasso, De Chirico, Max Ernst, Ernst Fuchs, Roberto Matta – loomed over young painters, photographers, digital and graphic artists banding together in the visionary, fantastic and mystical. Even their art history and theoretical tracts border on theology.
It all made sense to Gromyko now – his childhood fascination with the mythic world of Japanese manga, his abstract watercolors and surreal drawings in adolescence. They were scenes of his inner world light years from the ricefields. He was not alone when he turned his back on realistic art no longer real. It was at antipodes to this new vision of art beyond even the post-modern. The provisional word for it would be "post-post-modern," suggests the artist Ben Tolman.
Cyberspace was a new artistic commons in altered space and time. And it had technological handmaidens in software to manipulate photos and create 3D images. Many call this magical art on the Internet "a connection to, even the fabric of, a global subconscious mind" – just the place for Gromyko Semper.
"I became exceedingly addicted to the community, benefiting from other artists commenting and critiquing my works and philosophy," he says. He celebrates the day he discovered the website Deviantart.com. There he was "noticed and befriended by artists from many parts of the world, totally unaware that they were huge influential artists in their own countries."
The eminent American collage artist James Koehnline took to the young Filipino and began mentoring him in digital art, collage and abstraction. This leading voice among Chicago's famed surrealists now calls Gromyko, "a future national treasure of the Philippines." As word got around, he got the thrill of his life – an American collector bought an early Dali-esque drawing portending his future.
Collaborations began in cyber speed, meeting near-instant recognition. "Gracing War," Gromyko's powerful digital collage with the German artist Bernd Dreilick, won second prize in a competition at the Museum of Computer Art in Brooklyn. The Mexican Hector Pineda, another digital collage artist, became his "friend and number one collector." Together they edited the recently published book, Imagine the Imagination: New Visions of Surrealism with "the hundred best artists in the imaginative arts, traditional and digital." They're making the global art world their oyster.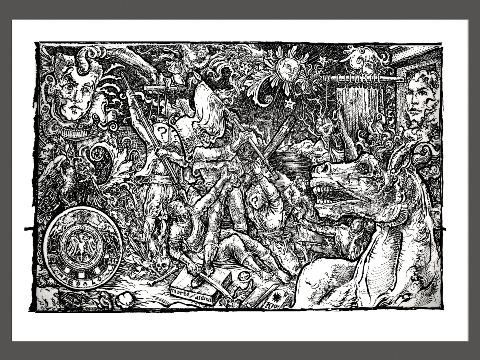 The Enigma of Bonifacio's Execution
Gromyko Padilla-Semper is the only Filipino in the online Museum of Digital Art now. He's also the youngest member of the Society of Art of Imagination, one of only two Filipinos whose work is in the society's archives in the U.K. (The other is the Davaoeño migrant artist Bienvenido Bones Bañez in New York).
But absorbing as the Internet is, this artist strives for balance between virtual and real. In 2008 his watercolor "De-maddonization of a Madonna" became a poster for an anti-prostitution campaign in Denmark. Six of his art works commissioned by international music bands are now CD album covers. He's also teaching again. On his Facebook walls is an ongoing series on great artists. Lately, it's been the Surrealists of the 20th century.
In 2009 his work was on view in several avant-garde exhibitions in Berlin, led by the Abnormals Art Gallery with a large print of his winning collaboration with Dreilich. Accompanying it was a Death Book including his work. In 2010, he was the youngest artist and only Filipino invited to exhibit at the International Surrealism Exhibition in Coimbra, Portugal – a historic event 60 odd years since the last surrealist exhibition.
With European artists in the circle of the revered Ernst Fuchs, founder of Vienna's Phantastic Realism School, Semper's art is also rippling in art publications worldwide – Mexico, Spain, Brazil, France, Portugal, the U.S., Japan, China, Russia, Ireland, Poland and Germany.
An admirer, John Paul Thornton, writes: "His comprehension and connection to the great and historical visual languages of the world is nerve-rattling to viewers because it is so concise. He reminds us that when used properly, the symbols and stories of the past in volumes of dusty books boom with terrible and matter-of-fact authority, like a gun of truth."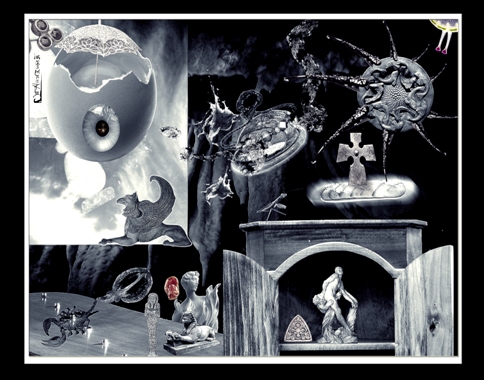 Accommodation of Meta-Eucharistic Desire
Gromyko himself calls his art "periscopal visions." He explains that through a periscope's mirrors and prisms, "one can see things otherwise out of sight… from below and beyond, it brings out the best view unreachable by the unaided eye." The artist-periscope's duty, he writes, is to range "the glorious artistic past and the decadent post-modern present towards a newly defined future...to reinterpret the meaning of art in a new revolution."
But pictures are worth a thousands words. Here are some of his riddles, metaphors and visions. Click
here
and
here
and
here
.
But despite an over-arching vision served by his impressive range of style, media and technique, this young art prophet is not recognized in his own country. Only a handful attended his first one-man show last October in Manila, "The Minotaur's Recompense." Half-man, half-bull, the Minotaur is a favored surrealist symbol of humans ruled by their lower instincts. In "recompense," art elevates the Minotaur to a higher, more divine state of consciousness.
Six in his miniscule audience were family, Gromyko notes wryly. It seems that older artists in spasms of crab mentality had spread a rumor that this young upstart's show had been cancelled by rain. "I'm always in trouble," he says, "like last December when I challenged Amorsolo in Facebook."
A creator, when true, is also a destroyer. But that, as they say, is another story.
– GMA News