GMA News Online now on Android, world's fastest-selling smartphone OS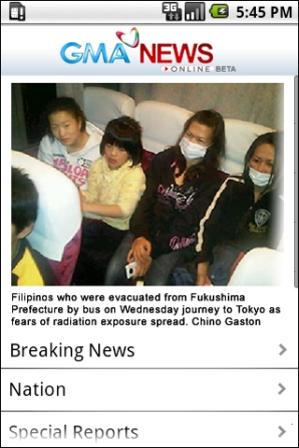 The GMA News Online app is a free download for Android-powered phones and tablets, which are widely available in the local market for as low as P4,000 for entry-level models.
GMA News Online is now available for Android smartphones and tablets, enabling users to easily download the latest news content and read it at their convenience.
This is the first news site in the Philippines with its own Android application.
With the GMA News Online Android app, news stories and photos are automatically updated when one connects to the Internet. Users can then browse the news offline at their leisure, saving on browsing costs as Internet time is only used for quick content updates. Everything is downloaded straight to the Android phone.
Developed by GMA Network's New Media Inc., the app is available as a free download in the Android Marketplace (
http://market.android.com/details?id=com.gmanews.rss
).The current version allows users to view stories and photos, but an upgrade is in the works to allow richer multimedia content to be shared.
The GMA News Online Android app enables users to download news and photos to view at their convenience.
Android has overtaken iPhone OS
Mobile phones using Google's Android mobile operating system (OS) are the fastest-selling smartphones in the world. According to independent research from Gartner Inc., in the second half of 2010, Android overtook Apple's iPhone OS to become the world's third most popular smartphone OS in the world next to Symbian and Research In Motion. Android-powered devices have also claimed the top spot in the US smartphone market, according to the same study.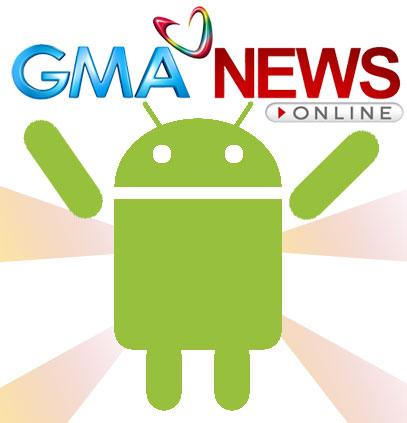 The trend continues in the Philippines, where Android-powered tablets and phones are widely available for as low as P4,000 for entry-level models.
"Our Android app will make us even more competitive, as a growing number of users here and around the world access the Internet through mobile phones rather than their PCs," said Howie Severino, editor-in-chief of GMA News Online, which launched its mobile site last year.
In 2010, worldwide sales of Android phones reached 67.2 million units, far ahead of iPhones, which sold 46 million units, according to Gartner. Also, according to Internet analytics company ComScore, Google Android accounted for 31.2% of the U.S. smartphone market in January 2011, capturing the #1 spot in the rankings for the first time as the platform climbed from just 7.1% share a year ago. RIM on Blackberrys followed with 30.4% to secure the #2 position, while Apple took the #3 spot with 24.7% share.
— TJD, GMA News