Greenbelt blasts 'fake' sign banning poor people from upscale mall
An official of Ayala-owned Greenbelt 4 on Thursday denounced as fake a purported sign that announces a ban on poor people in the upscale mall in Makati City. A photo of the sign is now making the rounds on Facebook and Twitter.
The viral image depicts a sign supposedly hung in Greenbelt 4, saying, "Poor people and other disturbing realities strictly prohibited." The sign also says that the mall "is a private, controlled environment."
The signage appears to be displayed in a dim area against the backdrop of what appears to be the garden portion of Greenbelt 4.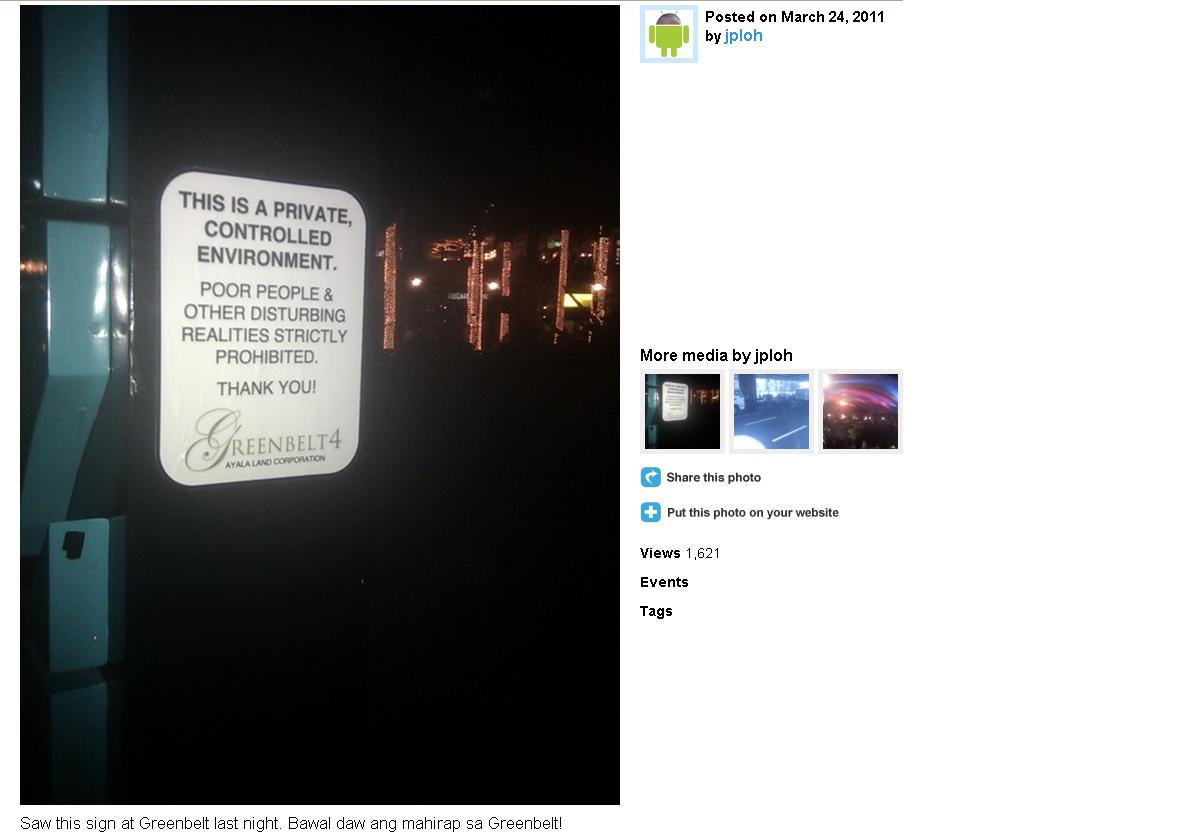 The image now making the rounds on Twitter and Facebook, which Greenbelt management says is fake.
The mall's building engineer Armin Tan, however, said a glaring error on the sign proves it's not authentic. "Ayala Land Incorporated po kami, hindi 'Corporation' (We are Ayala Land Incorporated, not 'Corporation')," Tan said in an interview with GMA News Online.
GMA News Online has checked the company's website and verified that the correct name is indeed Ayala Land Inc.
Tan said the mall is investigating the source of the image and will come up with its findings in the next few days.
A number of netizens have reacted negatively toward the picture. "So rude! It's like being a racist," said @kheidedios on Twitter. Another user, @miii, commented, "This is [a] disturbing reality in itself."
Others, however, chose to remain circumspect. @MDJSuperstar said, "Is that even real? No 'Ayala Malls' logo, wrong corporate name, looks like it was pasted on." Another netizen, @sonny_da_man, said the picture is "obviously a hoax."
"No mall in its right mind would put up something like this," @sonny_da_man said.
False information spread through social networking sites and text messaging have time and again preyed on Filipino media consumers. Last week,
text messages warning of radiation threats from Japan
even sent Filipinos scrambling to buy medicines and led one university to cancel classes.
— VS/HS, GMA News