Art Deco: Regaining lost memory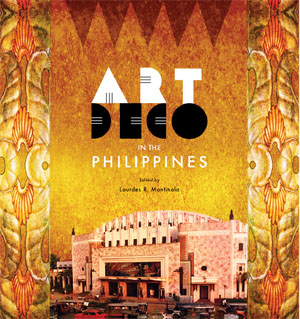 Caught in another traffic jam under a skyline of multiplying high rises, the eye wanders to the curlicued façades of dilapidated buildings and ornate balconies of old homes in the shadows of Manila's LRT.
Wherefrom these grace notes amid the automotive shops, overseas employment agencies, moneychangers, towering hotels and apartment buildings, fast food chains and armies of vendors claiming streets and sidewalks in an impossibly overcrowded city?
The newly launched book
Art Deco in the Philippines
says they're echoes and remnants of a richly creative moment in a brief hiatus of peace in the 1920s and '30s. A new global sensibility inspired by Egyptian, Aztec and African art had taken "the world by storm" in those "heady, adolescent days for the Philippines. It was the perfect vocabulary for the country to showcase the Commonwealth Era's thrust to fall in step with the world and the 20th century," writes architect and cultural historian Augusto Villalon.
"Art Deco" is short for
Exposition Internationale des Arts Decoratifs et Industriels Modernes
in Paris in 1925, when this style of an age came in full display. Sweeping through architecture, sculpture, painting, dance, music, fashion and jewelry, it influenced even the design of the cars, radios and refrigerators of the day. Among its most famous children were Cubist art, Bauhaus architecture, and the avant-garde Ballet Russes.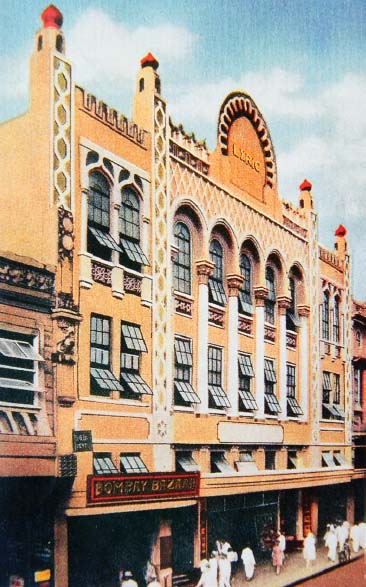 Lyric Theater in Escolta, Manila
Born from flowery Art Nouveau, classical Art Deco mutated into Streamline Moderne in the increasing speed, functionality and mass production of the day. Thrusting forward with the ocean liner, airplane and automobile, it soared upward in New York's skyscrapers, making its grandest statements in the Rockefeller Center, Empire State and Chrysler Buildings.
A new generation of Filipino architects educated in Europe and America brought the Art Deco spirit home and gave it brilliant twists. Keeping its boxlike design and geometric lines, they instinctively evolved a "unique and stunning" tropical variant with native materials and craftsmanship, writes book editor Lourdes Montinola.
Light concrete and Philippine hardwoods of different shades and fragrances replaced the steel, aluminum and chrome of the West. Stylized tropical flora and fauna ornamented pillars, balustrades, staircases; ceiling murals, gates, doors and windows. Glass and grillwork took windows, doors, balconies and terraces beyond function into the realm of art. Stained glass set off exquisite plays of light.
Capiz
lent itself to the signature Art Deco innovation of indirect lighting, diffusing daylight glare and highlighting indoor decoration.
Recreated from recovered old photographs is the era's most poignant architectural memory – the Crystal Arcade, a Streamline Moderne shopping center in Escolta fully articulated in glass by Juan Luna's gifted architect son, Andres Luna de San Pedro. Thirteen years after its inauguration, bombs tied to its foundations by the Japanese army shattered a dream in glass.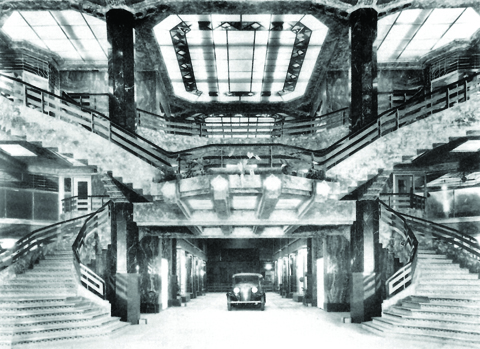 Lost dream. Escolta's Crystal Arcade fully articulated in glass, designed by Juan Luna's architect son, Andres Luna de San Pedro
Another dream shattered in the battle for Manila was the Metropolitan Theater inaugurated in 1931. This two-winged classical Art Deco masterpiece designed by a young Juan Arellano had a stained glass façade; delicate indoor ornamentation and soaring outdoor sculpture matched by "impeccable acoustics and faultless lighting."
Could there be a more painful summary of collateral damage beyond the material than the three decades its ruins spent housing "a boxing arena, cheap motels, gay bars, a basketball court and squatters"? Its restoration by Juan Arellano's architect nephew Otilio under Imelda Marcos's aegis in the '70s failed to heal amnesia. Lack of support from both the public and officialdom closed the Metropolitan again in 1996.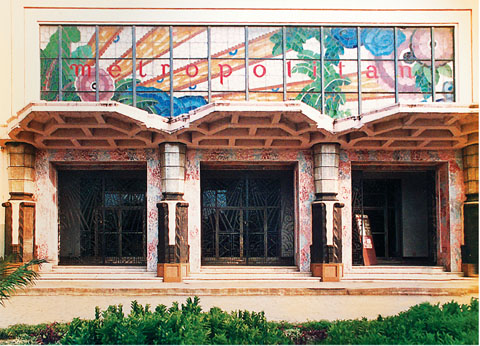 Restored façade of the Metropolitan Theater close to Manila's Mehan Gardens.
Its roof is leaking today. Money is an obstacle to plans for a reopening but a more serious leak lies in Filipino memory. This can be cured only if "we reopen our eyes to the lifestyle of only a generation ago," advises Montinola. Then perhaps we can rediscover "the genius of our own artisans or recognize their artistic creations in our own homes or surroundings."
These words come vibrantly alive in the family home designed by the Philippine Art Deco pioneer Tomas Mapua. Twice blessed for surviving the war and becoming the family home of the creative Mapua-Lim siblings, this gem behind greenery in a grimy stretch of Pasay City was the perfect setting for the book launching. Valuing both architectural history and their visionary grandfather's art, this clan not only maintains but continues to renovate a 77-year old ancestral home in its original spirit.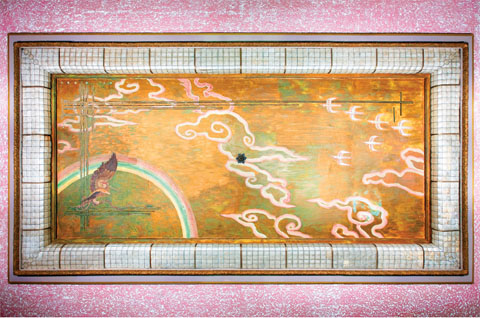 Ceiling mural in Mapua living room with rainbow, stylized Chinese clouds, and birds bordered by capiz-filtered light
A companion chapter, "Vito Cruz: A Former Art Deco Enclave in Old Manila," opens to the Art Deco-styled Rizal Memorial Coliseum and three-story homes designed by the future National Artists Juan Nakpil and Pablo Antonio. The surviving Hidalgo-Lim, Villaruel and Montinola homes are exemplars of legacy preserved against the enticements of real estate brokers in a high-rise day.
More Art Deco treasures in this book are the Far Eastern University complex; old Manila moviehouses; the public market, a curious boathouse and elegant old homes in Iloilo City, as well as early commercial buildings in Dagupan and Baguio Cities. Their presentday use invites the rest of the country to recognize and re-integrate their own extant treasures with modern times.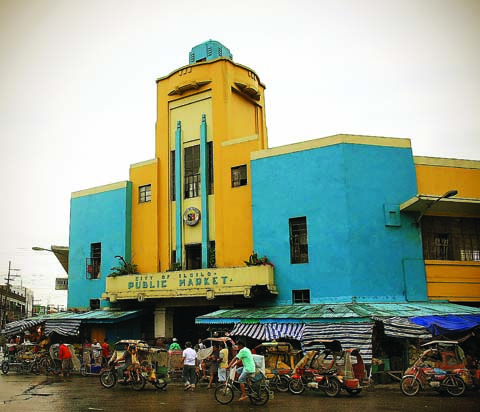 The City of Iloilo has a wealth of architectural legacies spanning almost two centuries, from the Spanish colonial period to Art Nouveau of the first decades of the 20th century to a treasure chest of Art Deco buildings from the 1920s to the '50s. One of its jewels is the public market built in the 1930s. Photo from Manuel Maximo Lopez del Castillo Noche
Grand old Art Deco homes now house banks in several provinces. Art Deco touches in many humbler homes are visible down the Maharlika Highway. A trumpeting pair of Streamline Moderne angels still welcomes travelers at the Quezon provincial boundary arch.
They're pointing the way to another Art Deco enclave, Sariaya at the foothills of Mt. Banahaw. Here plantation owners' homes are permanent records of how high-priced coconut oil bought beauty for the generations in the Commonwealth Era. The grandest of them, also designed by Andres Luna of the vanished Crystal Arcade, is the home of Natalio Enriquez in the full efflorescence of tropical Art Deco.
The Art Deco layer of Filipino memory simmers just below the surface. Its touch is recognizable in porthole windows, arches and grilled balconies of new homes and buildings in Manila and Cavite. We've lost precious memories with our original hardwood wealth. But this book can open eyes to vanished and blindsided graces Filipino ingenuity has begun summoning back to a far less aesthetic present. -
HS, GMA News
Interested in this book? Email publications@artpostasia.com