Jinkee stopped taking birth control pills, Pacquiao says
Just after assuming a new role as icon for the anti-Reproductive Health bill corner, boxing champ and congressman Manny Pacquiao admitted that his wife Jinkee had recently taken birth control pills but she has stopped, declining to say when she did so.
Asked by reporters to confirm if his wife indeed turned to contraceptives to control the size of their family, Pacquiao said, "Noon iyon. Pero ngayon hindi na [That was in the past, but now she no longer does that]."
Jinkee's cosmetic doctor Dr. Vicki Belo wrote in the Philippine Star last January that Jinkee told her that she had started using pills after the birth of their fourth child, Queenie, in 2009, so she could get back in shape. Jinkee had talked about her pill-taking in the course of discussing Pacquiao's affair with the younger Krista Ranillo.
"After Queenie, sabi ko kay Manny, tama na ang apat," Jinkee said in the article, 'How Jinkee got more beautiful and won back Manny Pacquiao.'
"Hindi pa ako nagpa-tali, pero nagpi-pills ako (ngayon)," she reportedly said.
The Sarangani lawmaker did not deny the statement, but claims that his wife now shares his views on pills and other artificial methods of birth control.
"Anti-RH Bill din siya (My wife is also anti-RH Bill)," Pacquiao stressed on the sidelines of the taping for GMA News TV's "RH Bill: The Grand Debate," which airs May 22.
Pacquiao has echoed religious conservatives in justifying his opposition to the bill and to artificial contraceptives. "God did not say just have two children or three children. He said go forth and multiply," he told the media after a meeting with Catholic bishops.
Pacquiao insisted that everyone in his family was against the controversial Reproductive Health (RH) Bill, including his wife Jinkee.
Jinkee's admission that she has used a popular form of birth control would not make her much different from millions of Catholic women around the world. A recent study by the Guttmacher Institute, the nonprofit reproductive health research organization, shows that 98 percent of sexually active Catholic women have used contraceptive methods banned by the church.
The Pacquiaos also would not be the first couple to have opposites views on what the Catholic church considers sinful methods of family planning.
The family planning policy debate sizzled during the time of President Cory Aquino in the 1980s. She eventually sided with the religious conservatives in her Cabinet, slowing down efforts to control the growth of the country's population. .
Now her son, President Noynoy Aquino, openly supports the RH bill, while his spokespersons downplay the political power of the bishops, who in 1986 had played a key role in toppling Marcos and enabling his mother's presidency.
Some bishops have escalated their war of words with Aquino, with one comparing him to Marcos and another threatening civil disobedience by the flock.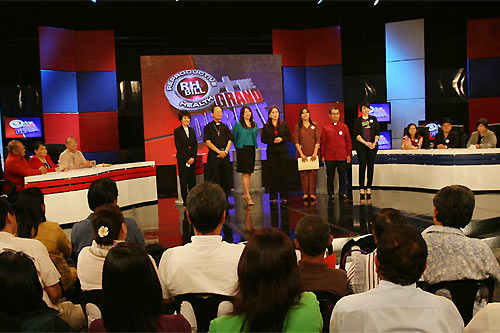 Kapuso host Mel Tiangco (center) introduces the debaters and panels of pro and anti-RH bill advocates during the taping of the Grand Debate at GMA Network on Tuesday. The show airs on May 22.
Joe Galvez
Earlier Tuesday, Pacquiao was a guest at a luncheon hosted by religious officials at the Catholic Bishops' Conference of the Philippines in Manila.
During the lunch-meeting,
Pacquiao discouraged anti-RH Filipinos from a planned tax boycott
as a form of protest. Pro-life groups have argued that government funds should be channeled to other programs and not be used to subsidize the purchase of contraceptives.
"Kung hindi tayo magbabayad ng tax kawawa ang gobyerno lalo," Pacquiao said. "Magbayad tayo ng tax."
Pacquiao clarified that his opposition to the controversial measure does not mean he is opposing the administration of President Benigno Aquino III, who has openly expressed his support for the bill.
"Hindi nangangahulugan kinokontra ko ang administrasyon o kinokontra ko siya (Just because I am against the RH bill does not mean I am against him or his administration)," Pacquiao said.
Grand debate on GMA News TV
Pacquiao is making a special appearance on the "Grand Debate" with a two-minute speech explaining why he is opposing the controversial measure. The pro-RH side will be allowed to respond.
The anti-RH Bill debaters featured in the May 22 show are retired Manila bishop Teodoro Bacani, Zambales Rep. Mitos Magsaysay, and Aliza Racelis, professor at the University of the Philippines' College of Business Administration.
Asked to comment on Pacquiao's objection to the bill, Bacani said: "We are happy with that. Iyon ay makakatulong sa masa [His statement of support for the anti-RH bill movement would greatly help the masses]."
Pro-RH bill debaters consisted of the legislation's primary author Rep. Janette Garin, Francis Magalona's widow Pia Arroyo-Magalona, and Bishop Efraim M. Tendero.
The program includes a panel of "interrogators" who are tasked to grill debaters from the opposing side.
The interrogators from the pro-RH bill camp are former Akbayan Rep. Risa Hontiveros, celebrity tour guide Carlos Celdran, and University of the Philippines Prof. Dr. Sylvia Claudio.
On the anti-RH panel of interrogators are Dean Campo-Cruz, chief of clinics at the Far Eastern University-Nicanor Reyes Medical Foundation; Bishop Deogracias S. Iñiguez, Jr. and; Antonio Jose Torralba, dean of the University of Asia and the Pacific's College of Arts and Sciences –
YA/HS, GMA News
TAGGED IN
mannypacquiao rhbill

#gomanny Tweets