FIBA-Asia: Gilas 5 downs Iraq, gears up vs Jordan
Pilipinas-Smart Gilas geared up for its crucial match-up with ASU-Jordan after coming away with a 74-64 win over Duhok-Iraq for its third straight victory in the 2011 FIBA Asia Champions Cup at the PhilSports Arena in Pasig City on Tuesday night.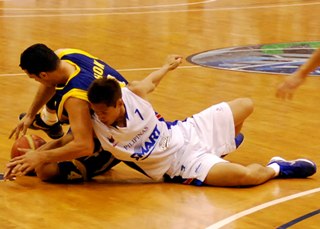 Gilas' Dondon Hontiveros (right) and Duho-Iraq's Quitaiba Al-Doori fight for the loose ball in their game in the 22nd FIBA-Asia Champions Cup on Tuesday at the PhilSports Arena in Pasig City. GMA News
Marcus Douthit finished with 14 points and 15 rebounds while Mark Barroca added 12 markers and eight assists. The Nationals stake their perfect record when they take on ASU-Jordan on Wednesday with the Group A top spot on the line. Both teams hold a 3-0 win-loss record.
"For us, the championship starts (Wednesday)," said Gilas' Serbian coach Rajko Toroman.
The Philippines-Jordan game is important because the top seed team in Group A will face the fourth-ranked team in Group B. The loser will face either defending champion Mahram-Iran, Al Riyadi-Lebanon or Al Rayyah-Qatar, all Asian powerhouses.
"Those three teams will be in the semifinals 99 percent," said Toroman. "If we don't win, it will be very difficult to advance in the semifinals."
Duhok-Iraq made it a two-point game after former naturalization candidate CJ Giles hit a basket, 55-53.
But Mac Baracael and Chris Lutz made four free throws to increase the lead to 59-53 at the end of the third period.
Chris Tiu nailed a three-pointer at the start of the fourth quarter for a 66-53 advantage as the Nationals began to pull away.
Despite the victory, Toroman was disappointed on the Nationals' offense.
"We played good defensively but our offense was not so good. We had lots of missed shots and a lot of traveling calls. But I believe we will play better (Wednesday)," said Toroman.
Giles had a monster game with 20 points and 23 rebounds. The former Gilas player gave nothing but praises playing against his former team.
"They are really playing the system of coach Rajko really well now compared to the time that I was with the team," said Giles.
Tiu had 11 points, seven rebounds and nine assists but shot 1-of-5 from three-point range. The Nationals hit just 4-of-23 shots from the three-point line.
– Reuben Terrado, JVP, RCJ, GMA News