Internet provider wi-tribe drops broadband cap
Wireless Internet provider wi-tribe on Monday said it is removing the limits on the amount of data users of its WiMax broadband service may upload and download each month, but it will also put in place its Fair Usage Policy to curb abuse of network bandwidth.
This development means wi-tribe subscribers will be able to download an unlimited amount of movies, music, software and photos but subject to fair use.
It also comes on the heels of a
bandwidth cap imposed
by other telecom firms on subscribers that exceed a certain amount of data used each month, which consumers had opposed.
In the
fair use policy
on its website, wi-tribe said "the term 'unlimited...' does not mean wi-tribe will not take steps to reduce Subscriber's data rates during periods of congestion or take other actions... when Subscriber's usage is negatively impacting other subscribers."
Wi-tribe, a partnership of conglomerate San Miguel Corp. and Qatar-based QTel, is among the few broadband providers in the country with a clear and transparent provision on data usage allowances that vary depending on the subscribed package, Simon Burckhardt, wi-tribe chief commercial adviser, told reporters at a briefing Monday.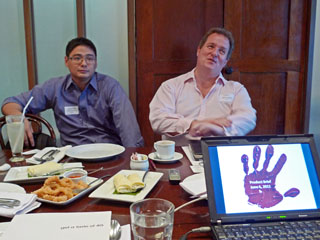 Simon Burckhardt (right), wi-tribe chief commercial adviser, and product manager Edmund Pike, tell reporters Monday that the company has adopted a new policy lifting the ceiling on data usage.
Victor D. Sollorano
The company's subscription plans previously came with a monthly usage allowance of 1 gigabyte (gb) for Plan 598, 6 gb for Plan 998, and 12 gb for Plan 1998.
Burckhardt said their relatively small and young Philippine operations gives the company the leverage to implement such a change in its bandwidth usage policy.
"The beauty is because we're small, we can be much more nimble and smart with how we [implement it]," Burckhardt said. "One of the joys of coming to a company with only thousands of subscribers, and not millions, is that you can be flexible."
wi-tribe has about 55,000 subscribers, and has been operating only in the Metro Manila region since its commercial launch in February 2010.
Burckhardt revealed that more than 50 percent of their subscribers comes from other broadband Internet providers, which has convinced them that there are still growth opportunities that can be tapped in the capital region.
Stringent policy
Although it has dropped its data usage cap, Burckhardt said wi-tribe will exercise its right to implement the Fair Usage Policy as a necessary tool for the broadband industry to survive.
Other telcos, such as Globe, impose a 1-gb daily bandwidth cap for users in order to sustain the network's operations.
The wi-tribe executive said there are no "hard [and fast] rules" as to how to implement the policy, but that they will go after heavy users—which take up anywhere from 15 percent to 25 percent of network bandwidth—in order to better manage the network.
"For very heavy users, there will be caps that we will be implementing. Nobody will receive less than what they have in the old plan. We will monitor it every day," he stressed.
However, Burckhardt did not disclose a definite usage volume for a subscriber to get a heavy user tag, nor did he reveal the particular consequences of going beyond the threshold other than saying the connection speed will be "throttled down."
He said wi-tribe has a system that is checking every customer's bandwidth usage, and that there will be triggers should any user exceed and encroach too much on the overall network bandwidth.
Asked if the fair use policy will be to the detriment of the subscribers, Burckhardt said: "Majority of our customers don't understand [our monthly usage allowances]. I would hazard a guess that most customers don't even know that we have usage allowances."
Network capacity
Burckhardt said wi-tribe's network is poised to handle a surge in network traffic following the lifting of data allowances.
"We have a network that is not full. Very few of our base stations are reaching anywhere near their [full] capacity. Others have plenty of capacity to grow," he explained.
As of March 2011, the company said it has invested over P5.5 billion to improve its IT and network infrastructure — setting up base stations and fortifying its technology infrastructure.
Asked if they are looking into upgrading their network systems to LTE (Long-Term Evolution) or HSPA+ or high-speed pack access soon, as what other telecos have done in recent months, Burckhardt said: "Absolutely. We have a very rich spectrum, and we'd be foolish not to look [into those]."
He added that they have begun field-testing WiMax-based MyFi-type or hotspot products in February, and will soon be introduced to the market.
"[As of the moment] we don't have firm plans yet (for mobile). But we acknowledge that the opportunities in mobile devices are huge," Burckhardt said.
— VS/HS, GMA News