Jose Rizal's Noli Me Tangere, the Filipino edition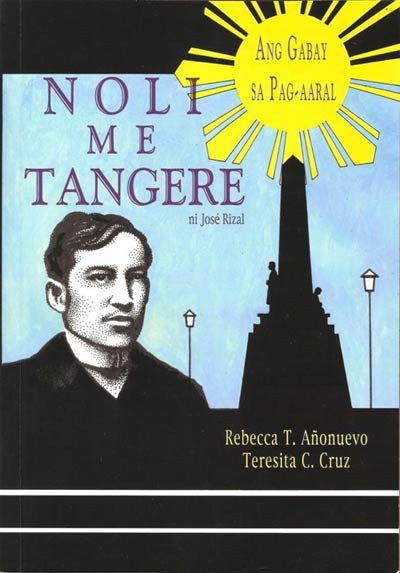 In time for the opening of classes this June and in celebration of Jose Rizal's 150th birthday, award-winning publisher Bookmark has released a Filipino translation of
Noli Me Tangere
with a student guide to help the youth appreciate this historical novel in a more engaging way.
The book, which is meant for high school students, is entitled
Noli Me Tangere: Ang Gabay sa Pag-aaral.
The novel was translated into Filipino by the award-winning poet Rebecca T. Añonuevo based on the English translation of Ma. Soledad Lacson-Locsin , which was published by Bookmark in 1996. Veteran educator and textbook writer Teresita C. Cruz prepared the study guide.
Each chapter of the novel is followed by a study guide that includes tips on enriching the Filipino vocabulary, as well as a critical understanding of Rizal's work. Cruz also looks at the relevance of the events during Rizal's time, more than a century ago, to the situation today and how the lessons from the past can be interpreted in the present generation.
According to Añonuevo, translating the Noli gave her an opportunity to rediscover Rizal the writer. She was pleasantly surprised to find glimpses of Rizal's wit and humor, most of the time ironic, in this novel and was careful to preserve this in her Filipino version.
"Ang tiniyak kong hindi nawala o nabura ay ang mga himig ng nobela sa iba't ibang dako nito—matalas at madulas na siste (matalinong pagpapatawa habang tumutuligsa ng kalabisan); may pag-uuyam, may halakhak, may masuyong biro, may madamdaming pangungumpisal,"
the translator explains in her preface.
One example is the first chapter, which talks about an impending get-together at Capitan Tiago's house in Binondo. When it was announced in the afternoon, partygoers frantically began preparing for the dinner. The opening scene sets the irreverent tone of the entire novel.
Lacson-Locsin's version in English: "Like an electric jolt the news circulated around the world of social parasites: the pests or dregs which God in His infinite goodness created and very fondly breeds in Manila."
Here is Añonuevo's version in Filipino:
"Tulad ng koryente ay kumalat agad ang balita sa mundo ng mga sosyalang linta: mga peste o sumpa ng Diyos na sa Kaniyang kabutihan ay nalikha at lumaganap sa Maynila."
The translator is also careful with her Filipino, which follows the grammar and spelling guide of the second edition of the U.P. Diksiyonaryong Filipino published jointly by the University of the Philippines-Diliman Sentro ng Wikang Filipino and Anvil Publishing, Inc. last year.
Noli Me Tangere
is the first novel of Rizal that tackles the abuses of Spanish friars in the Philippines. He started writing this novel in Madrid, Spain in 1884. He continued writing the novel in Paris, France in 1885 and finished the writing it in Wilhelmsfeld Germany in June 1886. It was finally published in Berlin, Germany in March 1887.
The title of the novel is a Latin phrase that literally means "Touch me not." It comes from the Gospel of John in the Holy Bible, when St. Mary Magdalene visited the Holy Sepulcher and saw the risen Jesus, who tells her, "Touch me not; I am not yet ascended to my Father."
Noli Me Tangere
, along with its sequel
El Filibusterismo
, inspired Andres Bonifacio and his comrades in the revolutionary organization Katipunan to stage a successful revolution against Spain in 1898.
Añonuevo is a Palanca award-winning writer whose poetry book
Saulado
and literary criticism book
Talinghaga ng Gana
has also won the National Book Award from the Manila Critics Circle. She holds a Ph.D. in Literature from De La Salle University-Manila, and is currently the chair of the Filipino Department of Miriam College.
Cruz is a professor of Filipino at Miriam College who also runs her own school, Lux Mundi Academy, in Obando, Bulacan. She holds a Doctor of Education degree from Centro Escolar University and has authored around 150 textbooks for Filipino subjects in all levels.
For students who are struggling to get through their Rizal subject, this book is an easy reading material that can get them started in tackling the works of our national hero.
It is my wish that Añonuevo will publish her Filipino version of
El Filibusterismo
soon. –
YA, GMA News
J.I.E. TEODORO is an assistant professor of Filipino at Miriam College. He has won several Palanca awards for his works and a National Book Award for creative nonfiction from the Manila Critics Circle and the National Book Development Board. He holds an M.F.A. in Creative Writing from De La Salle University-Manila, where he is currently pursuing a Ph.D. in Literature.