Pinoy artist wins Best Asian Comic Book award
The Association of Comic Book Journalists chose Komikero Gerry Alanguilan's "Elmer" from around 1,500 Asian comic books to receive the Prix Asie-ACBD 2011 award.
"I was so ecstatic when I heard about it last night that I couldn't sleep. I think I will celebrate today with a Zinger sandwich at KFC," wrote Alanguilan in his
blog,
where he made the announcement Friday morning.
His preferred manner of celebrating is not as trivial as it may seem – the star in his award-winning comic book is Elmer – a chicken who behaves like a human.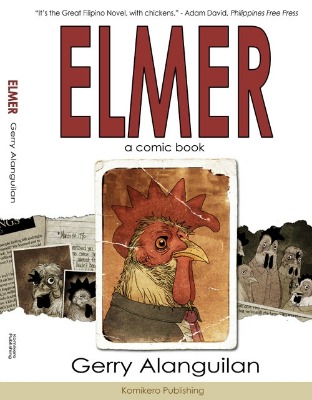 This is the fifth year that the Prix Asie-ACBD 2011 award was given to the Best Asian Comic Book published in France. The nominees included other titles such as Kamui Den by Sanpei Shirato, La Plaine du Kantô by Kazuo Kamimura, Le Voyage de Ryu by Shôtarô Ishinomori, and Vinland Saga by Makoto Yukimura, Kurokawa.
Alanguilan discovered the nomination when he stumbled upon an online post mentioning his work. "Since the site was in French, I didn't know exactly what it meant, even when I translated it through Google. I really don't trust robot translators all that much. It wasn't until Budjette Tan and my French publisher confirmed what it meant and I saw it mentioned on the Comics Reporter site, ...I finally knew what it was," he wrote on his blog.
Alanguilan was not able to attend the Japan Expo awards on June 30, but his publisher received the award on his behalf.
"Elmer won and the journalist which handed me the award praised about the book for a couple of minutes. You will find enclosed a picture of the award (you will see that I don't have anymore French copies at home, so I've used your edition), I will send you the object itself next week," the publisher told Alanguilan in an email.
"Elmer" is also
nominated
for Best Graphic Album in the 2011 Will Eisner Comic Industry Award, widely considered as the "Oscars" of the comic book industry.
— LBG, GMA News